The final two: Donald Trump vs. Hillary Clinton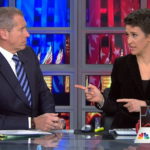 The final bracket may not be completely set, but the people who are paid to have well-informed opinions are starting to talk and write like it will be Donald Trump against Hillary Clinton. Yes, Trump won all five of the so-called I-95 Republican primaries in Rhode Island, Connecticut, Delaware, Maryland, and Pennsylvania, and Clinton won all of those, minus Rhode Island, on the Democratic side.
As for Trump, as Chris Cillizza at the Washinton Post writes:
The simple fact is this: Trump just keeps winning and, increasingly, winning across all subgroups and demographics within the GOP. He still isn't a numeric lock to get to the 1,237 delegates he needs. But man oh man is he sitting pretty right now.
And then there is Hillary Clinton, whose position was well characterized by MSNBC's Rachel Maddow who said, "She [Clinton] has effectively put this out of reach."
No, Bernie Sanders is not mathmatically eliminated and if he chooses to fight on, which is likely, the only interesting question remaining is the timing and extent to which he embraces the role of loyal Democrat.
Donald Trump is also not gauranteed a path to the delegates needed to secure the GOP nomination on the first ballot, with Indiana and California among a handful of states standing between him and his goal. Still, the margins of his recent victories and the fairly diverse makeup of his support seem to suggest he'll get there.
Since Donald Trump securing the GOP nomination is almost impossible to get comfortable with, I hasten to completely accept that an effort to stop him is necessarily doomed to fail, but I suspect we all need to get used to the new reality as declared by Donald himself, "I consider myself the presumptive nominee, absolutely."
Who would have believed so many months ago that Hillary Clinton would have to fight so hard to be her party's nominee and that Donald Trump would ever be anything other than a sideshow?
This is not going to be boring.