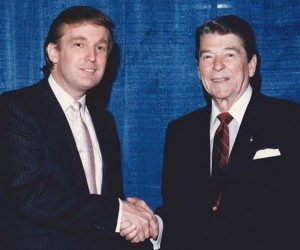 What If Ted Cruz Doesn't Cruise Texas?
What if Super Marco Gets Unplugged In Florida?
The Super View From The U.S. Virgin Islands

By JOHN McCARTHY/TMV Columnist
Like it or not, Trump is the new Reagan.
The Reagan who increased the number of federal employees, fired the air traffic controllers and ballooned the federal deficit – to say nothing about NOT remembering his role in Iran-Contra-Gate. So much for smaller government.
As Jeffrey Lord likes to mention on CNN, people didn't think Ronald Reagan was qualified to be president when he ran for the first time, either.
And Lord ought to know, he used to work in the White House as Reagan's associate political director. But I know because I lived it. I was one of the people at a campaign rally for Jimmy Carter in Livonia, Michigan in 1980. It was held in what was one of the most blue collar of all the shopping malls in that city: The Wonderland Mall.
The signs for President Carter read: "Action Not Actors," because Reagan was a former B-movie Hollywood star. Even at that young age I thought: "That's not going to work."
So today is Super Tuesday, half of the delegates a candidate needs to be nominated, will be distributed, largely throughout the South, something that began in 1976 — the year of Gerald Ford vs. Jimmy Carter.
On the Republican side you have the bullet-proof front-runner Donald Trump, a billionaire businessman who every pundit and every campaign predicted would implode due to his outrageous statements on the campaign trail – until he lost Iowa – then every paid wonk and talking head on television said Trump had suffered a minor setback and was sure to recover. The Donald hasn't looked back since.
The most recent CNN poll that Trump read out to a campaign audience in Radford, Virgina had him at 49 percent. When I saw the city name flash across the TV screen I thought how apropos it was that that "radical" southwestern Virginia town was where he was just as the furor/tempest in a teapot was erupting over David Duke's alleged endorsement. To me, the controversy was put to rest when the eminent leader finally stepped forward on Monday to clarify what had actually happened: Duke denied that he had ever endorsed Trump.
MSNBC "Morning Joe" TV host Joe Scarborough, a former Republican member of the Florida House of Representatives, took to the Washington Post to say that Trump had "feigned ignorance about the KKK and its most infamous grand wizard" and that his failure to immediately disavow Duke on television "raises disturbing questions."
But what the controversy actually did was keep Donald Trump's name at the front of the 24-hour news cycle on the eve of Super Tuesday. Establishment Republicans like Scarborough and Lord want to paint white supremacists into a southern Democrat corner by pointing out that former KKK members ended up becoming "Dixiecrat" members of Congress. But the lie in that is that we are talking about a Presidential Election right now.
Does anyone really believe that KKK members from the deep South threw their support behind fellow southerner Jimmy Carter in 1980 when he ran against Ronald Reagan? After all, 36 years ago the KKK endorsed Reagan. But Reagan's handlers had the good sense to immediately issue a statement disavowing them.
"Those of us in public life can only resent the use of our names by those who seek political recognition for the repugnant doctrines of hate they espouse," Reagan's handlers wrote. "The politics of racial hatred and religious bigotry practiced by the Klan and others have no place in this country, and are destructive of the values for which America has always stood."
But Donald Trump doesn't have "handlers." His strategy of running up a big lead in early primary states while campaigning in others (Chris Christie and John Kasich lived in New Hampshire for the better part of a month and couldn't win that state) is a template that will be applied to political campaigns of the future.
Ronald Reagan was elected after four years of "malaise," gasoline shortage lines and high inflation during a slumping economy under Carter. Donald Trump is hoping to surf the tail end of the Great Recession into low gasoline prices, more protectionism for American businesses and a burgeoning national economy – most of which is already happening now. Marcel Duchamp said that the artist of the future will merely point his finger at something, and what he points at will become art. That will be Trump's job if elected president.
Marco Rubio represents the establishment wing of the Republican party and got 16 percent of the votes in the CNN poll; Ted Cruz represents the uber-conservative, or far right wing of the Republican party and the evangelicals and got 15 percent in the national poll; John Kasich represents the schizophrenic folks in the Republican party who don't know if they are Establishment RINOs like Rubio or Brownshirt Republicans like Cruz – the Ohio governor got six percent in that poll.
Kasich represents the G.O.P. people who like down-home charm and need to know that their president could not only be commander-in-chief but postmaster general. This post was filled by "Likeable" Mike Huckabee in the last two election cycles, but used to be funded by fundamentalist Christians.
Brain surgeon candidate Ben Carson supposedly represents the fundamentalist Christians and so-called evangelicals (there is very little "angelic" about them). But when given the opportunity to talk about his faith in the first debate in August, "Fighting" Ben Carson passed, only to recite a speech that he had memorized about being the only candidate on the stage to have separated Siamese twins, the only candidate "to operate on babies in the womb," etc., etc.
It was a funny pat speech at the time — but what does he have to show for it now? At 10 percent in the latest poll, Ben Carson only represents himself and his future book sales at this point – he doesn't have a fighting chance to win anything at all. So why is he still in the race? Is the native Detroiter honest enough to answer that question?
I called Donald Trump a "vanity" candidate in August, but there are more respected writers in America who have been wrong on "Hair Force One" more than I have this election cycle. Ben Carson is the last vanity candidate still in the race. Maybe an honorable mention to Kasich.
Ted Cruz might be the smartest candidate left standing in the race, but Donald Trump has ten billion lessons learned from the mean streets of New York why the least trusTED G.O.P. candidate can't win.
In August, Carl Bernstein said on CNN that Donald Trump was running to become "the most famous person in the world."
If that was true then, it appears that Trump has certainly already achieved that and much more.
The only question that will remain after Super Tuesday is: Can he beat Hillary?
John McCarthy is the publisher of the Virgin Islands Free Press @ http://vifreepress.com You can write to him @ [email protected]
https://www.gofundme.com/afng69fg
Publisher of the Virgin Islands Free Press at http://vifreepress.com