WHAT's UP, DUNC? GIANT RABBIT TO STALK REP. HUNTER ON CAMPAIGN TRAIL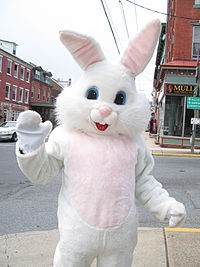 by Miriam Raftery
April 18, 2017 (San Diego's East County) – Hopping down the bunny trail—and the campaign trail—Duncan Thumper will soon be popping up at Congressman Duncan Hunter's events to draw attention to his campaign finance controversies that have sparked a criminal investigation by the Justice Department.
A political action committee named "Bunny Pac" has announced that an activist in a rabbit costume will be drawing attention to Hunter's use of around $60,000 in campaign funds for personal expenses—including $600 to fly his son's pet rabbit cross-country, first class.
Hunter has claimed the expenditures were honest mistakes, some due to mixing up similarly-colored credit cards. He's paid back his campaign in full—but had to take out a hefty loan to do so.
Bunny PAC is the brainchild of Democratic activist Shawn VanDiver, a political consultant and adjunct professor at San Diego State University.
"This is the most ridiculous scandal I have ever hared of," Van Diver says. "This is just my little effort to expose Duncan Hunter's lies for what they are."
Duncan Thumper, the personification of the Hunter family's pet rabbit, has his own Facebook page, Twitter account and website. Bunny Pac is raising money to help Duncan Thumper get his messages out to "explain" Hunter's actions.
"Listening to a bunny explain politics is as ridiculous as spending campaign money on personal enrichment," Bunny Pac states. "The good news is that Duncan Thumper is an ethics advisor and a wonderful story teller."
Hunter's office has not commented on the big-eared furry stalker on his tail, though some Hunter backers may wish for Elmer Fudd to intercept that wascally wabbit.

Photo: Clip art; the actual "Duncan Thumpin'" costume has not yet been revealed
Miriam Raftery is editor-publisher of the award winning East County Magazine website which, along with The Moderate Voice, is a member of the San Diego Online News Association. This article is reprinted from that site.