Watch Your Language!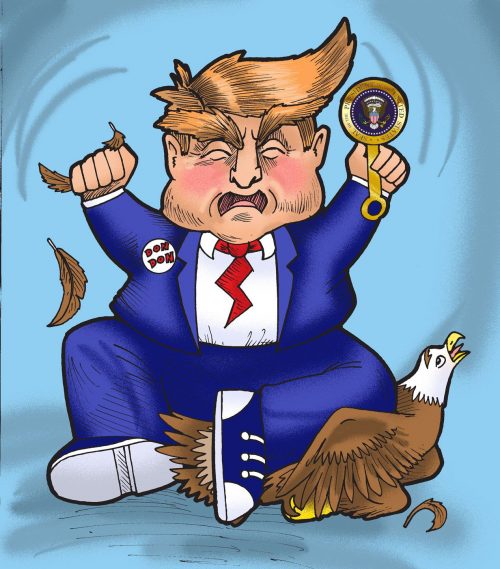 January 4, 2017

Note to readers: This is the latest entry in Super Baby DonDon's diary. The series imagines that President-elect Donald Trump has the emotional make-up of a five-year-old and confides his deepest thoughts—such as they are—to Andrew Feinberg, and to readers, every day. In his private moments, he always thinks of himself as Super Baby DonDon.
Happy New Year! So I have a New Year's resolution for the totally dishonest, scum-of-the-earth mainstream press. Starting on January 20, you will use only administration-approved language when describing the president of the United States. Otherwise you will face truly horrendous consequences, like being locked in a room with Kellyanne Conway for six hours.
To give you a head start, here are some approved words:
Adjective Noun
Beautifully-coiffed Studmuffin
Muscular Visionary
Large-loined Young Robert Redford
Putinesque Seer
Wealthy 6'2" phallic symbol
Wealthy-out-the-wazoo Negotiator
Indefatigable Truth-teller
Eloquent Savior
Lincoln-outclassing Foe-crusher
Washington-surpassing Job creator
FDR-outsassing Pussy-grabber (hey, who put that in there?)
Noble Leader
Stalwart Builder
Winning Father of his country—and of Don Jr., Eric and the luscious Ivanka
Vindictive Asshole (again, people, who's in charge of quality control?)
Soon, we'll release some approved adverbs and then we can all play a great game of Mad Libs together.
Andrew Feinberg is the author of Four Score and Seven (https://www.amazon.com/Four-Score-Seven-Andrew-Feinberg/dp/0692664009), a novel that imagines that Abe Lincoln comes back to life for two weeks during the 2016 campaign and encounters a candidate who, some say, resembles Donald Trump. He also writes an anti-Trump humor page at www.babydondon.com or https://www.facebook.com/MeBabyDonDon.