TRUMP WANTS MEDIA TO STOP QUOTING ANONYMOUS SOURCES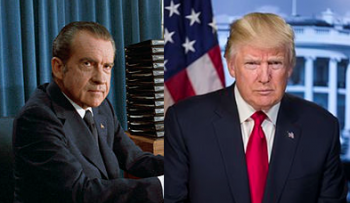 by Miriam Raftery
(Washington D.C.) – In a statement reminiscent of Richard Nixon at the height of the Watergate scandal, President Donald Trump slammed media reporting on his administration's ties to Russia adding that media outlets "shouldn't be allowed to use sources unless they use somebody's name." Yet calls for an independent investigation into Trump's Russian ties are now coming from some prominent Republicans, including San Diego Congressman Darrell Issa.
Shield laws protect media outlets from revealing names of confidential sources. The most famous of those was a source known as Deep Throat, who after his death was revealed to be Mark Felt, Associate Director at the Federal Bureau of Investigation (FBI.) Washington Post reporters Bo Woodward and Carl Bernstein met regularly with Deep Throat, who provided evidence that Nixon obstructed justice to block investigation into the Watergate burglary at Democratic headquarters. Those revelations led to the resignation of President Nixon , indictments against 69 coconspirators and guilty pleas or convictions of 48, including top Nixon administration officials.
Speaking to the Conservatives Political Action Conference (CPAC), Trump specifically attacked a report in the Washington Post –the same newspaper that exposed the Watergate scandal. That story cited nine sources who confirmed that National Security Michael Flynn discussed sanctions with Russia's ambassador before Trump took office, though Flynn denied that conversation. The story led to Flynn's resignation and the administration has not challenged the truthfulness of the story.
Serious questions are being asked by prominent Congressional members and the FBI over evidence that Russia hacked Democratic databases and Hillary Clinton's emails (the cyber version of the Watergate break-in), that Russian "fake news" stories circulating online sought to win the presidency for Trump, that Trump's business ties in Russia pose conflicts, that key Trump advisors have been involved with Russian dictator Vladimir Putin and Russian organized crime figure, that Trump's campaign staff was in regular contact with Russian government officials, and that a British intelligence dossier claims Russia holds compromising sexual video and financial scandal information with which to blackmail Trump, who has repeatedly praised Putin and pro-Russian policies.
Trump has dismissed all allegations regarding Russian ties by himself or his cabinet officials and aides as "garbage."
He has refused to release his tax returns, which could potentially help disprove Russian business conflicts, or soften his pro-Putin stances. Instead, he has attacked media reporting on these allegations which if proven, could amount to impeachable offenses or even treason.
It is common for Washington D.C. media to maintain a network of confidential sources in the intelligence community, the White House, and other administration offices. This is done to prevent retaliation against whistleblowers. Ironically, before his entry into politics, Trump himself was sometimes a confidential source who leaked stories to the press.
Trump's paranoia about the press begs the question: Is Trump pressuring media to reveal their sources to assure truthful reporting, or to expose leakers and provide his administration with the ability to fire whistleblowers?
Trump retaliated further against all major media outlets reporting on the Russian controversies by taking the unprecedented step of banning them from a White House press gaggle, including CNN, the New York Times, Politico, the Los Angeles Times and the Washington Post. He admitted right-wing outlets such as Breitbart News in a clear effort to intimidate or control the press. Recently, he also referred to the press as "the enemy of the people" and has labeled reputable media outlets such as CNN, ABC, CBS, NBC and the New York Times as "fake media," an absurd and false statement.
Another Trump action is also drawing parallels to Nixon.
CNN reported this week that White House Chief of Staff Rance Priebus inappropriately asked both FBI Director James Comey and a second FBI official to debunk media reports about communications between multiple Trump associates and Russians known to U.S. intelligence during the election campaign. According to CNN, the FBI refused the White House's request.
CNN observes, "Such a request from the White House is a violation of procedures that limit communications with the FBI on pending investigations."
Indeed, memos in 2007 and 2009 specifically prohibit the type of communications that occurred between the White House and the FBI – an action that arguably could be interpreted as an effort to obstruct justice.
Trump himself attacked the FBI publicly in a pair of tweets on Feb. 24 which collectively read, "The FBI is totally unable to stop the national security "leakers" that have permeated our government for a long time. They can't even find the leakers within the FBI itself. Classified information is being given to media that could have a devastating effect on U.S. FIND NOW."
With those words, Trump cannot blame the effort to intimidate the FBI on lower level staff.
Lest we forget, below is the text for Article I of the impeachment document passed by the House of Representatives on July 27, 1974 against President Richard Nixon, who resigned to avoid impeachment and likely removal from office for criminal obstruction of justice:
Subsequent thereto, Richard M. Nixon, using his powers of his high office, engaged personally and through his subordinates and agents in a course of conduct or plan designed to delay, impede, and obstruct the investigation of such unlawful entry; to cover up, conceal and protect those responsible; and to conceal the existence and scope of other unlawful covert activities…Wherefore Richard M. Nixon, by such conduct, warrants impeachment and trial, and removal from office.
Nixon had ordered the CIA to quash an FBI investigation into the Watergate scandal.
NBC reports that a new poll found 53% of the American public now want C ongress to look into the alleged communications with Russia by Trump and his inner circle; only 25 percent disagree and21 percent had no opinion.
Now, Congressman Darrell Issa (R-San Diego), who formerly chaired the House Oversight committee, stated in a TV interview with Bill Maher that he believes an independent counsel should be appointed to investigate the Russian controversies instead of Attorney General Jeff Sessions, who formerly worked for Trump's campaign.
"You cannot have somebody—a friend of mine, Jeff Sessions, who was on the campaign and who is an appointee," Issa stated. "You're going to need to use the special prosecutor's statute and office—not just to recuse, you can't just give it to your deputy, that's another political appointee–you have to do that."
Issa added, "There may or may not be fault. But the American people are beginning to understand that Putin murders his enemies…He's murdered people and taken down using cyber warfare in Georgia and Ukraine…We don't have to trust them, and we need to investigate their activities, and we need to do it because they are really bad people."
Congresswoman Susan Davis, a San Diego Democrat, agrees. "This latest report of the White House pressuring the FBI to comment on a pending investigation can be added to a list—a list that keeps growing—of reasons to have a full, bipartisan and independent investigation into the 2016 election and the President's Russian ties."
Davis announced she is cosponsoring a bill to create a commission to look into the 2016 election. "I urge my Republican colleagues to join with Democrats to not only pass this bill, but amend it to include an investigation into the influence Russia has on the White House. Republicans should not enable bad behavior."
Trump's actions are also drawing criticism from journalists. The White House Correspondents Association has formally objected to his shunning of major media outlets and asked colleagues admitted to share information with all media.
"You can't use the FBI like your own private spin team," an editorial on The Blaze states. "You can't have an office in the White House and even think you can do that…You can't use the…FBI to squash news stories you don't like any more than you can send the FBI out to shoot the guy who dented your fender…these clowns tried to turn the FBI into the plumbers," a reference to the "plumbers" of Watergate burglary infamy.
Ironically, White House press secretary Sean Spicer, at a Politico dinner in December, was asked if incoming President Trump would continue the campaign practice of barring some reporters. Spicer responded that there is a big difference between campaign events in a private venue and a government entity, adding, "I think we have a respect for the press when it comes to the government. That is something you can't ban an entity from. Conservative, liberal or otherwise, that's what makes a democracy a democracy versus a dictatorship."
Yet Spicer later banned media outlets that published investigative reports critical of the president – a practice that he himself noted is normally associated with dictators. Indeed, Stalin, Hitler and other dictators worked to shut down a free press to stifle voices of consent. America's founding fathers recognized such dangers, which is why they provided protection of a free press in the First Amendment to the Constitution.
Dan Rather, former CBS news anchor who now runs the news site News and Guts had this to say following Trump's banning major media outlets from Friday's press gaggle. "The barring of respected journalistic outlets from the White House briefing is so far beyond the norms and traditions that have governed this republic for generations, that they must be seen as a real and present danger to our democracy. These are the dangers presidents are supposed to protect against, not create."
Sources:
http://www.sandiegouniontribune.com/news/politics/sd-me-issa-maher-20170224-story.html
FBI refused White House request to knock down recent Russia-Trump stories
http://www.nbcnews.com/politics/first-read/majority-americans-say-congress-should-probe-contact-between-trump-russia-n725391
Trump aides were in constant touch with senior Russian officials during campaign
http://variety.com/2017/biz/news/trump-cpac-fake-news-media-unnamed-sources-1201995779/
http://www.esquire.com/news-politics/politics/news/a53406/reince-priebus-fbi/
http://www.theblaze.com/news/2017/02/24/dan-rather-calls-trump-a-threat-to-our-democracy-after-media-ban/
http://www.sandiegouniontribune.com/opinion/editorials/sd-white-house-media-briefing-outlets-barred-20170224-story.html

Miriam Raftery is editor-publisher of the award winning East County Magazine website which, along with The Moderate Voice, is a member of the San Diego Online News Association. This article is reprinted from that site.