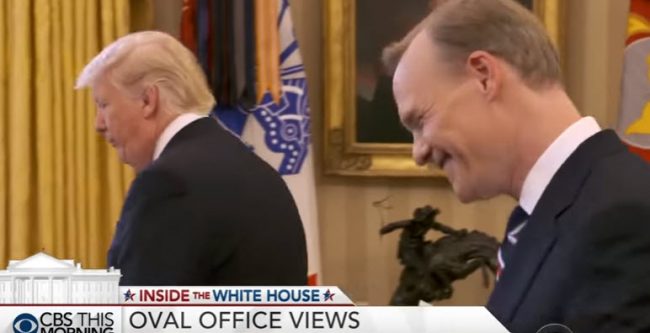 Anyone who takes even one journalism class learns that reporters must be persistent. True, you won't win a popularity contest with a source by a)pressing him or her if her answer is evasive b)rephrasing the question and trying to get an answer. In most cases, the subject will try and fudge the answer or may even actually give a more specific answer. Enter President Donald Trump who was interviewed by CBS's John Dickerson. When Dickerson pressed him on Trump renewing his utterly discredited suggestion that then-President Barack Obama had him bugged Trump first tries to simply repeat his assertion. Then he won't be pinned down on standing by his comments.
And finally he dismisses Dickerson with a "That's enough. Thank you," and walks back to his Oval Office desk. It's a sign of Trump realizing he can't defend someone TO THEIR FACE if pressed for specifics, beyond a general assertion or some name calling. His whole m.o. is to repeat assertions before audiences of followers and on twitter where he can't be challenged, or go on Fox News' Sean Hannity's Show — which really needs to be called "Softball" (Hannity is an avowed Trump activist and all but formally declared propagandist. Perhaps his real name is Sean Hackety).
Here's Trump being unable to defend or even strongly stick by his assertions and revealing (again) why his heart is with being an autocrat:
Actually, Trump in this interview perhaps more resembles an arrogant Jerry Lewis who didn't want to do an interview, sandbagged it, and ended it almost in the way Trump did. Watch this through — especially to the end.
On "The Late Show," Stephen Colbert rants about Pres. Trump's insults toward "Face the Nation" host John Dickerson https://t.co/00wF50GTC2 pic.twitter.com/kkIekdy4lT

— CNN (@CNN) May 2, 2017
Opinion | 'I don't stand by anything': Trump withers under heat from CBS News's John Dickerson https://t.co/LH2re9DRNC

— loony (@badgirl_loony) May 2, 2017
.@FaceTheNation moderator John Dickerson on what we learned from his Oval Office exchange with Trump: https://t.co/u8vd51Wk3e pic.twitter.com/Y39YtiZ4Ua

— CBS News (@CBSNews) May 2, 2017
"I think it was pretty clear that I was to escort myself out, or I would be escorted out — I would be moved along" https://t.co/7HwfrMzNds

— Brian Stelter (@brianstelter) May 1, 2017
Click here for reuse options!


Copyright 2017 The Moderate Voice