This Job Sucks!
January 20, 2017 (supposed to be greatest day ever but is looking like a classic fartstorm)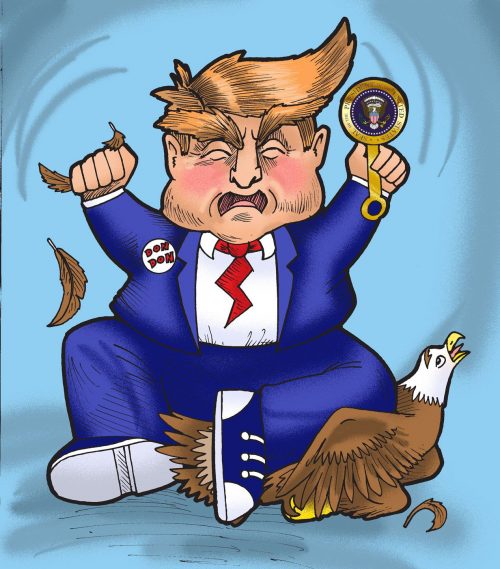 Note to readers: This is the latest entry in Super Baby DonDon's diary. The series imagines that President Donald Trump has the emotional make-up of a five-year-old and confides his deepest thoughts—such as they are—to Andrew Feinberg, and to readers, every day. In his private moments, he always thinks of himself as Super Baby DonDon.
Oh, the outrage!! The horror!! The ingratitude!!
So I take the freakin' oath and, as soon as I do, the stock market starts to fall. It's a conspiracy! The vicious Democrat party was just waiting for me to become Ultimate Leader before its financial apparatchiks like George Soros started unloading stock. And, during the greatest Inaugural Address ever, these malicious minions—instead of listening like all decent, patriotic Americans should have been doing—just keep on selling. And selling.
Oh, the system is so rigged!
Well, His Exalted Super Baby DonDon will not stand for this. You on notice, says POTUS! As my first official act, I have instructed the Treasury Department to buy $500 billion worth of stock. Today!!! Luckily, my first unofficial act as president a littler earlier was to buy $50 million of out-of-the-money call options on the S&P 500. Isn't it great, people, that we're in this thing together?
Buy! Buy! Buy!
Andrew Feinberg is the author of Four Score and Seven (https://www.amazon.com/Four-Score-Seven-Andrew-Feinberg/dp/0692664009), a novel that imagines that Abe Lincoln comes back to life for two weeks during the 2016 campaign and encounters a candidate who, some say, resembles Donald Trump. He also writes an anti-Trump humor page at www.babydondon.com or https://www.facebook.com/MeBabyDonDon.