The Amazing Flipping Cohen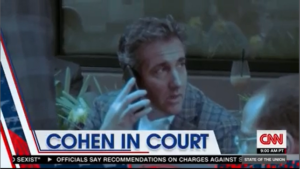 How can you flip if there's nothing to flip about?
That's the question behind all the speculation over whether President Trump's personal attorney Michael Cohen, who has in the past proudly said that he "would take a bullet" for Trump, will cooperate with prosecutors to avoid prison time.
Even Trump, in a three-part weekend tweet slamming a New York Times story on Cohen, wrote that his imagined enemies "are going out of their way to destroy Michael Cohen and his relationship with me in the hope that he will 'flip.' … Sorry, I don't see Michael doing that despite the horrible Witch Hunt and the dishonest media!"
But if the case against Trump — on Russia, on Stormy Daniels, on his taxes, on whatever secrets lie in Cohen's seized files — are just a "witch hunt," what's there to fear? In his epic tweet, Trump wrote, "Most people will flip if the Government lets them out of trouble." But isn't Trump's position that there's no "trouble" there to begin with? (As House Oversight Committee Chairman Trey Gowdy said last month, "If you have an innocent client…act like it.")
Trump has repeatedly taken steps to try to keep prosecutors from examining his communications with Cohen, or the files they have seized. It is possible that Trump is just defending attorney-client privilege, but this would be a strange moment for Constitution-ignorant Trump to become a civil liberties idealist.
No, Trump's fears have always been much closer to home than the Kremlin. Axios reported earlier this month that "Trump allies are exponentially more worried about…the prospect of investigators poring over Trump's business dealings" than they are about Robert Mueller's collusion inquiry. There is something in Cohen's files that Trump does not want us to see.
If federal prosecutors lean on Cohen, could he turn against the patron who, according to Trump confidante Roger Stone, Trump has long delighted in treating "like garbage"? It is possible, but Trump is right that at least some of their communications would be protected by attorney-client privilege and would therefore be inadmissible in court. Only communications made with the intent of criminal activity would be exempt.
But it's hard to tell how Cohen currently feels about Trump, and whether he's still willing to take that bullet. The two men spoke regularly until Trump went to the White House, at which point Trump all but cut Cohen off. As a fixer with dirty hands, Trump's version of the "House of Cards" character Doug Stamper, Cohen could have been troublesome for the new Administration. Trump only began to speak to Cohen again after the Daniels story broke, and it became essential to keep him in the fold.
One Cohen friend told Vanity Fair, "He wants to fight this. There's nothing in him that wants to hide or back down." But another said that Cohen's moods are erratic, and that he is nervously waiting to see what charges he might face. He's not sleeping much, and is worrying about his family.
How can Trump keep Cohen on his side? There is one clause in the Constitution that Trump seems very aware of. Asked Tuesday about pardoning Cohen, Trump called it a "stupid question." But on Monday, press secretary Sarah Sanders was less blunt: "It's hard to close a door on something that hasn't taken place." And Trump adviser Marc Short offered some words of hope to Cohen, saying that there's "no need" to pardon Cohen — "at this point."
Lysander Ploughjogger is a media analyst, freelance writer, and parent residing in Washington, D.C. He can be reached at [email protected] or on Twitter at @LysPloughjogger.