She awoke to the scraping sound of Martin Luther King Jr's blood being collected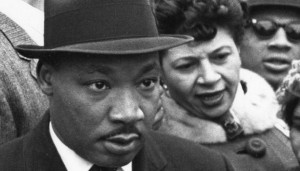 At 6:01 PM on Thursday, April 4, 1968, Kentucky state senator Georgia Davis was brushing her hair in Room 201 of the Lorraine Motel in Memphis. She heard a gunshot outside. She stepped out and saw a dreadful commotion, just above, adjacent to Room 306. Powers told me: "I actually had been listening to him talking to folks in the crowd below his room. We were supposed to be leaving already for dinner at (Rev.) Billy Kyles' house. I kept thinking, 'He's still talking!' I stepped to the door to get him and that's when I heard the shot. I saw people taking cover. And police were swarming all over the courtyard."
She drove to see MLK through a rainy night on April 3, 1968.
She was a feisty civil rights icon and Martin Luther King's final inamorata. Georgia Davis Powers was 92 when she died this past January. To the end, she remained fit, vibrant, alert, creative, and determined to be remembered as more than a woman connected romantically to King. The first time she ever visited Memphis was at his behest; she drove through a rainy night from Louisville on April 3, 1968 because he had summoned her for strength and encouragement. "Senator, our time is short," he correctly prophesied.
They were intimately involved for a year and she was fatefully present at the moment of his assassination at the Lorraine Motel on that April 4. In 2012, as I sat with her in her sunny apartment in downtown Louisville, a home filled with civic plaques, art work, flowers, and photographs of family and friends such as her neighbor and friend Muhammad Ali, she told me that was refusing a bevy of requests from CNN and other media.
"I was the first woman and African-American state senator in the Kentucky State Senate," she said proudly. "I dealt with a whole club of good old boys and was never intimidated while we passed so much legislation on child abuse, collective bargaining, public assistance, open housing, and civil rights. But all they will want to do is ask me about my time with M.L. I refuse to be drawn into that."
Powers organized the 1964 March for Freedom on the state capital of Frankfort. Besides herself, the presenters were King, Rev. Ralph Abernathy, baseball legend Jackie Robinson, and singers Peter, Paul, and Mary. Today, a section of Louisville-area highway is called the Georgia Davis Powers Freeway.
One can only speculate about the complexity of emotions, terror, guilt, heartache, and helplessness felt by the relatively young woman the night of April 4. "Someone was pointing to the second floor," she elaborated. "I looked up to my left and gasped. One of Dr. King's knees stuck straight up in the air and I could make out the bottom of one foot."
When she tried to enter the ambulance that gathered in the dying King, Rev. Andrew Young held her back—thinking of history even through his own numbing grief. She was left stranded, stricken, and in time, tried to go to sleep in her room.
In the darkest night, a second layer of horror enveloped Georgia Davis in Room 201. "I began to hear the sound of metal scraping against concrete," she said. She realized, and then saw for herself, that a workman was literally scraping Dr. King's blood from the second floor balcony. "As he drew the metal back and forth, I began to shake and couldn't stop. It was deafening and horrifying and shook me to the core." Georgia worried that she would go insane from the sound.
Decades later, the Kentucky legend, "a trailblazer," according to the governor of the state, the forceful, smart, yet sentimental Georgia received me as a friend and writer in her pleasant condominium where she lived alone. But when she closed her eyes at night, did she not still hear the workman scraping the blood from the concrete on the balcony of the Lorraine Motel?
[This article adapted from my book, 'ROOM 306: The National Story of the Lorraine Motel,' Michigan State University Press, 2012]