Seventy-Fifth Anniversary of the Bataan Death March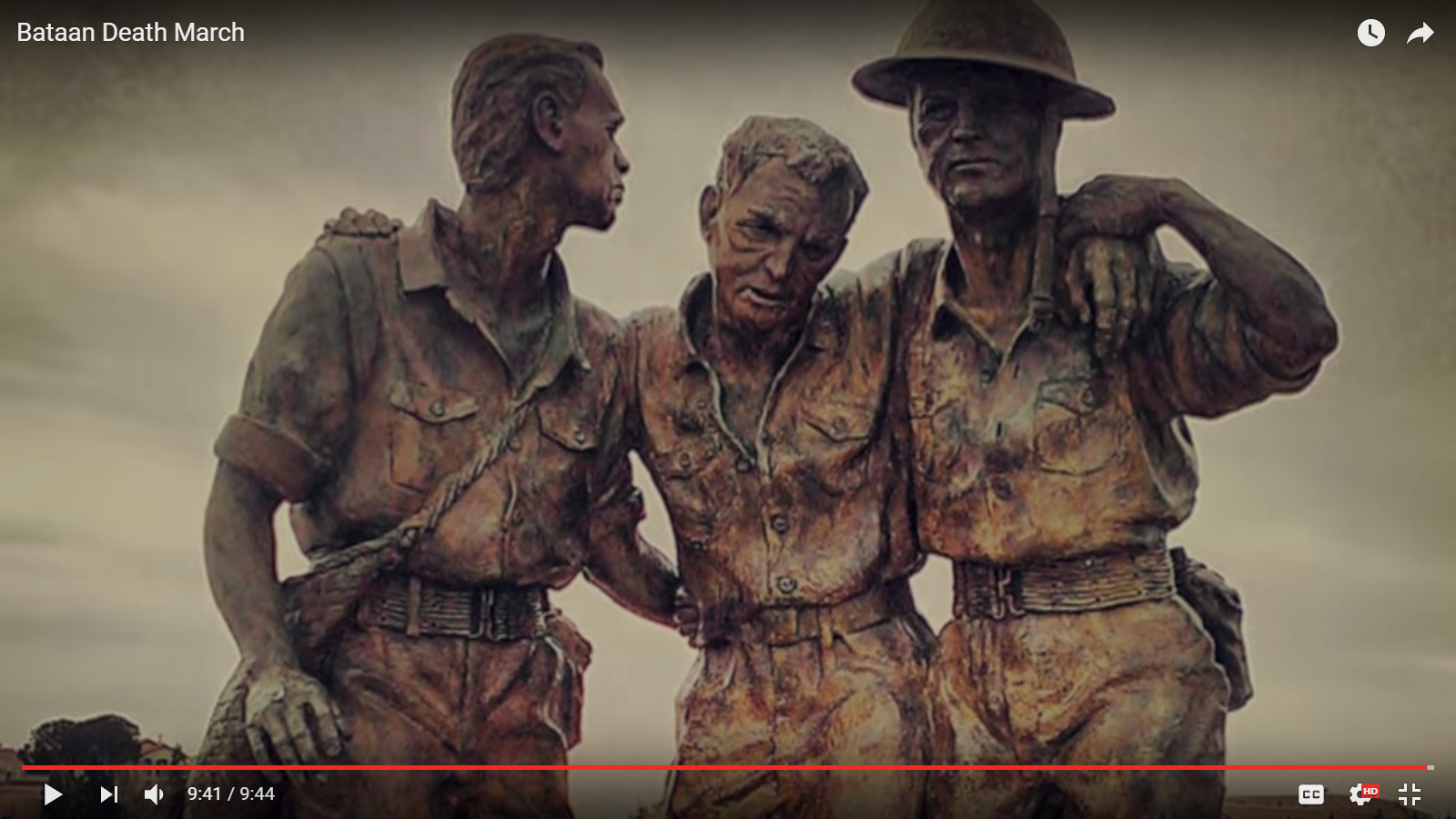 This weekend marks the 75th anniversary of the infamous Bataan Death March, one of the most harrowing chapters in the history of the U.S. military and one of World War II's greatest atrocities.
An atrocity where tens of thousands of American and Filipino troops were forced to make a tortuous 65-mile march to Japanese prison camps, suffering "an ordeal of unparalleled cruelty and savagery: forty-one months of starvation, dehydration, hard labor, deadly disease, torture, murder, and journeys on 'hell ships' to the enemy's homeland."
That is how the March is described for Michael and Elizabeth M. Norman's superb book "Tears in the Darkness – The Story of the Bataan Death March and Its Aftermath" which we reviewed here.
Paul Ashton, a survivor of that horrendous war crime describes it as follows in Rogers and Bartlit's book, Silent Voices of World War II:
"Numerous emasculations, disemboweling, decapitations, amputations, hundreds of bayoneting, shootings and just plain bludgeoning to death of the defenseless, starved and wounded soldiers were common on the march…in full view of their helpless comrades…
The Death March came three months after the U.S. surrendered the Bataan Peninsula — a 60-mile-long strip of land east of Manila — to the Japanese along with more than 76,000 troops under American command on April 9 1942.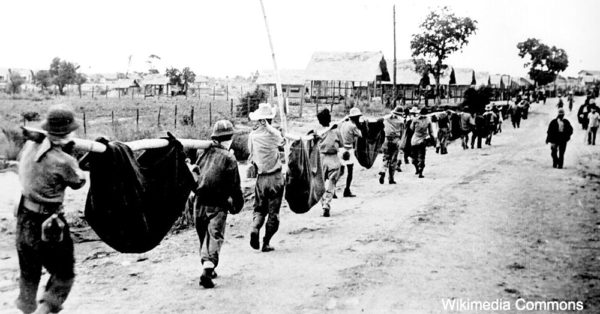 Numbers for those who were forced to march, died or survived are variously reported, but all are tragic enough.
Some of the somber figures:
• From 60,000 to 80,000 U.S. and Filipino soldiers were forced to march — between 10,000 and 12,000 were Americans.
• From 500 to 1,000 American troops and from 5,000 to 18,000 Filipino troops perished during the March.
• Of the American troops forced to march and imprisoned for 40 months by the Japanese, only about a thousand survived the entire ordeal.
• Of those American prisoners "who who endured starvation and torture in 100-degree temperatures, fewer than 50 survivors are alive today."
Seventy-five years after the Death March, eight of those 50 survivors gathered at White Sands, New Mexico, on March 19 along with thousands of athletes and military and civilian marchers in an annual "Bataan Memorial Death March" — a 27-year tradition to memorialize those who died and suffered so much in the "original" March.
Similar marches, marathons, "valor runs" and other memorial ceremonies are held nation-wide to honor the victims. This year's White Sands Memorial March — one of the most challenging marathon courses, 26.2 miles long with 1,500-foot elevation changes and strong winds — had special significance.
Significant because this year it could be "one of the last times that the community can honor these [survivors] and recognize their bravery," as Lyn Rolf III, director of programs at the Veterans of Foreign Wars, said.
Significant to the State of New Mexico because so many of the U.S. soldiers in Bataan hailed from that state, specifically from the Army's 200th and 515th regiments, which deployed 1,800 men to the Philippines in 1941.
But the New Mexico March was especially significant to a young Air Force second Lieutenant who, only 30 years ago, "was dancing on her grandfather's feet."
You see, 2nd Lt. Amber Schoenberger is the granddaughter of Army Air Forces Cpl. Willard Edwin Howard, who at the young age of 18 was forced to march in Bataan. "Yet he came back from all of that to have a family and love and laugh often…I sometimes can't get over that perspective…" Schoenberger says.
On March 19, Schoenberger, in full military uniform and carrying a 50-pound backpack, "marched 26.2 miles in [her grandfather's] honor through deep desert sand and over rugged mountains…with four comrades in arms.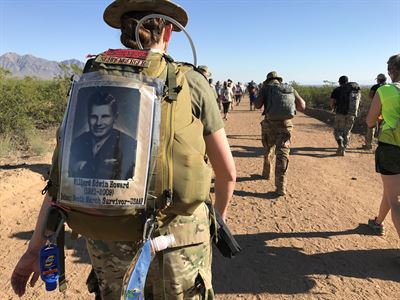 Air Force 2nd Lt.Amber Schoenberger (with her grandfather's picture on her backpack) marching in the Bataan Memorial Death March Marathon at White Sands Missile Range, NM. (Courtesy photo)
Carolyn Herrick, author of "Bataan Survivor's Descendant Leads Unit in Grueling Marathon," quotes 35-year old Schoenberger — one of a few women her age to complete the marathon in full uniform with a backpack:
"I could never understand the magnitude of the Bataan Death March as a little girl, and therefore could never really show my gratitude or empathy for what my grandfather endured – nor would he have ever wanted anyone to acknowledge him for that event, either – but this was really a way that I could take action to show respect for him and a higher level of understanding of his suffering.
Read more here and be sure to watch the video on the Bataan Death March below.
Note: The following comment appears with the video: "A documentary that Marshall, Landon, and I made for our WWII class this J-Term. We do not own, or claim to own any of the footage in this video. We have a work cited page created to verify this claim." Lead image is a screenshot from the video.