Report: Obama Warned Trump About Hiring Mike Flynn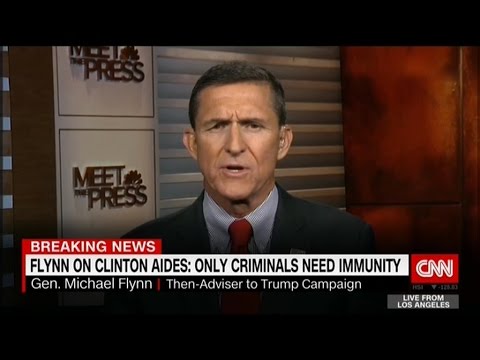 The Washington Post says three former Obama administration officials have confirmed that former President Barack Obama warned President Donald Trump about hiring Mike Flynn as his national security adviser. Trump hired Flynn anyway, which turned out to be a major error: Flynn was fired three weeks later.
Former President Obama warned President Donald Trump against hiring Mike Flynn as his national security adviser, three former Obama administration officials tell NBC News.

The warning, which has not been previously reported, came less than 48 hours after the November election when the two sat down for a 90-minute conversation in the Oval Office.

A senior Trump administration official acknowledged Monday that Obama raised the issue of Flynn, saying the former president made clear he was "not a fan of Michael Flynn." Another official said Obama's remark seemed like it was made in jest.
More likely, Trump simply didn't care and wanted Flynn. He's now blaming the Obama administration (what else?) for security problems surrounding Flynn, even though some expert recently noted that the Trump administration didn't do "extreme vetting" in this case. MORE:
According to all three former officials, Obama warned Trump against hiring Flynn. The Obama administration fired Flynn in 2014 from his position as head of the Defense Intelligence Agency, largely because of mismanagement and temperament issues.

NBC News Alerts: Sign up to be the first to know about breaking news

Obama's warning pre-dated the concerns inside the government about Flynn's contacts with the Russian ambassador, one of the officials said. Obama passed along a general caution that he believed Flynn was not suitable for such a high level post, the official added.

Two administration officials said Obama also warned Trump to stay vigilant on North Korea.

The revelations came on the same day that former acting Attorney General Sally Yates testified about the events that led to Flynn's eventual firing. Separately, two U.S. officials told NBC News that the Defense Intelligence Agency didn't know Flynn had been paid nearly $34,000 by a Russian state media outlet when it renewed his security clearance in April 2016.

Trump named Flynn as his national security adviser. Flynn, who was conducting private conversations with the Russian ambassador regarding sanctions, was then fired three weeks into the administration for misleading Vice President Pence about those conversations.
Axios' Jonathan Swan reports that Trump has told his staff to lay off criticism Flynn and offers his rationale:
How Trump reasons it, per the source:
*General Flynn is a good man who served his country admirably.
The Russia story is "fake news" and Flynn did nothing wrong by having the conversations with the Russian ambassador. (Though obviously the *President has acknowledged publicly that it wasn't appropriate for Flynn to either mislead the Vice President or not remember the phone call where they discussed sanctions.)
*When Flynn went to Russia in 2015 to deliver a paid speech and take a photo with Putin, he was acting under an Obama security clearance. This *is a point the President wants to stress and you can expect to hear the White House press team repeat it.
Josh Marshall reaches the same conclusion I do about why Trump didn't act to fire Flynn immediately:
We are currently watching the Yates/Clapper Senate hearing. A key question in all these questions is why Flynn remained in office for some three weeks after these notifications from the Department of Justice. That's a long time, given the centrality of Flynn's role as National Security Advisor. But eventually it did happen.

Here's what really isn't being noted. Flynn was only fired because a series of press reports – most specifically one in the Post – revealed his deceptions. There's every reason to think the White House had no intention of acting until the information became public because of leaks.

This is a critical part of the story. It wasn't just that the White House didn't act quickly. There is strong, strong reason to believe they never would have acted on it or dismissed Flynn at all.