Trump uses executive order to sign anti-abortion rule.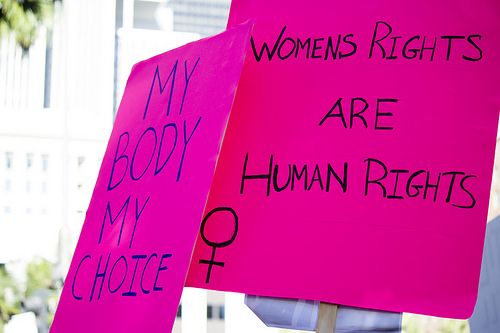 The Huffington Post's headline screams: "ROOM FULL OF MEN SCREWS WOMEN" as it talks about how a quite literally room full of white men sat an watched as President Donald Trump signed an executive action imposing an anti-abortion rule. Apparently not a woman could be found anywhere to be there when it was signed.
Trump reinstated the Mexico City policy, also known as the global gag rule, which was first put in place by President Ronald Reagan in 1984. It prohibits giving U.S. funding to international nongovernmental organizations that offer or advise on a wide range of family planning and reproductive health options if they include abortion ? even if U.S. dollars are not specifically used for abortion-related services.

The United States spends about $600 million a year on international assistance for family planning and reproductive health programs, making it possible for 27 million women and couples to access contraceptive services and supplies.

None of that money is spent on performing abortions. The Helms amendment has prevented U.S. tax dollars from funding overseas abortions since 1973. Proponents of the global gag rule believe the policy is nevertheless still necessary, arguing that Helms isn't strong enough by itself.
As conservatives hailed the move on Twitter, the National Abortion Federation issued a press release:
Statement by Vicki Saporta, President and CEO of the National Abortion Federation (NAF), on President Trump's Executive Order reinstating the Global Gag Rule:

President Trump's decision to reinstate the Global Gag Rule will endanger already vulnerable women by further curtailing their access to accurate information and safe reproductive health care services.

Originally authored during the Reagan Administration, the Global Gag Rule prohibits international non-governmental organizations (NGOs) that receive U.S. government funds from using their own private funds to provide abortions. The policy also prevents NGOs from lobbying their own government for a change in abortion laws, conducting public education campaigns about abortion, referring women to safe abortion providers, or even providing medically accurate counseling about abortion to their clients.

This draconian policy has been devastating for the millions of women in developing nations who rely upon NGOs for essential health care services. In many countries, NGOs are the only health care providers in rural areas. Since many clinics offer comprehensive health care services in addition to family planning, the loss of funding under the Global Gag Rule has meant that children have not been immunized, couples have not been able to receive HIV testing and treatment, and families have not been able to access malaria services.

The U.S. should be a leader in promoting women's health and human rights around the world instead of using foreign aid as a tool to limit women's access to health care. Organizations should not be disqualified from receiving U.S. assistance because they use their own funds to provide health services and information that are legal in their home country and legal in the United States.

The policy was rescinded by President Clinton in 1993, re-implemented by President G.W. Bush on his first day in office in 2001, and then rescinded by President Obama in 2009.

# # #

The National Abortion Federation (NAF) is the professional association of abortion providers. Our members include individuals, private and non-profit clinics, Planned Parenthood affiliates, women's health centers, physicians' offices, and hospitals who together care for approximately half the women who choose abortion in the U.S. and Canada each year. Our members also include public hospitals and both public and private clinics in Mexico City and private clinics in Colombia. Our mission is to ensure safe, legal, and accessible abortion care, which promotes health and justice for women.
Expect more of this. And also to see the administration find a way to repeal Roe Versus Wade. Trump has made it clear that he essentially is going to be a president by the base of the base and for the base, so this is likely only to be the opening salvo in a four (or more) year effort by the Trump administration to roll back abortion.
Unsafe abortion accounts for 13% of all maternal deaths globally. Trump's reinstating the 'Global Gag Rule' will be deadly.

— Laura Bassett (@LEBassett) January 23, 2017
This is Donald's punishment for the #WomensMarch: he just reinstated Ronald Reagan's abortion "global gag rule" https://t.co/Fs0uYRlhxI

— Laura (@SheWhoVotes) January 23, 2017
1/21: 2.5 million women march.
1/22: 44th anniversary of Roe v. Wade
1/23: Trump starts rolling back women's rightshttps://t.co/mqQwVonBQQ

— Kate Black (@KateBlackDC) January 23, 2017
Saturday: Women march around the world.
Monday: Trump screws women around the world. #GlobalGagRule #WomensMarchhttps://t.co/pPiWf9fDBs

— Ferchil Ramos (@FerchilRamos) January 23, 2017
Per @WHO, unsafe abortions account for 13% of maternal deaths. #GlobalGagRule drives women deeper into the shadows. https://t.co/Ni2cfNU4T2

— Rep. Barbara Lee (@RepBarbaraLee) January 23, 2017
MYTH: Trump bans taxpayer $ for abortion overseas.
FACT: #GlobalGagRule kills funding for ANY health center that even *mentions* abortion. pic.twitter.com/4Pq6741VwB

— NARAL (@NARAL) January 23, 2017
Surrounded by men, Trump reinstates Reagan-era abortion restriction https://t.co/qVDlAfYy6M pic.twitter.com/qghAKlKVr6

— ThinkProgress (@thinkprogress) January 23, 2017

photo credit: lcpuro Women's March Los Angeles via photopin (license)