Military Weekend: Those Magnificent Paratroopers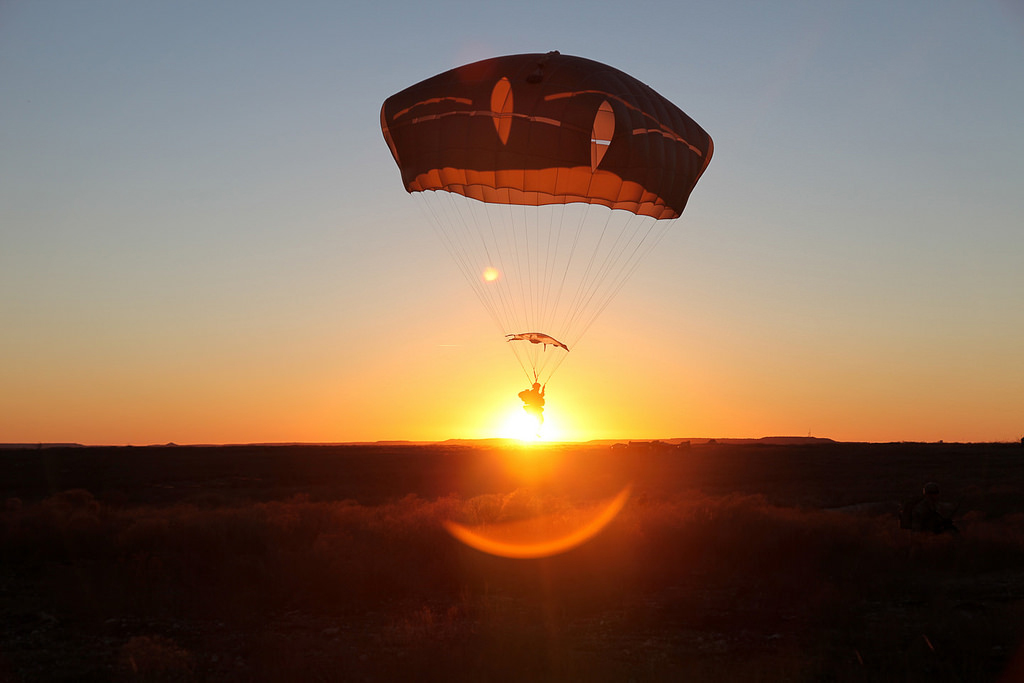 Anyone who tells you he or she is not apprehensive when performing a hazardous mission or task is either not being totally candid or has nerves of steel and ice cold water flowing through his or her veins — just a personal opinion.
It may also be a personal opinion that one admires the most those who do the dangerous things one is most afraid of doing him- or herself.
I happen to tremendously admire those brave men and women in the military who jump out of perfectly good airplanes — "for a living."
It could be because as a young crew member flying airborne early warning missions over the cold North Atlantic, my biggest fear was to have to parachute, probably out of a not-so-perfect airplane, and relive one of those macabre paratrooper poems or songs so popular in the 50s — such as this one:
He counted long, he counted loud, he waited for the shock,
He felt the wind he felt the cold, he felt that awful drop,
The silk from his reserve spilled out and wrapped around his legs

AND HE AIN'T GONNA JUMP NO MORE.
To read even more gory, "He ain't gonna jump no more" songs and poems about paratroopers, please click here.
But here is a much better "poem." It is "The Paratrooper's Prayer," by Chaplain Terry Austin, Advanced Airborne School, Fort Bragg.
Heavenly Father, hear my call; for through the sky I will soon fall.
Stand up, hook up, shuffle to the door, I pray for your will, nothing less, nothing more.
One thousand, two thousand, three thousand, four . . . My canopy fill 'fore I count any more.
Give me courage, in the midst of my fear, to enjoy your world's beauty from way up here.
From jumpers and obstacles float me clear, and safely to the drop zone help me steer.
Feet and knees together, preparing myself to land, never more aware that I'm secure within your hand.
Guide and help me, as I quickly get to my feet, to conquer every obstacle 'til the mission is complete.
In our Lord's name I shall forever pray, because I'm Airborne and Prayerborne all the way. AMEN
And here are those brave men and women I admire so much.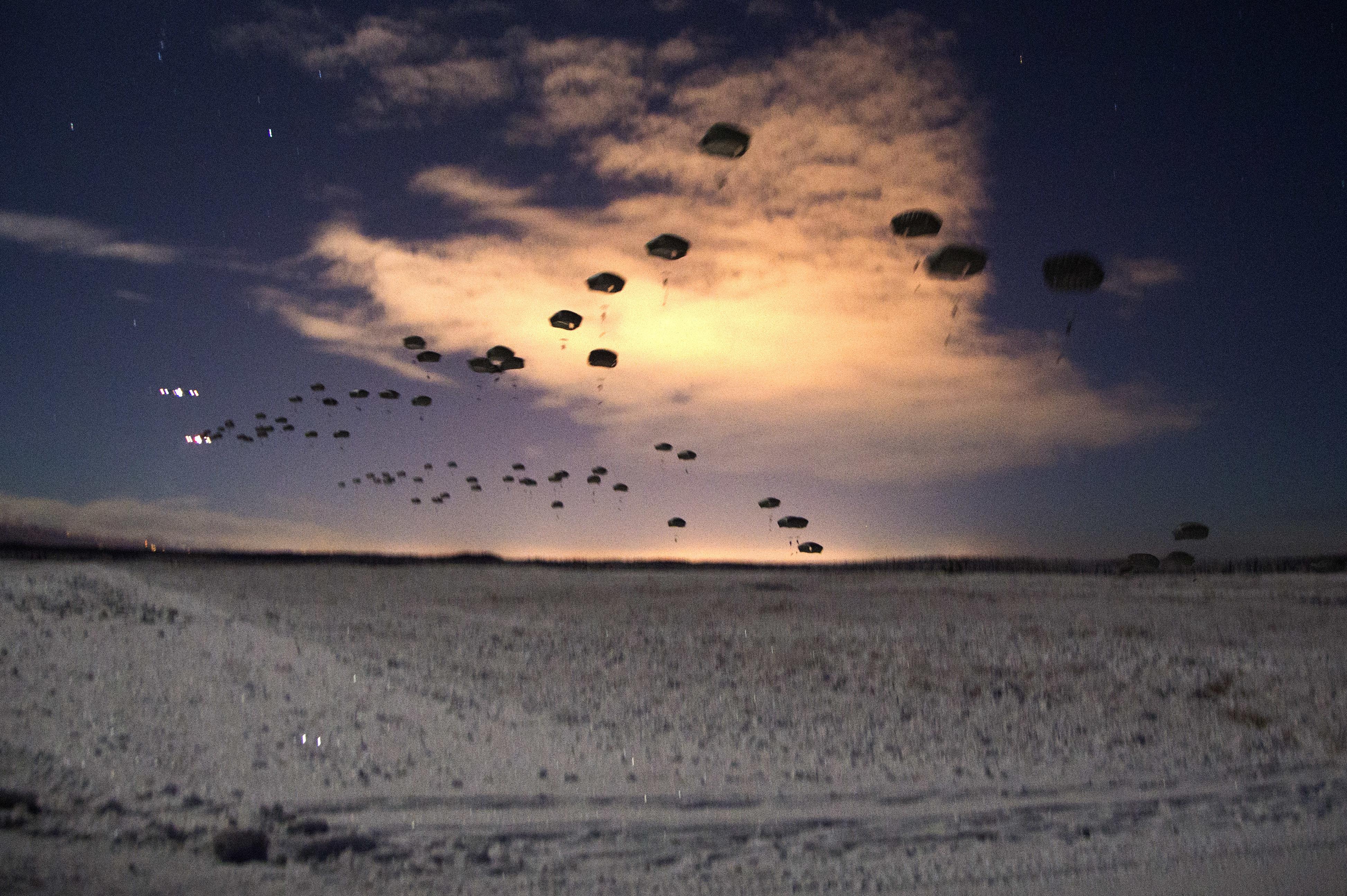 U.S. and Canadian paratroopers take part in a night jump over Malemute drop zone on Joint Base Elmendorf-Richardson, Alaska, Jan. 21, 2016. The paratroopers are assigned to the 25th Infantry Division's 4th Brigade Combat Team, Airborne, Alaska, and Canadian paratroopers are assigned to the Princess Patricia's Canadian Light Infantry Regiment. U.S. Air Force photo by Staff Sgt. Sheila deVera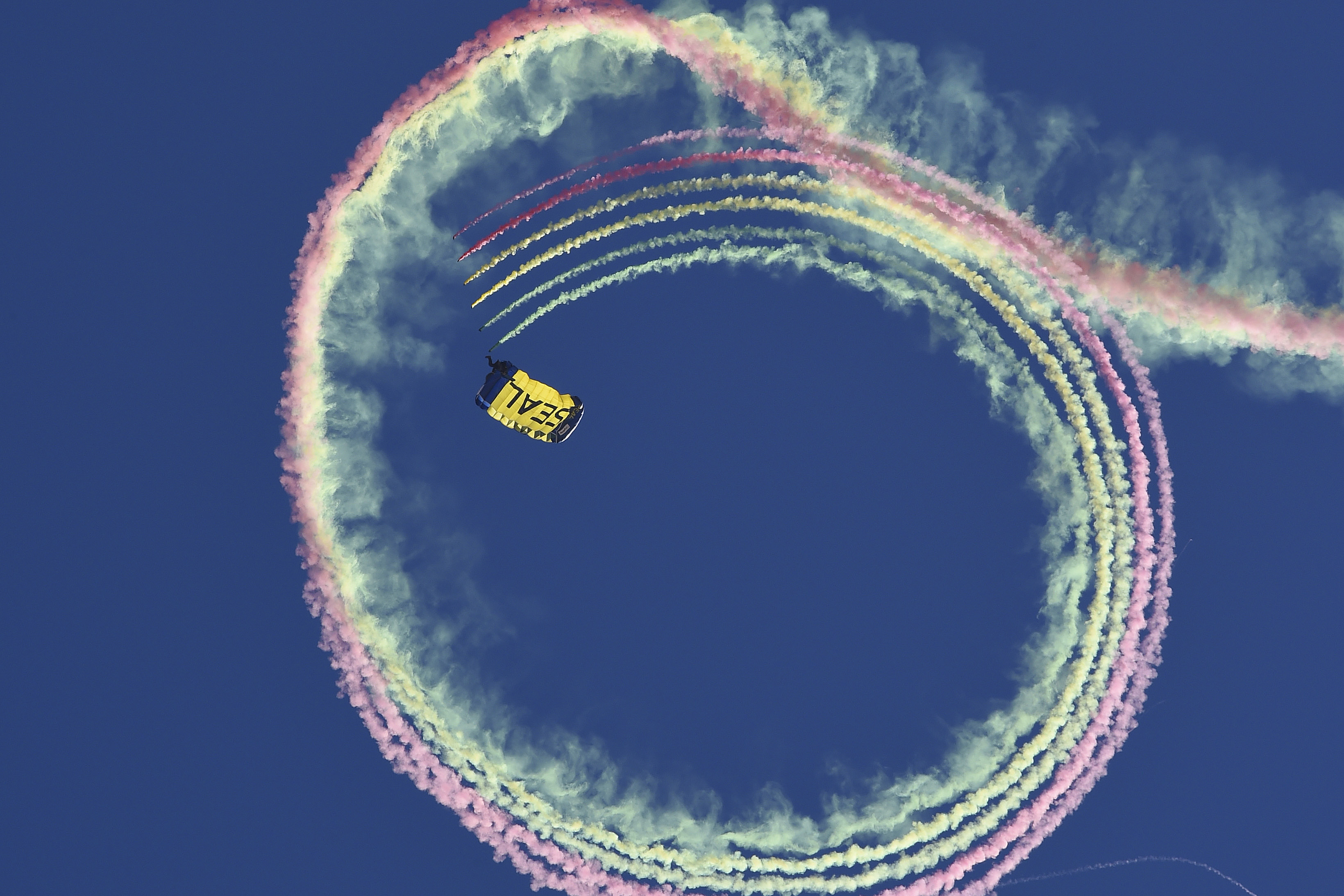 Navy Petty Officer 1st Class Remington Peters trails smoke during a training demonstration in Eloy, Ariz., Feb. 11, 2016. Peters is a member of the Leap Frogs, the Navy's parachute team. Navy photo by Petty Officer 2nd Class Pyoung K. Yi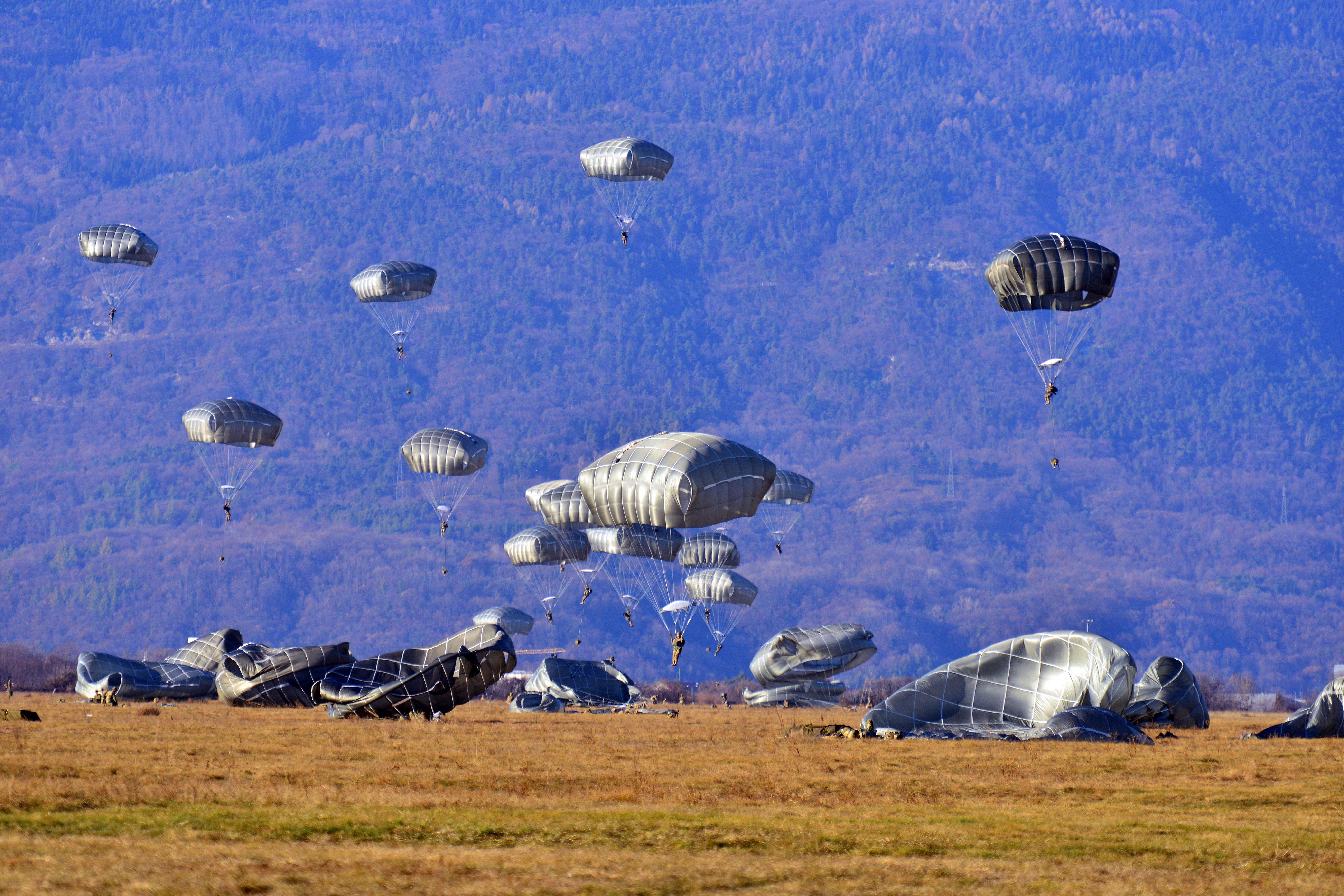 Army paratroopers land onto Juliet drop zone during airborne operations training in Pordenone, Italy, Jan. 21, 2016. Army photo by Paolo Bovo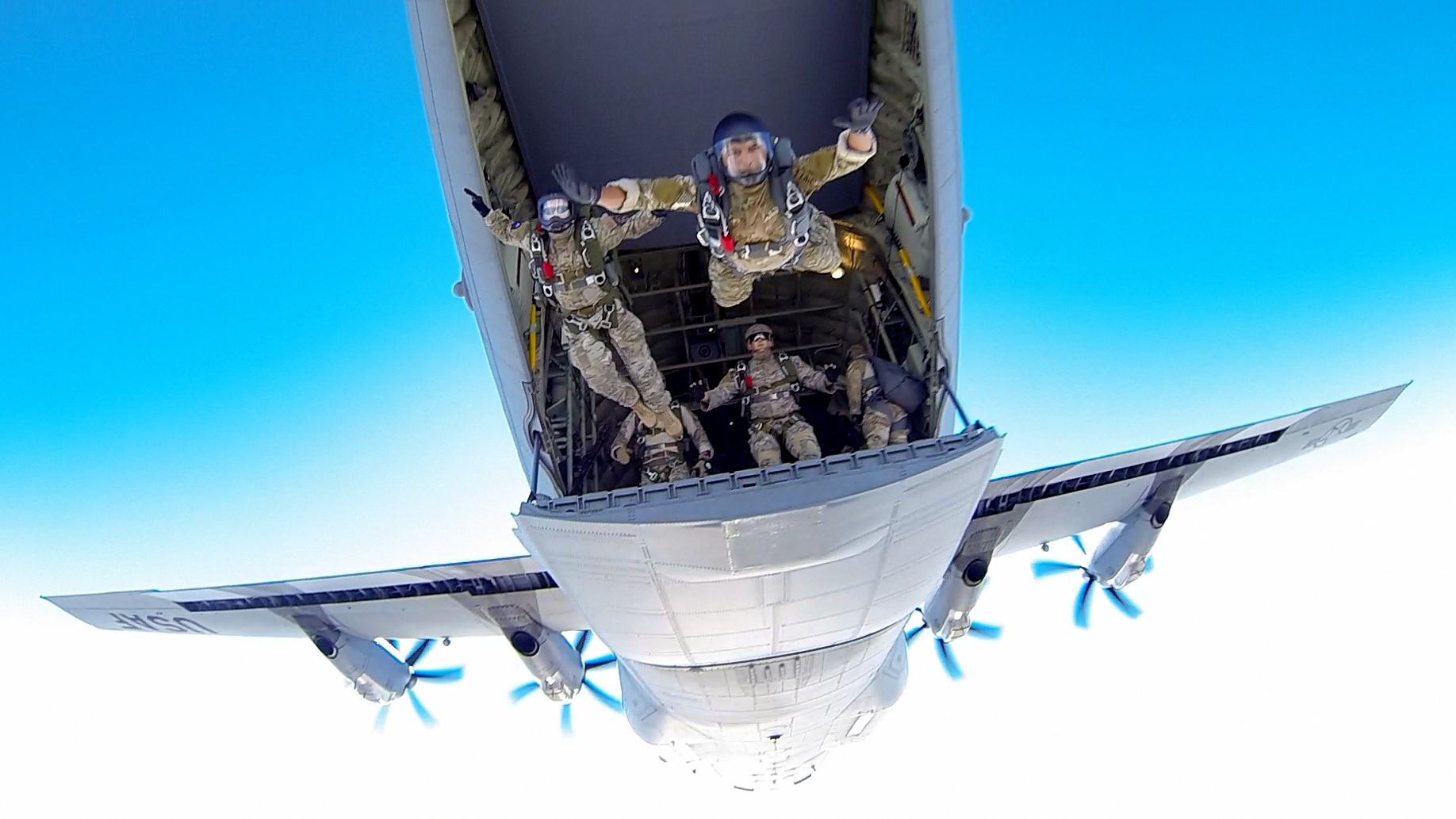 Airmen leap from the back of a C-130J Hercules during a parachute jump over Keesler Air Force Base in Biloxi, Miss., Jan. 20, 2016. The airmen are assigned to the 334th and 335th Training Squadrons. U.S. Air Force photo by Matt Hames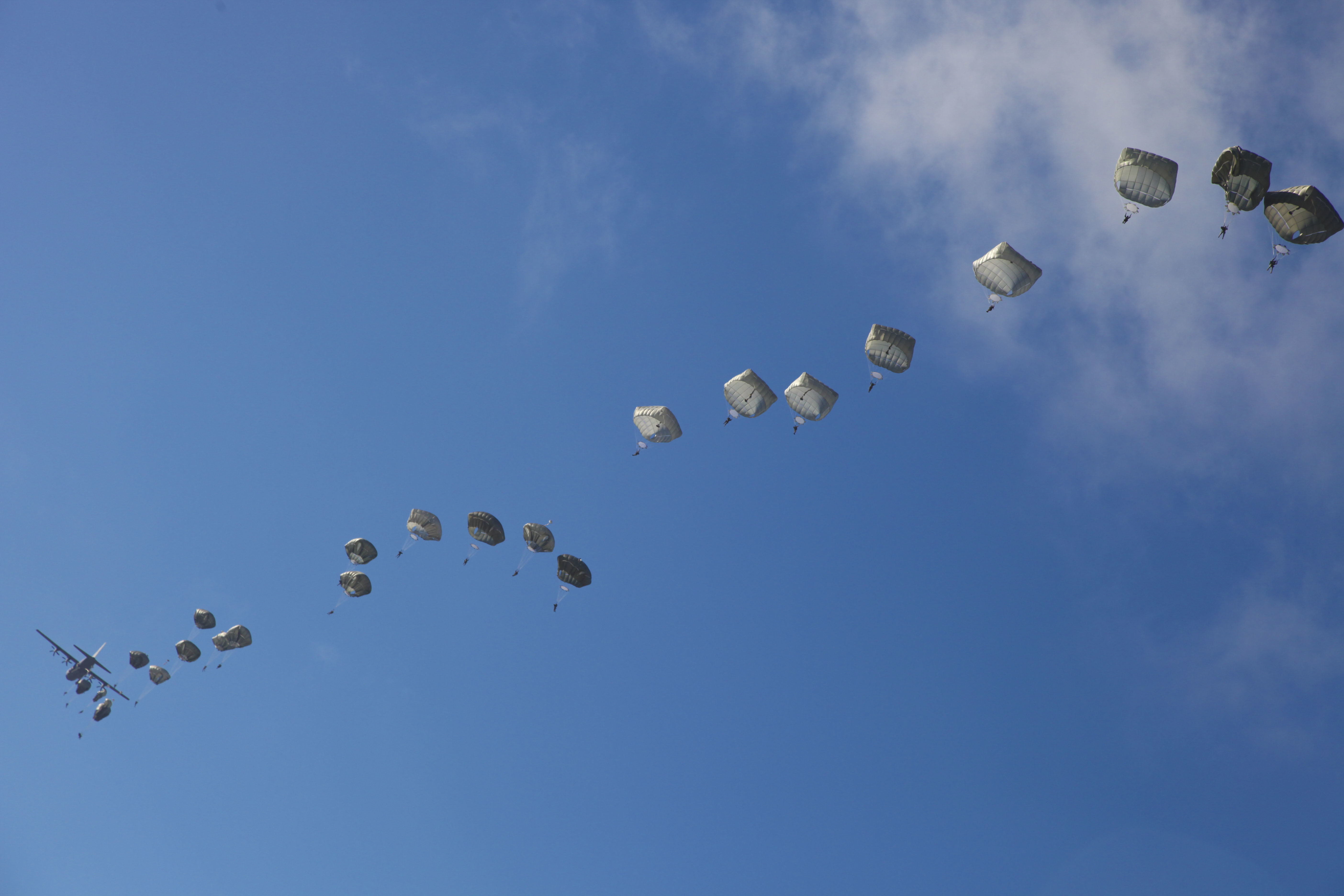 Paratroopers descend after jumping out of an Air Force C-130 aircraft during a proficiency jump program at Pope Army Airfield on Fort Bragg, N.C., Jan. 16, 2016. U.S. Army photo by Spc. Kevin Kim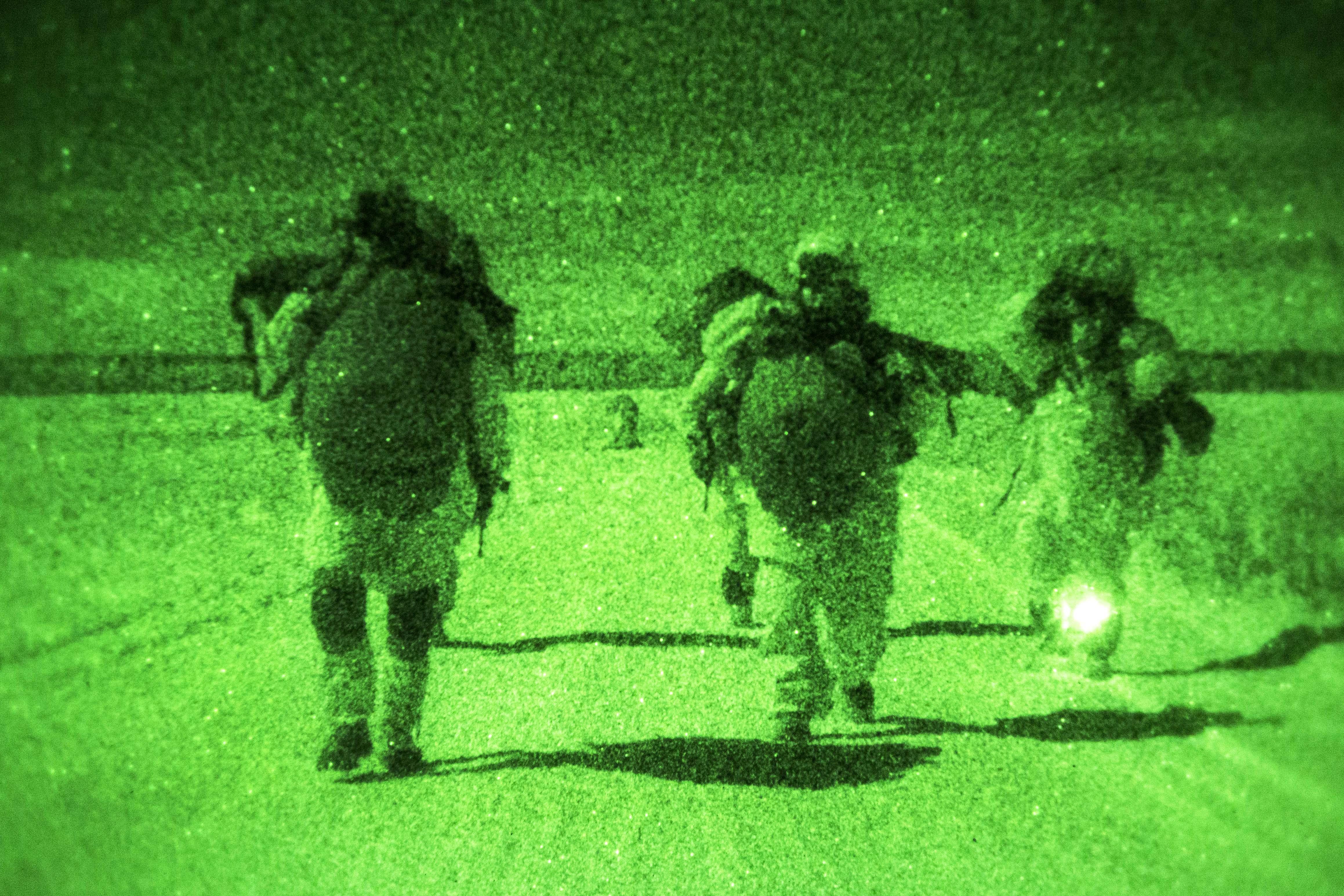 As seen through a night-vision device, paratroopers proceed to the rally point after participating in a night jump onto Malemute drop zone on Joint Base Elmendorf-Richardson, Alaska, Jan. 21, 2016. U.S. Air Force photo by Alejandro Pena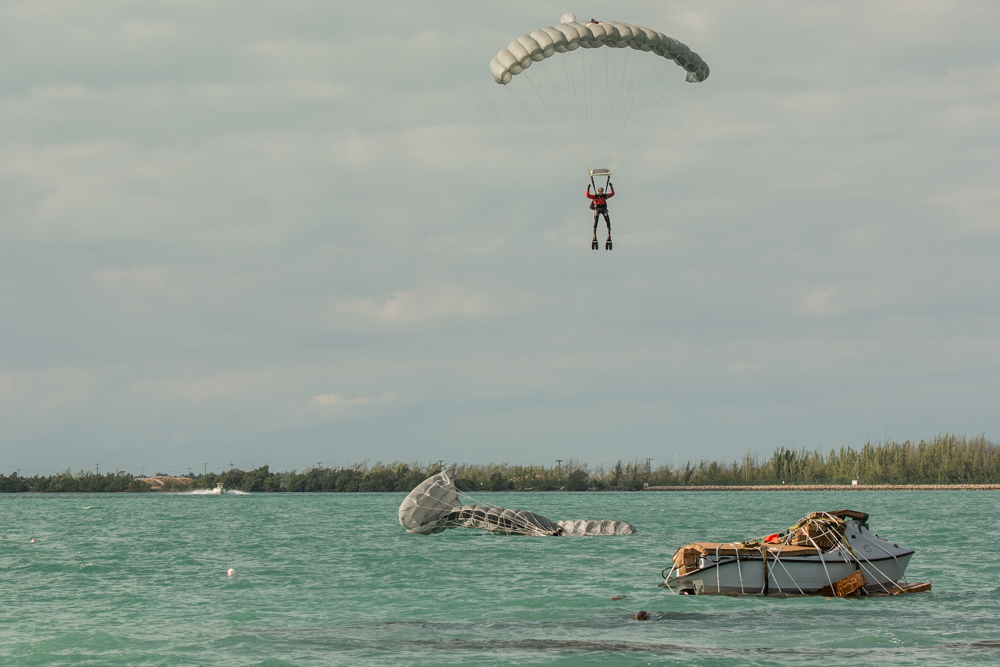 An Air Force pararescueman descends over the Patton drop zone during Operation Jesse Relief, a joint search and rescue exercise in Key West, Fla., Jan. 25, 2016. Missouri Air National Guard photo by Senior Airman Sheldon Thompson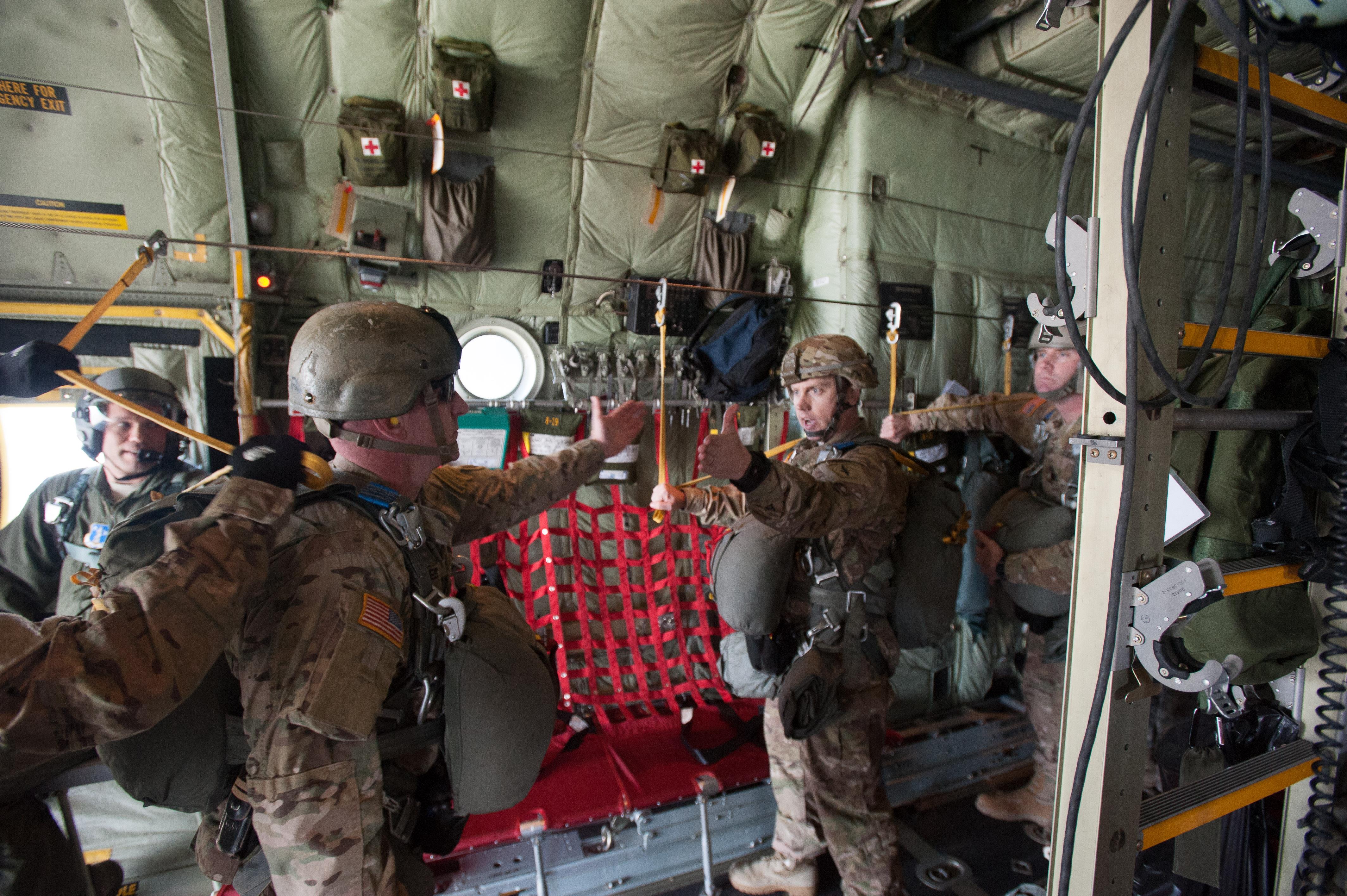 An Army jumpmaster, left, receives the, "all OK jumpmaster," from a paratrooper, signaling each soldier is prepared to conduct a static-line parachute jump over a drop zone on Eglin Air Force Base, Fla., Jan 13, 2016. Army photo by Staff Sgt. William Waller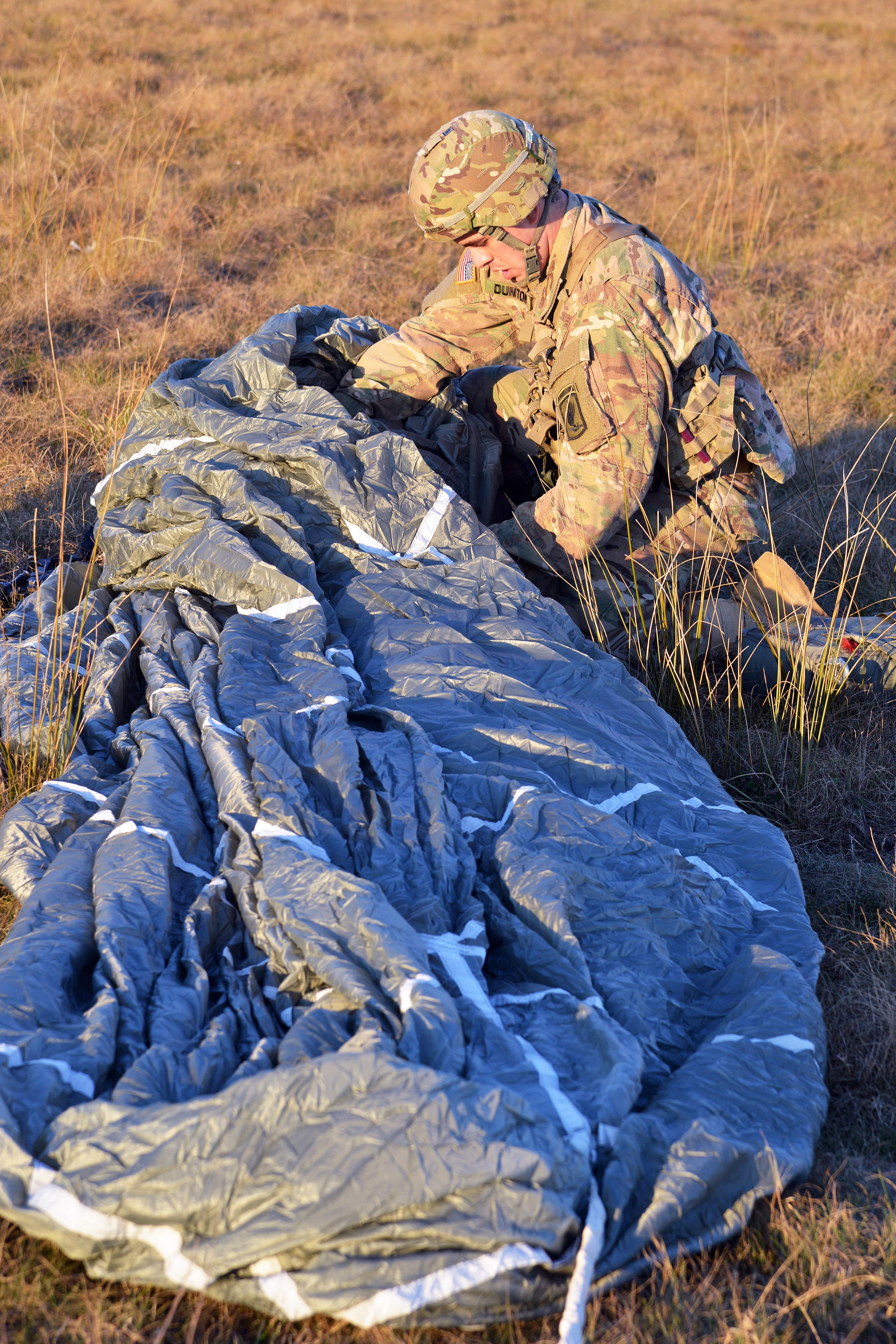 Army Pfc. Saimol Dunton recovers his T-11 parachute on Juliet drop zone in Pordenone, Italy, Jan. 21, 2016. Dunton is a paratrooper assigned to the 1st Battalion, 503rd Infantry Regiment, 173rd Airborne Brigade. Army photo by Paolo Bovo
Lead photo: An Army paratrooper conducts airborne operations on Fort Hood, Texas, Feb. 9, 2016. The paratrooper is assigned to the 1st Brigade Combat Team, 82nd Airborne Division. Army photo by Staff Sgt. Javier Orona
All photos and captions: DOD