Military Weekend: The 2016 Snow Emergency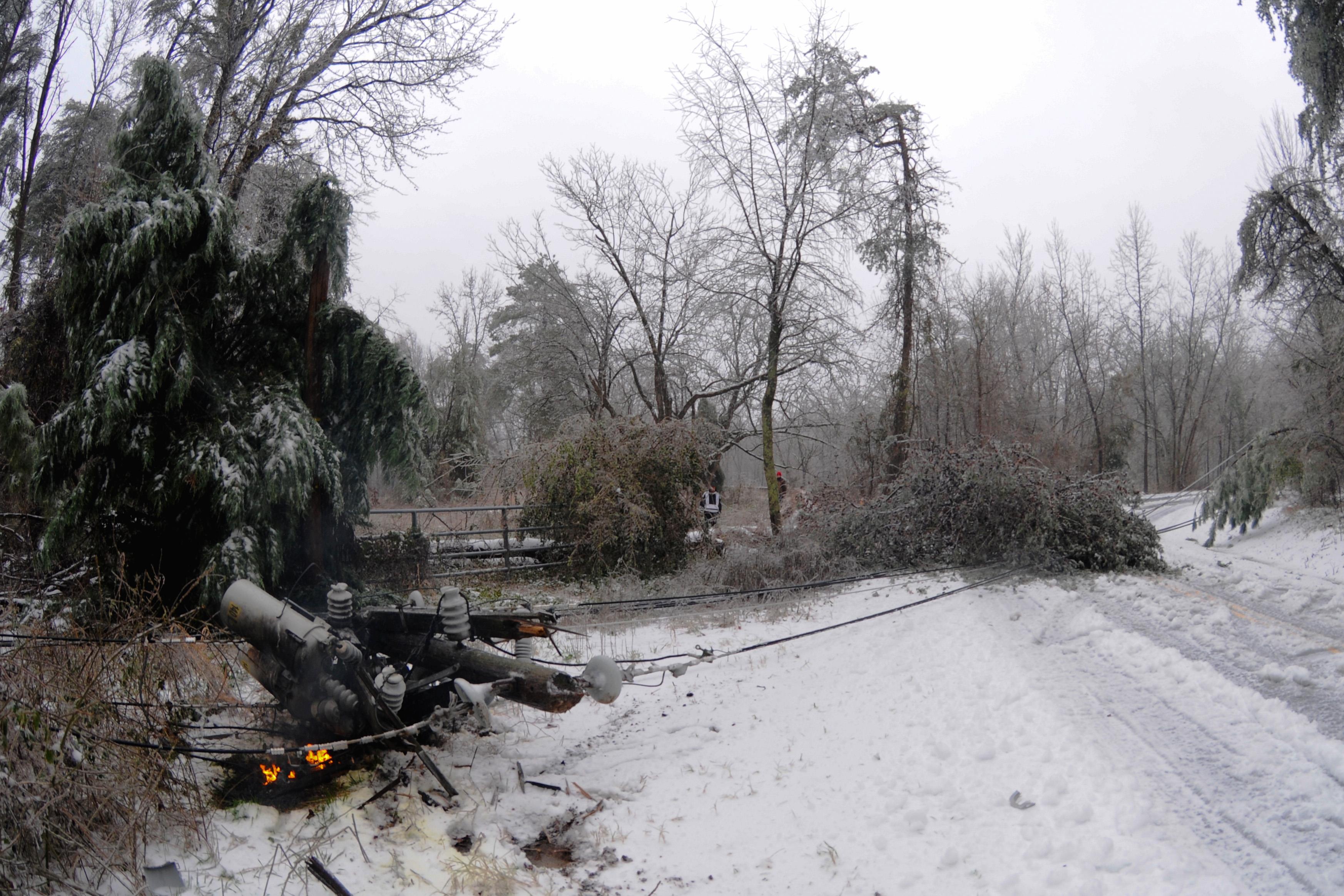 From a DoD news release:
As much of the East Coast hunkered down in the midst of a ferocious winter storm, National Guard citizen-soldiers and citizen-airmen were poised to assist local and state emergency agencies.
National Guard Bureau officials said more than 2,200 National Guard personnel from 12 states are supporting state and local authorities affected by the storm.
Governors in at least 11 states declared states of emergency, which enabled resources to be positioned to assist when the snow and high winds struck. Those states include: Delaware, Georgia, Kentucky, Maryland, New Jersey, New York, North Carolina, Pennsylvania, Tennessee, Virginia and West Virginia.
National Guard soldiers are assisting Virginia State Police troopers and local emergency organizations in getting through heavy snow to respond to vehicle crashes and to evacuate residents who need medical assistance, and they also have helped to get equipment to a house fire.
As of this morning, the Virginia Guard had about 400 personnel staged and ready in various portions of the state.
In Washington, D.C., Mayor Muriel Bowser was emphatic to residents: "It has life and death implications, and (people) should treat it that way," she said. "People should hunker down, shelter in place and stay off the roads." The National Guard deployed 100 personnel in 30 Humvees to transport essential employees throughout the nation's capital.
Further north in Delaware, soldiers and airmen were busy with storm response.
The Delaware National Guard has about 200 soldiers and airmen positioned around the state to support the citizens of Delaware throughout the storm. In coordination with DEMA, they conduct support missions ensuring that Delawareans are transported to safety and first responders and medical workers arrive to work safely.
The New York National Guard has pre-positioned 40 vehicles and 95 soldiers and airmen in the New York City and Long Island areas who are available to respond to aid local governments if directed by the governor.
Guard personnel in Arkansas wound down their storm response yesterday. Initially, the Arkansas National Guard deployed six truck teams and three command and control support cells for 27 Humvees and 54 personnel.
During the early hours of the winter storm, the Arkansas Guard truck teams reported treacherous road conditions as sleet and snow rapidly began to accumulate across the central and southeastern regions of the state. The overnight roving patrols logged over 1,000 miles and located 18 abandoned vehicles, transported three stranded motorists to local gas stations, transported three state troopers and worked several accidents involving 18-wheelers.
Here are some images: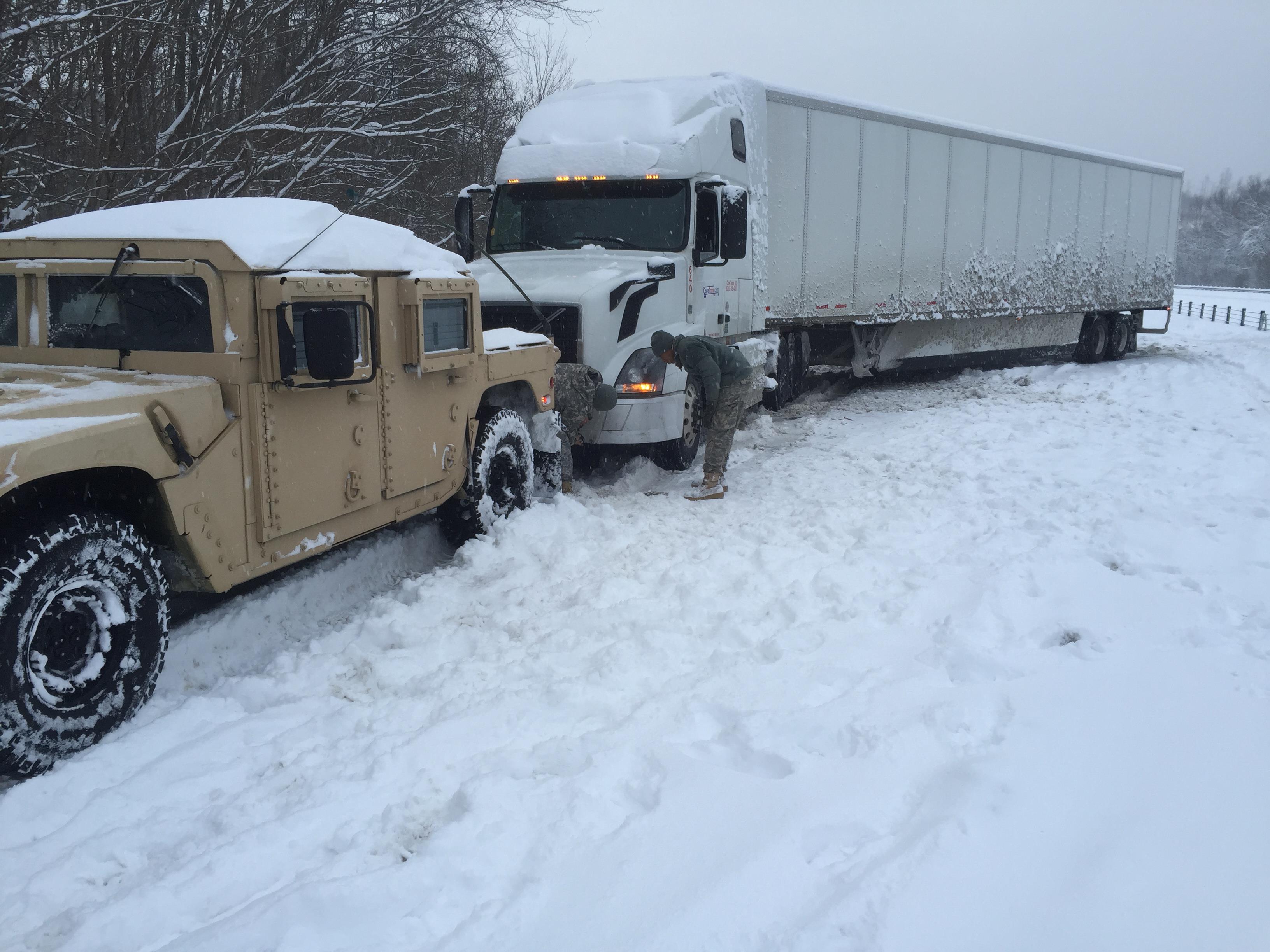 Soldiers supporting winter storm response operations connect towing chains to a semitruck stuck in snow on Interstate 75 south of Lexington, Ky., Jan. 23, 2016. Kentucky National Guard photo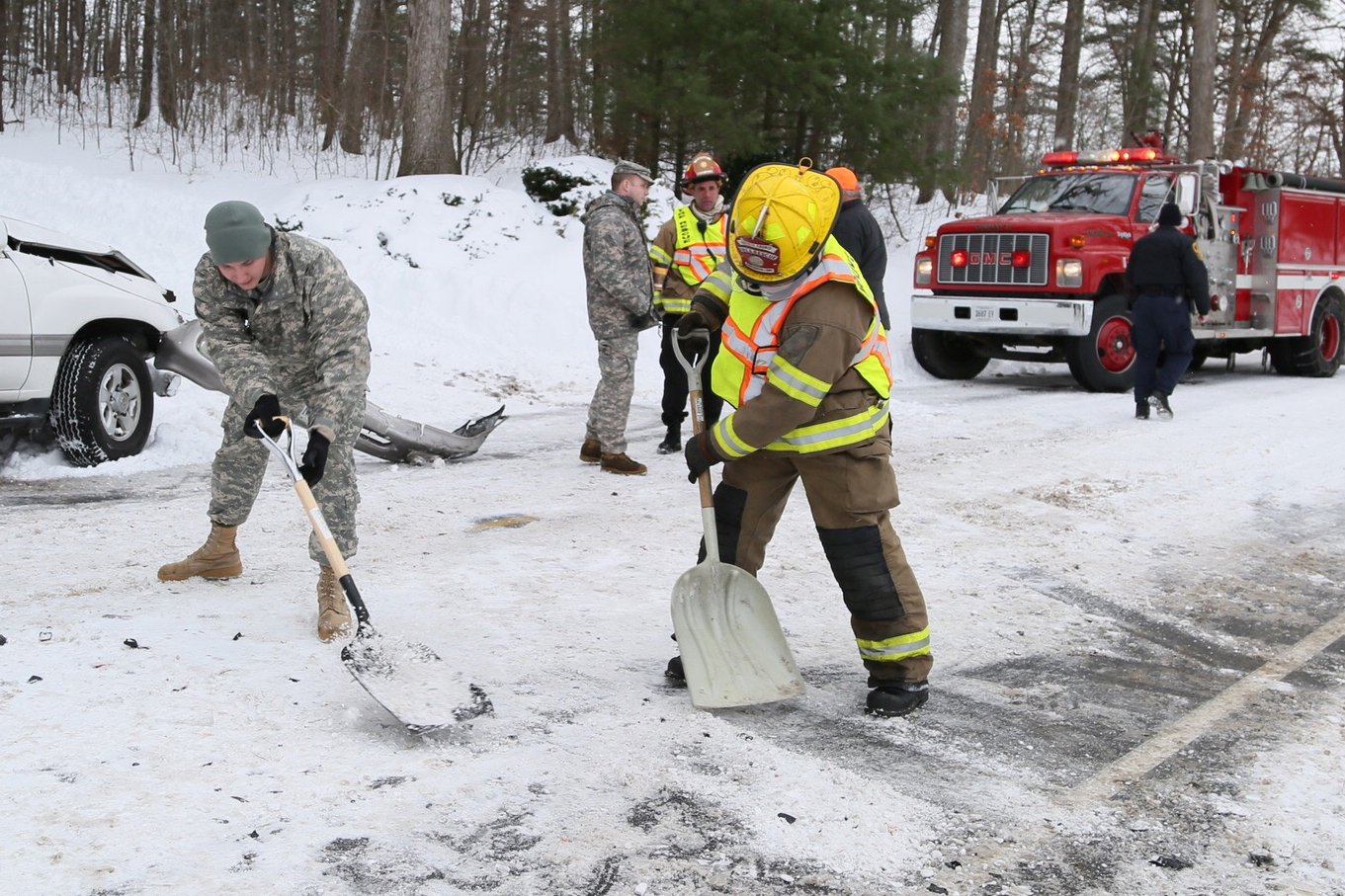 Soldiers provide assistance to firefighters and Virginia State Police personnel during winter storm response operations in Verona, Va., Jan. 23, 2016. The soldiers are assigned to the Virginia National Guard's Headquarters Company, 116th Infantry Brigade Combat Team. Courtesy photo by Virginia Defense Force 2nd Lt. Jay Haas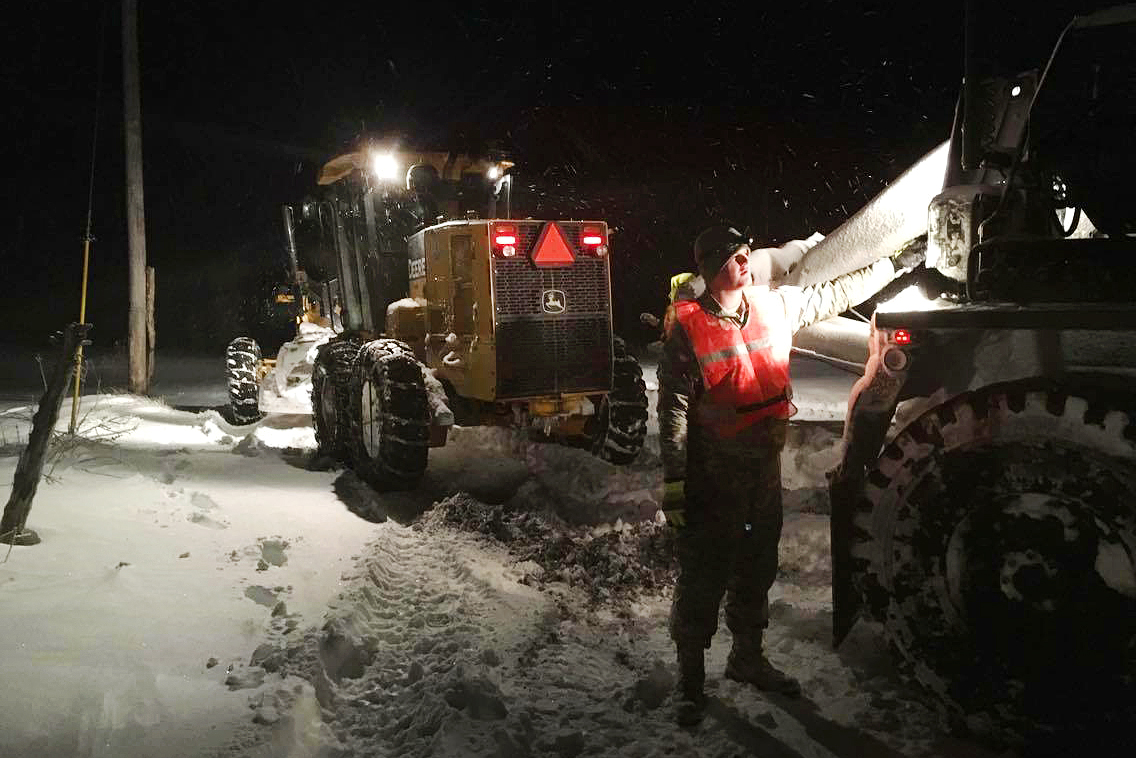 Soldiers help a motorist on Interstate 75 south of Lexington, Ky., Jan. 23, 2016, while supporting winter storm response operations. The soldiers are assigned to the Kentucky National Guard's 203rd Forward Support Company. The Kentucky National Guard mobilized more than 120 soldiers at multiple locations across the state to provide support during the winter storm. Kentucky National Guard photo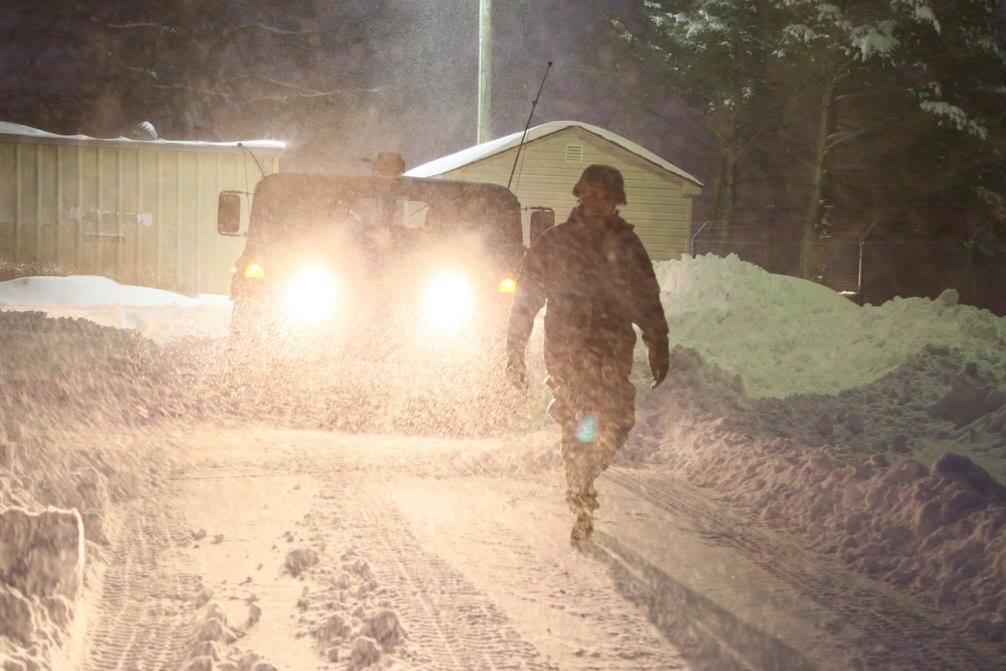 A soldier guides a Humvee preparing to depart from a readiness center to link up with Virginia State Police personnel for possible snow response operations in Staunton, Va., Jan. 23, 2016. U.S. Army photo by 2nd Lt. Jay Haas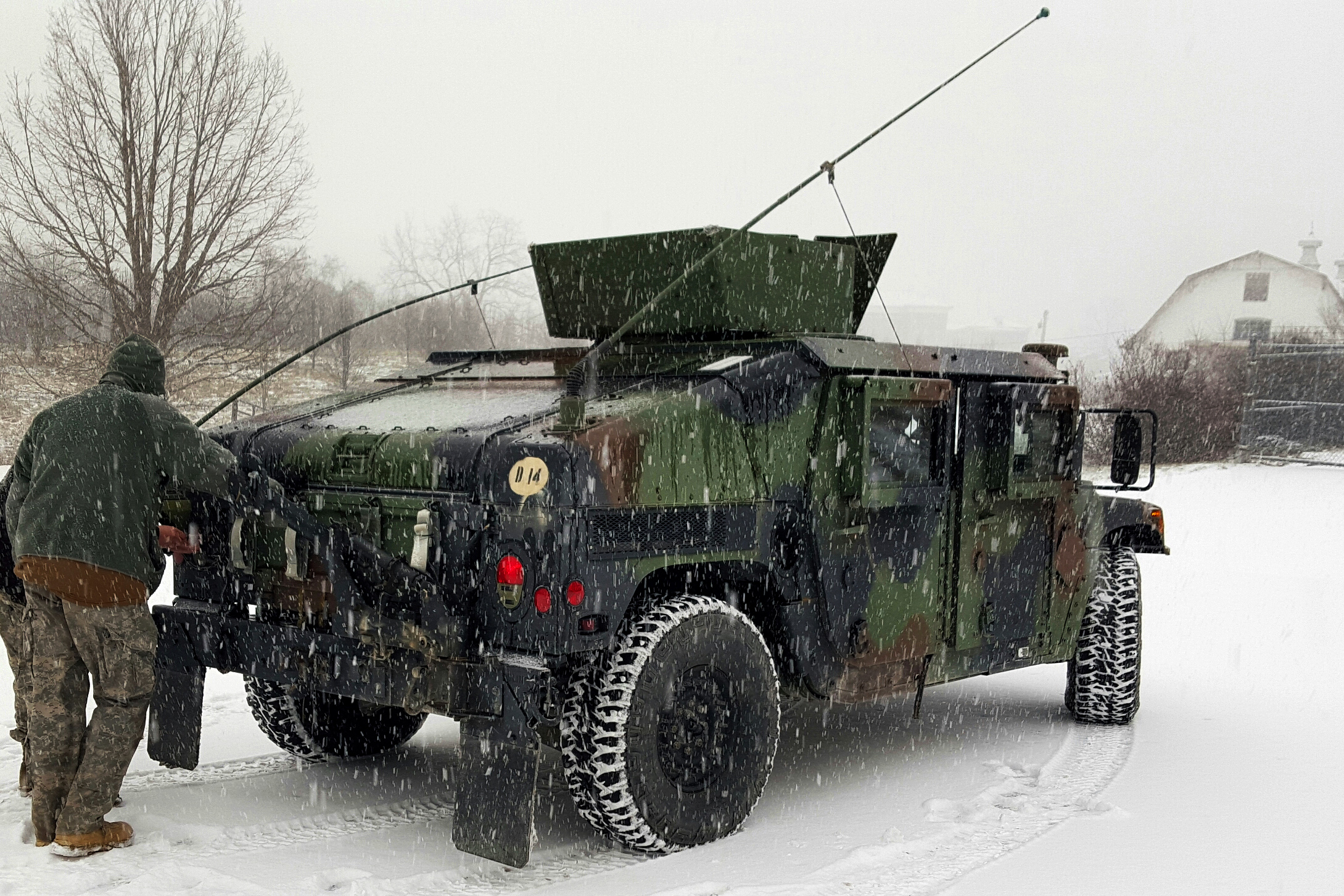 Soldiers and Verona Fire Department personnel prepare for winter weather response operations in Verona, Va., Jan. 22, 2016. The soldiers are assigned to the Virginia Army National Guard's Headquarters Company, 116th Infantry Brigade Combat Team. Virginia National Guard photo by Army
Lead photo: An electrical transformer and cables burn and fallen trees block a road during a winter storm around Greenville and Travelers Rest, S.C., Jan. 22, 2016. South Carolina National Guard photo by Army Staff Sgt. Roby Di Giovine
All photos and captions: DOD