Memorial Day: Once More, 'Splendidly'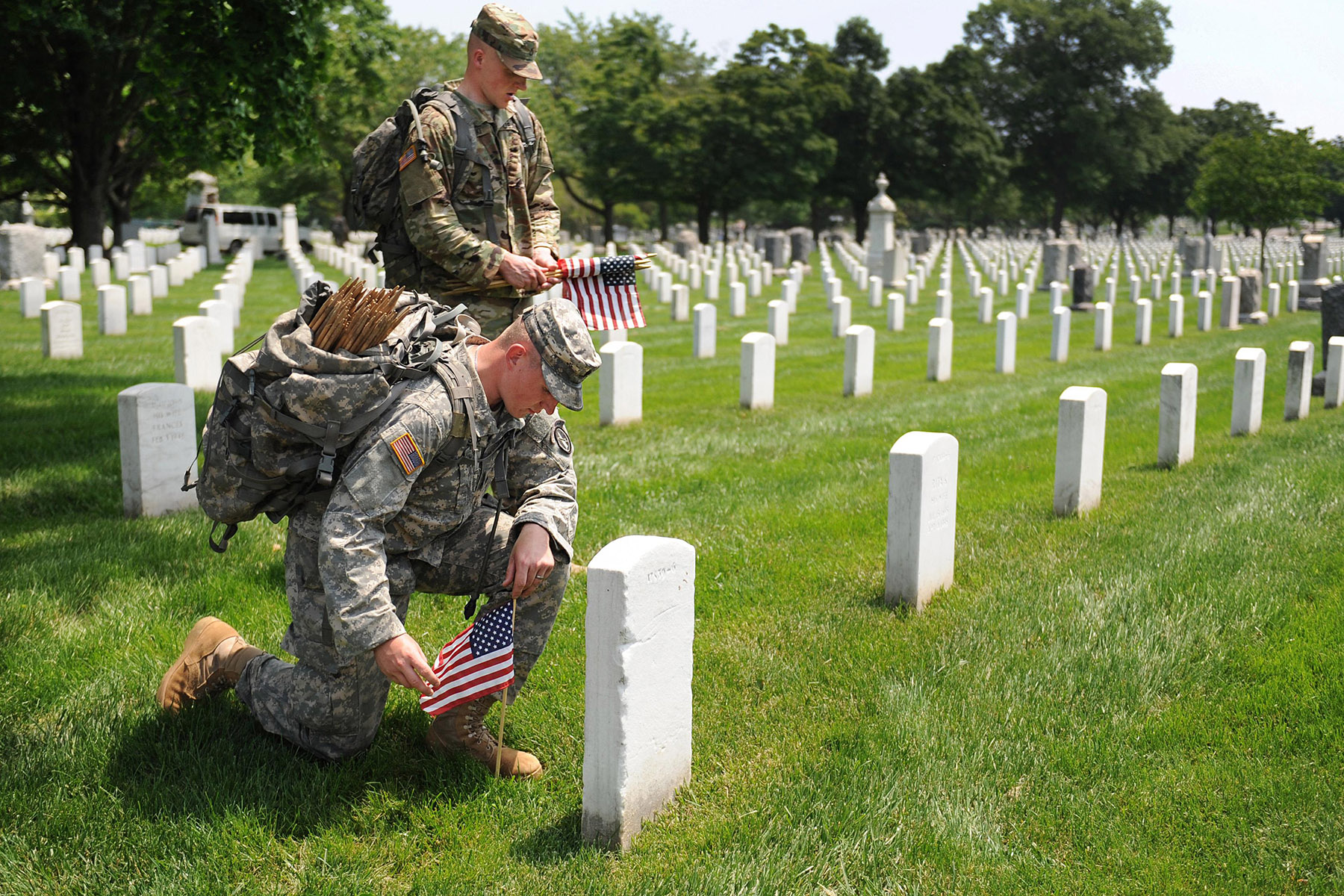 In my humble post on the significance of Memorial Day, I explained how difficult it is to come up with "fresh, new words" to express one's respect for those who we honor this weekend.
I also mentioned — fully aware of my literary limitations — that my message would "compete" with those "by thousands of others voicing or writing much more eloquent and powerful memorials — remembrances."
In fact, just at the beginning of this Memorial Day weekend there has already been an abundance of heart-rending essays reflecting on the grief and horror of war, "on the cost of our freedom."
In my opinion, the most powerful, emotive commentary I have had the opportunity to read this weekend is an amazing essay by Bob Kunzinger at the Washington Post.
Copyright issues prevent me from quoting in its entirety what Kunzinger "saw from a green hill at Arlington."
I hope the reader will have the opportunity to read the entire article here.
The following are a few haunting fragments of what Kunzinger writes he recently saw while standing on that tranquil hillside at Arlington National Cemetery, and how what he saw made him "reflect on the cost of our freedom."
From his "unassuming spot," across the green fields and in all directions, Kunzinger saw "thousands upon thousands of marble markers, all carefully carved with the names of veterans and spouses, their birth and death dates, battalion or division and rank and conflict, a cross or a star, variations of both. A flag."
He saw "century-old oaks… [m]agnolias and dogwoods [shrouding] headstones like commanders keeping their soldiers safe."
From his "simple view" Kunzinger saw birds "perched upon headstones" reminding him of the battlefields and cemeteries "from Winchendon, Mass., to the Texas Coastal Bend, before these battles took their toll, and men — boys — were buried in the wilderness."
Kunzinger continues:
From this tear-soaked soil I could see Vietnam, its rivers and forests where death kept too close to birth, whose beauty and wilderness taught men to pray and made brothers of them all. I could see the village battles between unknown enemies and blameless boys who should have been home riding bikes and reading books. I could see the more than 50,000 Americans never to become authors or professors, scientists or librarians, gathered beneath this field where their legacy is our common charge.
Beyond the Potomac, Kunzinger saw "Korea, the Philippines and New Guinea. The voices of spouses still crying for a husband to come home, women, standing alone too young, holding the small hands of children starting their fatherless flights toward tomorrow… the medals and markers, veterans hugging veterans above a brother's eternal assignment, saying, 'It should have been me.' 'He gave it all.' 'He saved my life.' 'He was too young.'"
He also saw "Normandy…the parachutes falling under the cover of night…rows upon rows of men who marched side by side through shallow, blood-filled, mine-laden water toward the only hope left…the hillside and the secured toehold…the American flags on Omaha Beach and Utah Beach…the graves of those forever beneath foreign soil and the ships returning with thousands of heroes."
But from his vantage point, Kunzinger could also "hear taps, the prayers of priests, the commanders' thank-yous, the nation's solace" and see into the "sacrificial fields" in France, the "heirs of Lexington and Concord…Saratoga and Yorktown…"
Kunzinger concludes, in part:
From that green hill, from that perspective on such honorable sacrifice, I could see what bought our freedom. I could count the crosses, the sum of which cannot be measured, whose cost cannot be calculated.
Thank you, Mr. Kunzinger!

Lead photo: Soldiers pay their respects after placing a small American flag in front of a headstone during "Flags In," an annual event before Memorial Day honoring our nation's fallen service members at Arlington National Cemetery in Arlington, Va., May 26, 2016. DoD photo by Marvin D. Lynchard