Just Making Some Phone Calls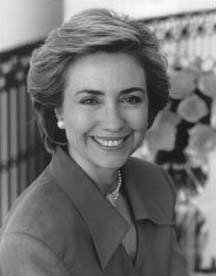 Hillary is calling her friends in Iowa:
Sen. Hillary Clinton began making calls Monday to Iowa Democrats about the state's political landscape with an eye toward its 2008 presidential nominating caucuses, aides to Clinton said.

The moves come as the New York senator has accelerated the steps she has taken since her November re-election toward making a decision about whether to run for president.

"She's begun the process of making some calls into Iowa," Lorraine Voles, Clinton's communication director, said Monday in a telephone interview with The Des Moines Register.
[…]
Clinton, by far the best-known among the Democrats eyeing the 2008 campaign, has ranked first in all national polls measuring support for prospective Democratic candidates for president.

However, two Iowa polls in the past year have borne out what some party activists worry are potential problems for Clinton.

A Register poll in June showed Clinton second to former North Carolina Sen. John Edwards among likely Democratic caucusgoers. In September, a Register poll of Iowa voters showed Clinton trailing all four Republicans listed in a hypothetical general election matchup.
Here she comes. Some argue that the Republicans dream about Hillary as the Democratic candidate. I am not so sure about that. Their attacks on her in the past imply, actually, that they are afraid of her. They can act differently now, by talking about this subject in a 'please nominate her so we are sure that we'll win', but I am not so sure whether that is how they truly feel. Besides, this new attitude could also be interpreted as just another style of attacking her.
Hillary has money, she is extremely well-known, she is very talented, ambitious, has important contacts (important people backing her up), her husband is a former President so she knows what campaigns for President are like, how to fight back, how to unite people, etc.
Perhaps the US is divided about her right now, but don't forget that a lot of it is also about momentum. If there is any Democrat who can create just that, it's Hillary, of that I am sure (and Obama perhaps).
I'm not saying that she will win, but I am saying that the Republican party'd better not underestimate her.