Great Music – Chapter 2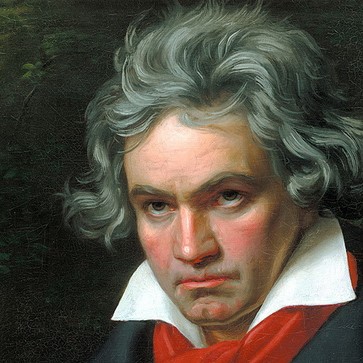 Great Music – Chapter 2
Ludwig van Beethoven was born in 1770 in Bonn, Germany. His father was his first piano teacher but he rapidly outgrew what local teachers could teach him. In 1787 he went to Vienna, Austria which at that point was the musical capital of the world. He studied under the direction of Franz Haydn among others. At this point in his life his renown was for his brilliant ability to play the piano rather than for composing.
Most artists of that period earned a modest income from composing, teaching and performing as well as church work, but most depended on stipends paid by nobility who had befriended them. In 1801 he was teaching a 17 year old young lady, Julie Guicciardi, who was staying with the aristocratic Brunsvik home. He fell madly in love with Julie for whom he dedicated the Moonlight Sonata.
In the first movement of the Sonata, Beethoven tried to create a love song to Julie. It expresses the extreme tenderness he feels for her. The second movement is where Julie and Beethoven try to explain their love to the aristocratic Brunsvik family to get permission to marry. It was an impossible request in the culture of the time. Beethoven was a commoner and Julie was part of the nobility and no court would ever recognize such a union. In Austria at the time there were even separate judicial systems for nobility and the common. The rejection of marriage to Julie is not the end of the story since another member of the Brunsvik family, daughter Josephine eventually caught Beethoven's attention and they carried on an affair that lasted several decades.
The third movement is Beethoven's reaction to the rejection – anger, confusion, hope and every emotion in between comes out as Beethoven tries to express his feelings over this situation. Here is Moonlight Sonata in 3 Movements
First Movement – Love Song 0:00 to 5:21
Second Movement – Planning their approach to get permission. A change from the key of C# minor to Db Major, a sign of hopefulness. 5:22 to 7:43
Third Movement – A return to C# minor and the full measure of anger and confusion 7:44 to 14:31
If you do not have the time to listen to the entire Moonlight, listen to parts of each movement, Here are two quotes from Beethoven which give good insight into his life:
"My thoughts go out to you, my Immortal Beloved I can only live wholly with you or not at all-
Be calm my life, my all. Only by calm consideration of our existence can we achieve our purpose to live together. Oh continue to love me, never misjudge the most faithful heart of your beloved.
Ever Thine
Ever Mine
Ever Yours"
"Don't only practice your art, but force your way into its secrets, for it and knowledge can raise men to the divine."
You will notice in this series about music I am fond of Valentina Lisita's piano skills. In a future posting I will explain more about her for she is an interesting story in herself.