(UPDATES) Comparing: The U.S. Responses to the Haiti and Puerto Rico Tragedies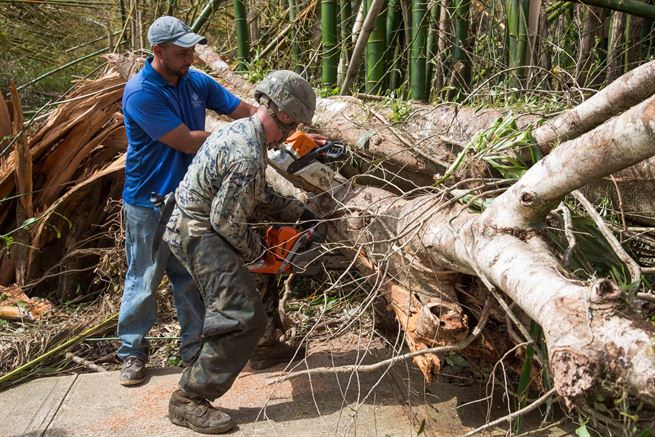 Update, October 18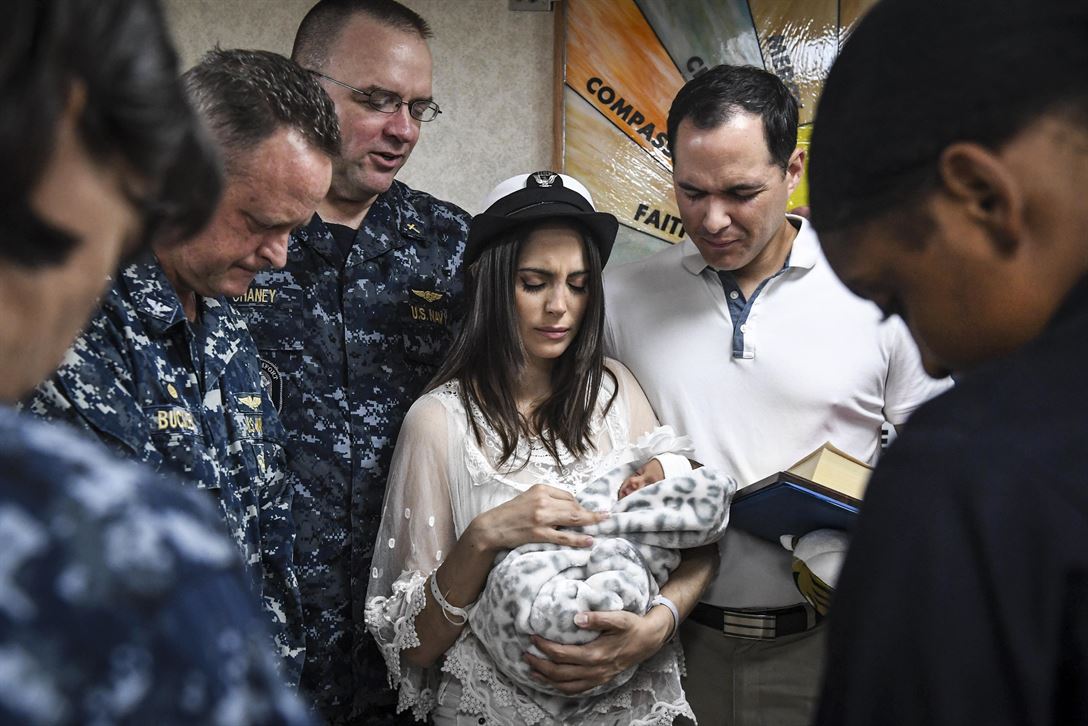 Sailors aboard the Military Sealift Command hospital ship USNS Comfort say a prayer for Sara Victoria Llull Rodriguiz in the Caribbean Sea, Oct. 17, 2017. Rodriguiz is the first child born aboard Comfort in more than seven years. Navy Photo by Petty Officer 1st Class Ernest R. Scott
Update, October 17: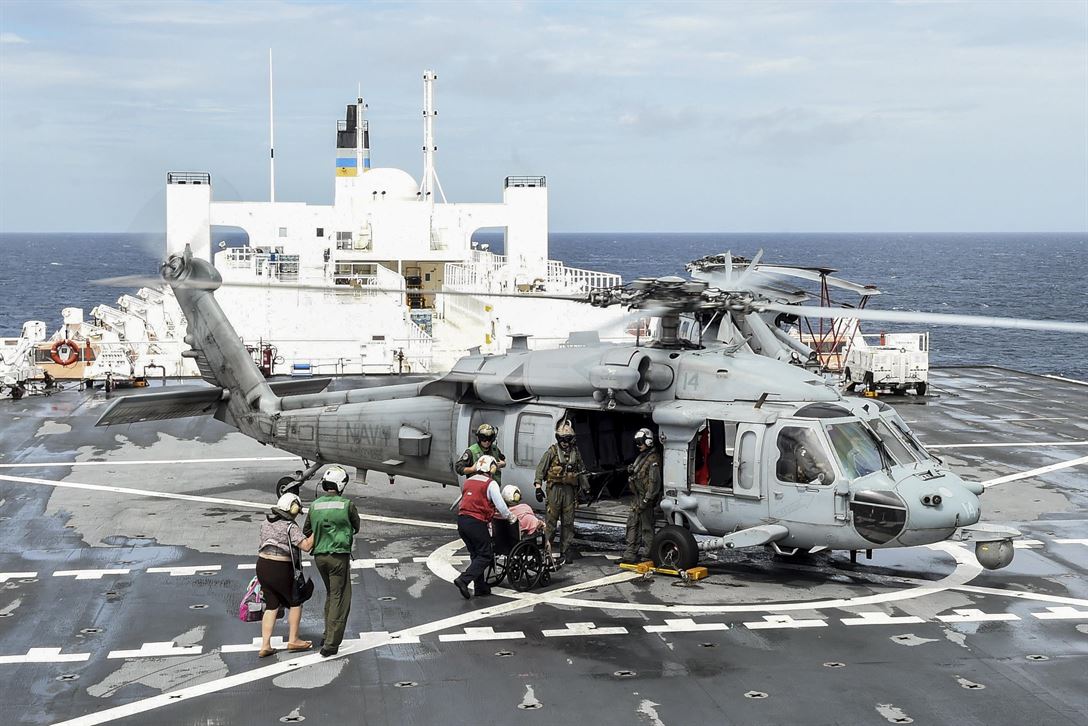 Sailors load patients into an MH-60S Seahawk helicopter on the USNS Comfort, a hospital ship, in the Caribbean Sea, Oct. 16, 2017, for transport to a nearby hospital in San Juan, Puerto Rico. The Comfort is providing medical services in the vicinity of San Juan, following Hurricane Maria. Navy photo by Petty Officer 2nd Class Stephane Belcher
Update, October 16
The Military Sealift Command hospital ship USNS Comfort finally arrived in Puerto Rico on October 3 to assist in humanitarian relief efforts in the wake of Hurricane Maria, below.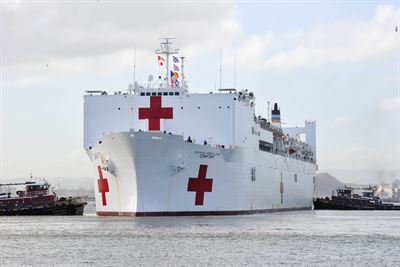 Air Force photo by Capt. Christopher Merian
The Comfort is a seagoing medical treatment facility that has more than 800 personnel embarked for the Puerto Rico mission including Navy medical and support staff assembled from 22 commands, as well as over 70 civil service mariners.
It has one of the largest trauma facilities in the United States and is equipped with four X-ray machines, one CAT scan unit, a dental suite, an optometry lens laboratory, physical therapy center, pharmacy, angiography suite and two oxygen-producing plants, according to the Department of Defense.
The USNS Comfort can treat about 1,000 patients and has 250 beds,
According to CNN, however, only 33 of the 250 beds are presently occupied and ABC reports that approximately 100 patients have been treated aboard the Comfort.
While many more patients could be treated aboard the Comfort, the mission commander tells CNN that the "situation on the ground is not in [his] lane to make a decision."
The governor of Puerto Rico blames it on "an apparent disconnect in the communications flow."
Access to clean drinking water continues to be a problem in Puerto Rico, where now 48 people have died as a result of the hurricane.
Today, Trump blamed the difficulty in accessing water in Puerto Rico on local distribution
Trump sad he thought the military "really shouldn't have to be" distributing food or water in Puerto Rico.
"We have massive amounts of water…We have massive amounts of food, but they have to distribute the food, and they have to do this. They have to distribute the food to the people of the island," Trump said arguing that such is not the military's job.
Update:
Another Comparison
From a U.S Navy dispatch today:
The Military Sealift Command hospital ship, USNS Comfort (T-AH 20), (below) departed Naval Station Norfolk today (Sept 29, 2017) [eight days after Maria hit Puerto Rico] and is now underway and making final preparations to support relief efforts in the aftermath of Hurricane Maria in Puerto Rico.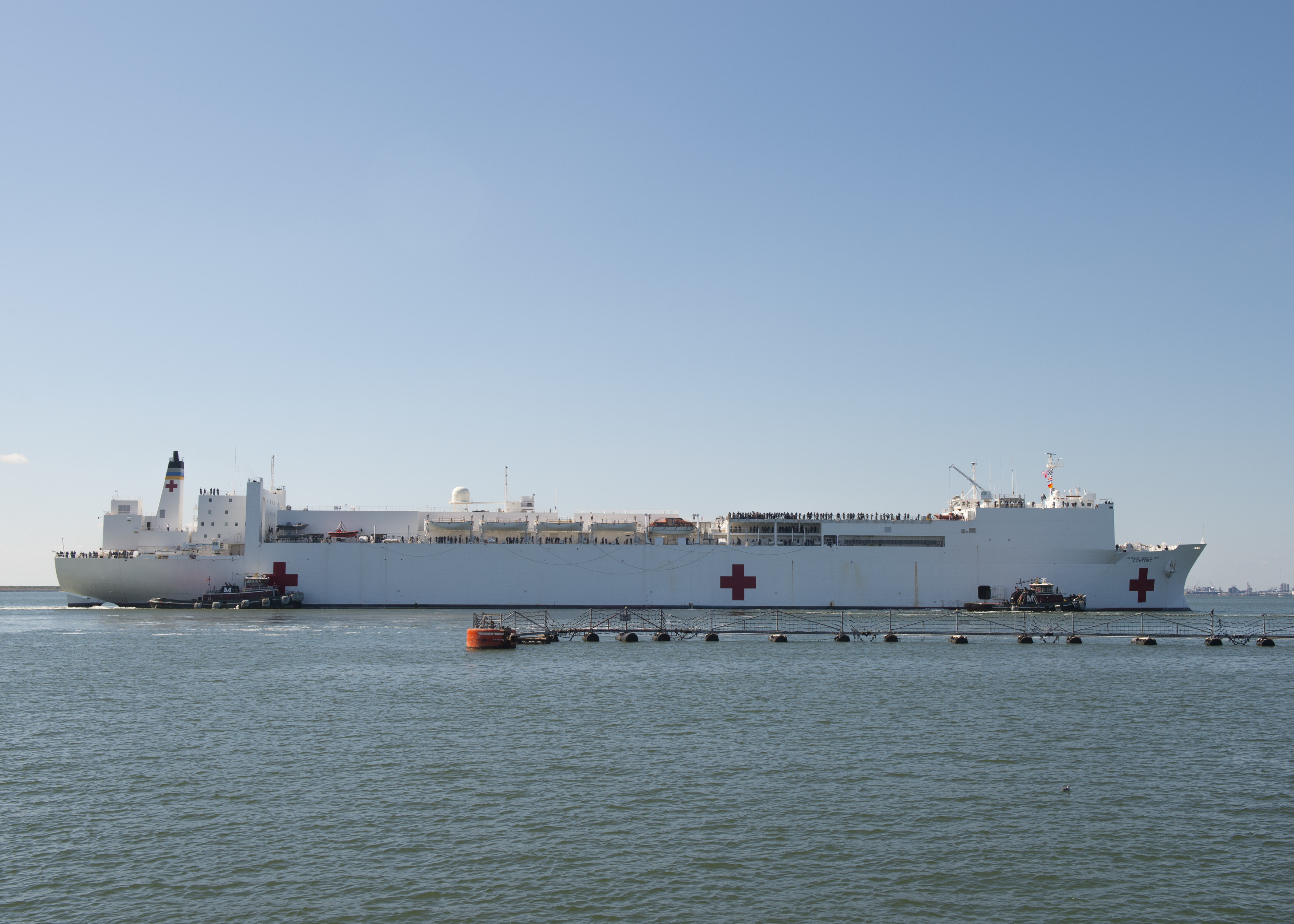 USNS Comfort departed Naval Station Norfolk with over 800 Navy medical personnel and support staff with the medical treatment facility (MTF), and over 70 civil service mariners. The medical personnel will provide a full spectrum of medical care to include general practice, family medicine, nephrology and pediatrics. The civil service mariners operate and navigate the ship, load and off-load mission cargo, assist with repairs to mission equipment and provide essential services to keep the MTF up and running.
USNS Comfort can arrive in Puerto Rico as early as Oct. 3, but the final date and arrival location is to be determined.
If it arrives in Puerto Rico on Oct. 3, it will be almost a full two weeks after Hurricane Maria struck that territory.
From a U.S. Navy dispatch in January 2010:
The U.S. Navy hospital ship, USNS COMFORT (T-AH 20), arrived off the coast of Port-au-Prince, Haiti Jan. 20 [eight days after the earthquake struck] and began receiving injured patients from the local hospitals and international medical facilities currently in Haiti.
The ship deployed from its homeport in Baltimore Jan. 16 [four days after the earthquake] with an overall crew of 850 that included a medical team comprised of 550 medical and non-medical support staff, including Navy doctors, nurses, corpsmen, technicians and support staff ready to provide a host of medical services including primary care, trauma care, pediatric care, orthopedic care and more.
Note:
It was known for several days before Maria devastated Puerto Rico that it would strike at or very close to Puerto Rico,
Of course, there was absolutely no warning when the massive earthquake hit Haiti in 2010.
Original Post:
On January 12, 2010, a massive earthquake devastated Haiti and the Dominican Republic.
Recalling the tragedy, and eight days after Hurricane Maria "ripped across neighboring Puerto Rico," a U.S. territory with 3.4 million Americans, the Washington Post reports:
"After an earthquake shattered Haiti's capital on Jan. 12, 2010, the U.S. military mobilized as if it were going to war.
Before dawn the next morning, an Army unit was airborne, on its way to seize control of the main airport in Port-au-Prince. Within two days, the Pentagon had 8,000 American troops en route. Within two weeks, 33 U.S. military ships and 22,000 troops had arrived. More than 300 military helicopters buzzed overhead, delivering millions of pounds of food and water."
How factual is this claim?
Well, The Moderate Voice published an article on this tragedy only three days after the earthquake struck Haiti, under the headline, "Haiti: The U.S. Military Steps Up to The Plate." (Some of the "updates" came one day later)
Here are some excerpts, starting with the lead paragraph:
"As is usual in most international disasters, the United States of America is leading the world in providing humanitarian aid to the victims of the Haiti earthquake. And, as always, the U.S. military is spearheading such relief efforts.
The following are headlines and excerpts about some of these efforts that have appeared in various publications during the past 48 hours.
Some 4,200 U.S. military personnel have arrived in Haiti for earthquake relief efforts with 6,300 more scheduled to arrive this weekend, officials said.
Officials of the U.S. Southern Command told Pentagon news services late Friday that they have established Joint Task Force Haiti under the command of Army Lt. Gen. P.K. "Ken" Keen and are working with the United Nations Stabilization Mission in Haiti, international relief organizations and local responders to provide search and rescue, distribute aid and assess damage to key infrastructure.
They said the airfield at Port-au-Prince is now open 24 hours per day and has a capability of handling 90 aircraft per day.
Meanwhile, the aircraft carrier USS Carl Vinson and the U.S. Navy destroyer USS Higgins have arrived off the Haitian coast in support of the task force. Southern Command officials said the Vinson is hosting 19 helicopters flying airlift missions in support of relief efforts and delivering more than 30 pallets of relief supplies for distribution to affected areas.
The Pentagon also said the 22nd Marine Expeditionary Unit, with more than 2,200 Marines, is scheduled to arrive in Haiti Monday with heavy-lift and earth-moving equipment and additional medical-support capabilities.
The State Department said that a Navy carrier arriving here was carrying 600,000 daily rations of food, and that an additional $48 million in food assistance would be made available, enough to last several months. An estimated 100,000 containers for water are being shipped in, along with four water-purification systems, and the Pentagon said as many as 10,000 troops could be deployed.
U.S. Air Force special forces were assisting with air-traffic control, and a U.S. military AWACS plane was overhead to help manage air traffic. Other officials said the airport could handle only up to 90 landings and takeoffs a day.
Lt. Gen. Ken Keen, deputy commander of the U.S. Southern Command said U.S. helicopters from the USS Carl Vinson, which had arrived offshore, were dropping water supplies to areas of Port-au-Prince on Friday.
Up to 10,000 U.S. troops will be off Haiti's shores by Monday to help distribute aid and prevent potential rioting among desperate earthquake survivors, the top U.S. military officer said Friday, as President Obama pledged long-term reconstruction help to Haitian President Rene Preval.
Adm. Mike Mullen, chairman of the Joint Chiefs of Staff, also said the total American presence in and around the beleaguered country could rise beyond 10,000 as U.S. military officers determine how much assistance may be needed in the days ahead.
The arrival off the Haitian coast of the aircraft carrier Carl Vinson, a ship laden with helicopters, essentially provides a "second airport" from which aid can be delivered to the stricken capital, Crowley said.
The 23rd Special Tactics Squadron, 720th Special Tactics Group, is overseeing air traffic control at Port-au-Prince airport….
The Pentagon appointed a three-star general, Lt. Gen. P.K. Keen, the deputy director of the military's Southern Command, to head the rapidly expanding U.S. military relief effort in Haiti, which is shaping up to be one of the biggest American humanitarian missions in decades.
The U.S. military now has a 24-hour-a-day airlift underway. The White House said a large shipment of food will arrive Saturday. Three U.S. military helicopters were scheduled to fly in Thursday from the neighboring Dominican Republic loaded with water, medical supplies.
Coast Guard cutters have begun to remove people and ferry supplies, and more are steaming toward Haiti.
Rumbling trucks and beeping forklifts carried supplies to the Navy hospital ship USNS Comfort Thursday as crew members hustled to get the enormous white vessel ready for a Saturday departure to earthquake-ravaged Haiti.
With its giant red cross insignia, 250 hospital beds and military medical staff of 560, the Comfort is preparing for its biggest humanitarian mission in at least 20 years, Capt. James Ware said.
Within hours of the earthquake Tuesday…the aircraft carrier Carl Vinson was speeding toward Haiti with a deckfull of helicopters for ferrying relief supplies, and the Pentagon had sent in a team to take over, secure, and operate the badly damaged national airport. [The Vinson has now arrived off the Haitian coast—see an earlier excerpt]
U.S. military aircraft also were flying in emergency communications gear to bypass Haiti's ruined telephone system and ferrying in assessment teams from the Pentagon and the U.S. Agency for International Development to figure out what's needed and how to get it.
It appears that the Post report is quite accurate.
Under the headline, "U.S. response in Puerto Rico pales next to actions after Haiti quake," the Post continues:

"By contrast, eight days after Hurricane Maria ripped across neighboring Puerto Rico, just 4,400 service members were participating in federal operations to assist the devastated island, an Army general told reporters Thursday. In addition, about 1,000 Coast Guard members were aiding the efforts. About 40 U.S. military helicopters were helping to deliver food and water to the 3.4 million residents of the U.S. territory, along with 10 Coast Guard helicopters.
Leaders of the humanitarian mission in Haiti said in interviews that they were dismayed by the relative lack of urgency and military muscle in the initial federal response to Puerto Rico's catastrophe."
The Post also quotes retired Lt. Gen. P.K. "Ken" Keen, the three-star general who commanded the U.S. military effort in Haiti, "I think it's a fair ask why we're not seeing a similar command and response…The morning after, [President Obama] said we were going to respond in Port-au-Prince…robustly and immediately, and that gave the whole government clarity of purpose."
But Keen and the Post also point to "complicating factors":
"Puerto Rico is a U.S. territory, not a foreign nation, and that makes a huge difference in the rules of engagement when disaster strikes.
In Haiti, the United States was able to deploy active military combat brigades, quickly install a military commander and militarize the airspace at the invitation of Haitian officials.
In Puerto Rico and other U.S. territories, the nearly 140-year-old Posse Comitatus Act limits the role that active military personnel can play."
Finally, according to The Post:
"FEMA and Defense Department officials have taken steps to beef up the response, announcing Thursday that they would elevate the military command structure on the ground in Puerto Rico, sending in a three-star Army general, Lt. Gen. Jeffrey S. Buchanan."
Let us hope so, an American territory and 3.4 million Americans deserve nothing less
Lead photo: A Marine and a resident clear a tree from the main road as part of Hurricane Maria relief efforts in Ceiba, Puerto Rico, Sept. 27, 2017. Marine Corps photo by Lance Cpl. Alexis C. Schneider