Cartoon: GET ME TO Joel's MEGACHURCH ON TIME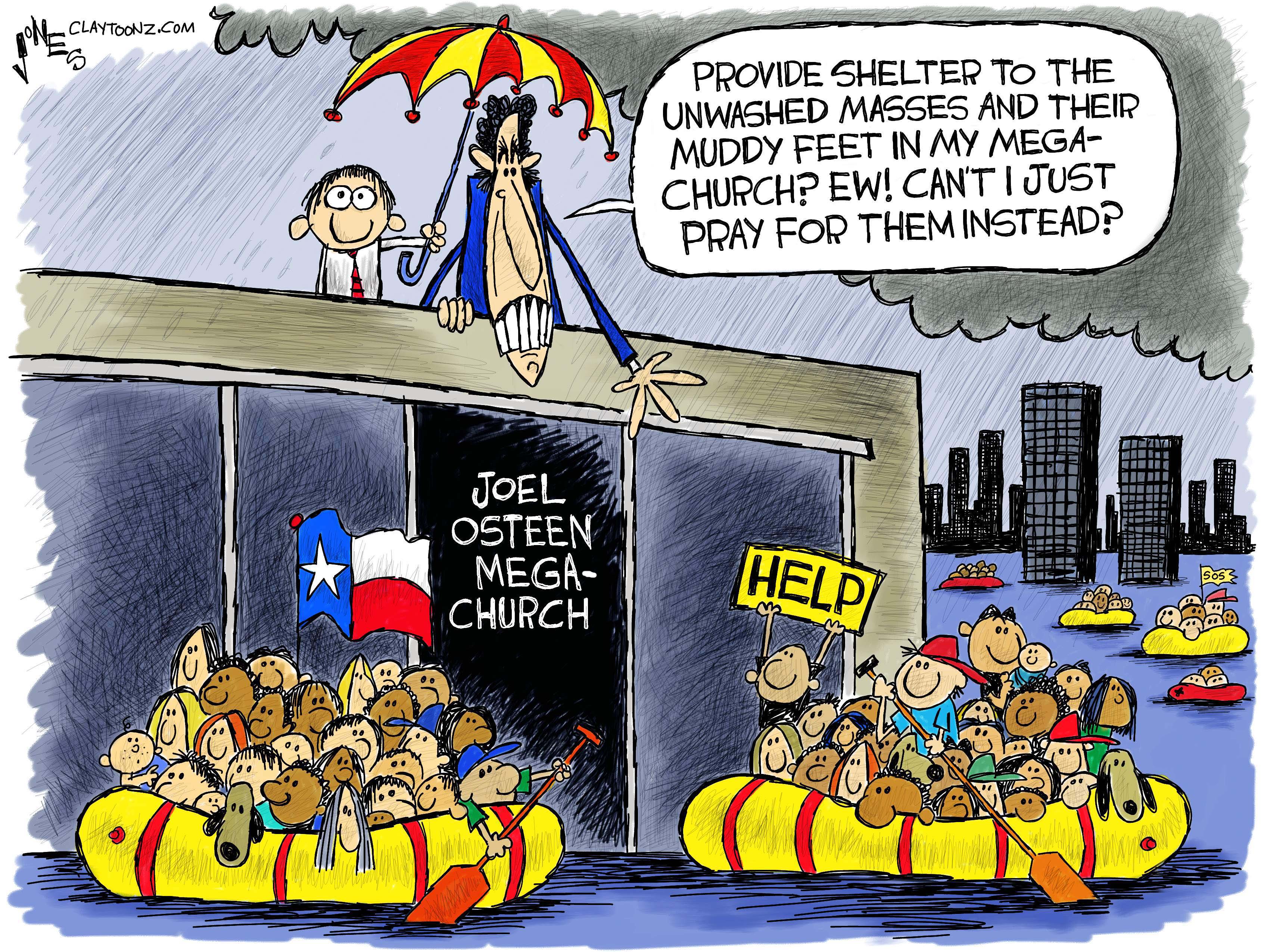 Joel Osteen is a mega-preacher who operates a mega-church that makes mega-moolah. Financially, Osteen is worth around $56 million dollars. Ethically, he's worth a lot less.
Osteen preaches out of Houston where he promotes "prosperity theology." His televised sermons are seen by over seven million people each week, and over 20 million monthly in over 100 countries. His sermons are broadcast daily over Sirius XM Satellite Radio. He's written seven New York Times Best sellers.
Joel lives in a mansion worth over $10 million dollars. His cathedral is the former arena for the Houston Rockets and it seats over 16,000 people. The arena is neat, sparkly, and clean and Joel wants to keep it that way.
After Hurricane Harvey hit the coast of Texas and flooded Houston, Joel tweeted out that he was praying for everyone. As warehouses, stores, and other churches opened up as evacuation centers, Joel's church remained closed.
The church tweeted out that it was closed and recommended several other churches where the unwashed masses could seek shelter. They claimed their venue was "inaccessible due to severe flooding."
Some Houston citizens tweeted out photos of the area around the church that showed it was clear from floods. The church responded with photos of their own that show the place flooded. Despite the claim that they're flooded, the church says it will provide sanctuary after all the other shelters are full. How are they going to provide sanctuary if they're flooded? Hmmm?
Prayers are nice. Cash is better. Joel is a big believer in cash. Perhaps he can offer Houston a bit more than prayers.

(TMV Editor's Update: After massive condemnation on the Internet it was announced that Olsteen's church would be open to Houston's beset public.)

Clay Jones can be contacted at [email protected]