The Beginning of Respect for the Military?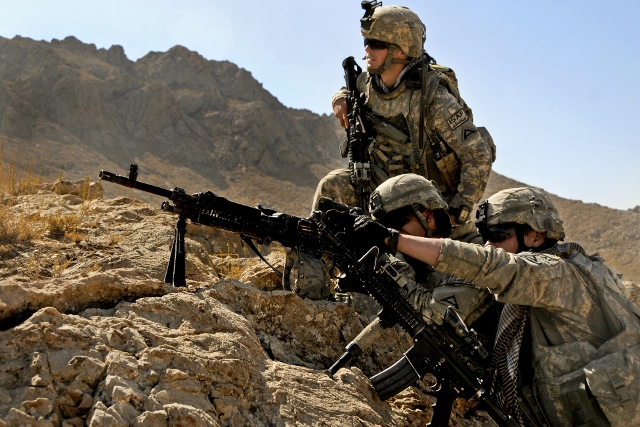 In July 2015, the inimitable Andy Borowitz wrote a satirical piece at The New Yorker in which he shared with readers "a little-known episode of personal heroism" from the youth of then-presidential candidate Donald Trump.
According to Borowitz, Trump told one of his adoring audiences in Iowa that "he narrowly avoided capture in Vietnam by remaining in the United States for the duration of the war."
Borowitz:
"The Cong were after me," Trump said, visibly stirred by the memory. "And then, just in the nick of time, I got my deferment."

The former reality-show star said he had never shared his record as a war hero before because "I don't like to boast."

He said that he only disclosed the episode now because "the way this nation treats our deferment veterans is a disgrace."

Trump complained that he received no official commendation or medal for his heroism, calling the lack of recognition "shameful."
Borowitz was prompted to write the satire piece because of Trump's vile dishonor of the war record of Vietnam War hero and former prisoner of war John McCain. This is clear because Borowitz 'quotes' Trump saying, "Those brave Americans who, like me, avoided being captured by not serving at all—we are the true heroes."
We all still cringe as we remember how, at the time, Trump cowardly said of McCain, "He's not a war hero. He's a war hero because he was captured. I like people who weren't captured."
Borowitz concludes:
Trump's tale of valor appeared to move many members of his audience, some of whom waited in line after his speech to thank him for his lack of service.
Sadly, that would not be the last time Trump would disparage the military, and belittle the institution — a man who got out of serving in Vietnam because of student deferments and claimed that in his military-themed prep school he got "more military training than a lot of the guys that go into the military."
Recalling just a few:
• "I know more about ISIS than the generals do…the generals have been reduced to rubble. They have been reduced to a point where it's embarrassing for our country."
• Trump's suggestion that U.S. troops had stolen money in Iraq — "millions and millions of dollars…"
• His disgraceful acceptance of a veteran's Purple Heart, wisecracking, "I always wanted to get the Purple Heart. This was much easier."
• His outrageous statements on torture, including his comments that he would order U.S. troops to break the law, violate the UCMJ and the Geneva Convention by torturing prisoners and targeting innocent family members of terrorists: "If I say do it, they're going to do it," the future commander in chief said.
• Trump's disgusting criticism of and petty squabbles with the Muslim Gold Star parents of a U.S. Army captain, a hero, who gave his life saving those of his fellow soldiers in Iraq.
• The wealthy tycoon's shenanigans surrounding fundraisers and contributions to veterans' charities.
And we will never forget Trump's incessant, loathsome attempts to smear and delegitimize the commander in chief.
Perhaps now that he is commander in chief, Trump will understand and appreciate better the awesome responsibility of commanding the greatest military force on earth — of having the power to send our men and women to fight wars and conflicts and to lay down their lives for their country.
Perhaps such a sign came last night when the president, in what appeared to be an earnest moment towards the end of his address to Congress, showed grace and class in honoring Navy SEAL William "Ryan" Owens who gave his life in a raid in Yemen, and his widow, Carryn Owens. A mission still embroiled with controversy and with many questions left unanswered.
The president "showed the best of what he can be," although earlier "he seemed to place the blame for Ryan Owens's death at the feet of his generals, [showing] a far less appealing side."
Trump made some progress last night in rehabilitating himself as far as his many and serious faux pas with respect to the military.
But as Chris Cillizza at the Washington Post puts it:
There is no "other" Trump waiting to emerge. But what he proved last night — and for one night at least — is that he is capable of growth, capable of harnessing the powers of the presidency to work for him. Keeping it up, of course, is the hard part.
For our country's and our military's sake, let us hope he can.