Bannon Banned: "Resignation" from Breitbart.com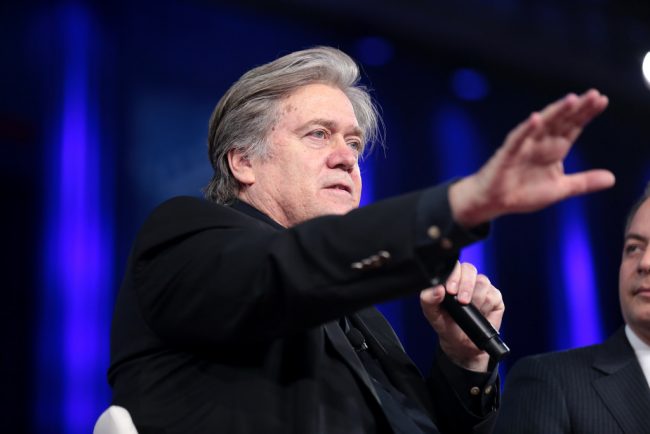 The only thing missing here is one-time Donald Trump strategist and former best political bud Steve Bannon including a line that he has to spend more time with his family. He's has resigned from Breitbart.com, in a a move that was expected for days, telegraphed in advance that he'd be forced out or given the boot in a host of news stories. The real reason: Trump reacted with fire and fury at the mega-critical best selling book "Fire and Fury."
Former White House chief strategist Steve Bannon is out at far-right Breitbart News, the outlet confirmed Tuesday.

"I'm proud of what the Breitbart team has accomplished in so short a period of time in building out a world-class news platform," he said in a statement. Bannon was a founding member of the board and took over as executive chairman of Breitbart News following founder Andrew Breitbart's death in 2012.

In a statement Tuesday, Breitbart CEO Larry Solov commemorated Bannon's role in establishing the site.

"Steve is a valued part of our legacy, and we will always be grateful for his contributions, and what he has helped us to accomplish," he said.

Bannon is also out as the host of "Breitbart News Daily" on SiriusXM radio, the station confirmed.

Rumors of Bannon's ouster from the conservative news outlet began Thursday, when The Wall Street Journal reported that the owners of the publication were debating Bannon's future.

During a press briefing Thursday, White House press secretary Sarah Huckabee Sanders said Breitbart should consider firing Bannon.

"I certainly think that it's something they should look at and consider," she said.

Bannon's exit comes after he feuded with President Donald Trump last week. The former executive was quoted saying that a 2016 meeting between Donald Trump Jr., other Trump associates and a Russian lawyer in Trump Tower was "treasonous."
The big picture: Trump got his scalp. He forced everyone inside and close to the White House to make a binary choice: "it's me or Steve." For everyone, including some of Bannon's close allies, it was an easy choice. Almost everyone abandoned Bannon.
**This was the Mercers forcing his hand. It wasn't just Bannon's quotes to Wolff but how he mishandled the fallout. He took five days to issue a weak apology, which fell flat.
**Right up until today Steve was telling associates everything was going to be fine (but he always does that when he's under the gun.) But his associates knew this was coming. The Mercers had turned against him months ago.
**Per source close to the White House: "God, I can't believe the whole movement just collapsed on this guy. He's done."
**Per a former WH ally of Bannon's: "I've gone from being sympathetic to Steve to believing he's a genuinely bad guy, totally duplicitous. It's a shame. He has a lot of talent. But his self-destructive streak is unlike anything I've ever seen."
Mere hours after his departure from the conservative website, the network moved to swiftly slam the door on any talk that the newly unemployed Bannon may be signed as a contributor.

"Fox News will not be hiring Steve Bannon," a network spokesperson told TheWrap Tuesday.
Stranger things have happened in American politics, but it sounds as if Bannon is almost totally frozen out (unless he plans to do a book deal of his own and/or talk to Robert Mueller.). His desire for bomb throwing, ties to fringe right wing and anti-semitic groups, made him one of the worst symbols — to non-Trumpistas, moderates, many independent voters, and some traditional Republican conservatives — of that elusively defined thing known as "Trumpism." His exit from the halls of White House, Congressional and conservative influence — if it continues — will likely draw Trump closer to the GOP establishment.
On the other hand, the ever-lively and enterprising The Daily Beast is already reporting that Bannon is going to Plan B…or is that Plan C? Or Plan D? Well, he has a new plan:
Three sources with knowledge of Bannon's plans say he intends to launch a new "dark money" nonprofit group in the coming weeks. The organization will be distinct from Bannon's prior political endeavors, which included documentary films, political data-mining efforts, and more niche political and policy outfits. And unlike virtually all of those efforts, it will not receive funding from his estranged financial backers, Robert and Rebekah Mercer.

There will be some continuity, though. The new organization will focus on Bannon's longtime pet issues: U.S. policy toward China and the Gulf region, immigration, and foreign trade.

The group, if it launches as planned, will offer an avenue for Bannon to remain involved in national politics after the high-profile disavowals from President Trump and the Mercers. It could also help him draw a salary after losing a hefty one. According to the personal financial disclosure statement he filed upon joining the White House last year, Bannon was paid more than $544,000 in 2016 by Breitbart and Mercer-funded entities Cambridge Analytica, Glittering Steel, and the Government Accountability Institute.
Meanwhile, on Twitter:
"He mainstreamed nationalism, white nationalism, neo-Nazism as part of a coalition in support of the Trump candidacy. It is an appalling, dubious and ignominious legacy that he will leave behind" – @SteveSchmidtSES w/ @NicolleDWallace on Steve Bannon pic.twitter.com/jpvsIBxPrk

— Deadline White House (@DeadlineWH) January 9, 2018
If Michael Wolf's book is "fake news," then why did Trump and the Mercers get Bannon fired for it?

— John Stable Genius Aravosis (@aravosis) January 9, 2018
Bannon once promised to destroy me.

Oddly, I seem to be the one standing while Hobo Steve wraps himself in trashbags on a sewer grate and downs his last plastic-bottle fifth of Olde Oscelot bourbon.

— Rick Wilson (@TheRickWilson) January 10, 2018
So Trump was fine with Bannon when Bannon was backing Moore over Trump's Strange, having Breitbart slam Trump over DACA, disparaging Trump's daughter and son-in-law to anyone who'd listen…then he said the Russia probe was legit and Trump excommunicated him.

— Daniel Dale (@ddale8) January 9, 2018
Bannon made every possible mistake:

– Didn't go live immediately once Wolff story hit
– Waited 5 days to give any statement at all
– Statement was bland text, not video

And since leaving WH, he gave no interviews to new media, also relied on Breitbart, which he didn't own.

— Mike Cernovich ?? (@Cernovich) January 9, 2018
Bannon found himself in a unique and remarkable position and from Day One sought to destroy himself. There's no other way to look at this story.

— John Podhoretz (@jpodhoretz) January 10, 2018
Donna Brazile trolls Bannon: At least I pissed people off "with my own book" https://t.co/RIbUwdVawS pic.twitter.com/mkK1ETS12R

— The Hill (@thehill) January 10, 2018
photo credit: Gage Skidmore Steve Bannon via photopin (license)