Ban the Journalists!
February 24, 2017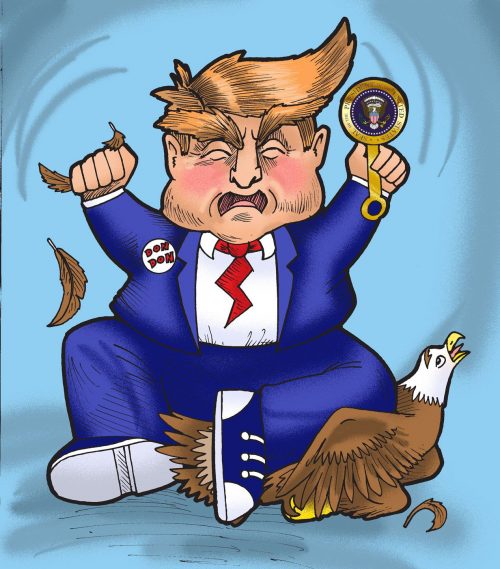 Note to readers: This is the latest entry in Super Baby DonDon's diary. The series imagines that President Donald Trump has the emotional make-up of a five-year-old and confides his deepest thoughts—such as they are—to Andrew Feinberg, and to readers, every day. In his private moments, he always thinks of himself as Super Baby DonDon.
Steve Bannon is the Jack Handey of our administration, the man in charge of deep thoughts. (Wait, that guy was on Saturday Night Live. Super Baby DonDon hates that show.) Anyway, perhaps you noticed that we started our new journalist ban this afternoon, excluding the New York Times, CNN, Politico and the Huffington Post from a closed-door briefing by Sean "Hanging by a Thread" Spicer. And we invited conservative echo chambers Breitbart News, the Washington Times and One America News Network to attend in their place.
So Steve, the deep thinker, wonders: is something a lie if you only tell it to people too biased, bigoted or dumb to know it's a lie? We think the answer is "no."
Which is great for us because we don't know how to do anything but lie. We can't change the message, but we can change the message recipients.
This is so brilliant. I wonder why no one thought of it before.
Wow, I guess we're going to introduce our objective journalist ban before our new non-Muslim Muslim non-ban ban. We are smokin'!
Andrew Feinberg is the author of Four Score and Seven (https://www.amazon.com/Four-Score-Seven-Andrew-Feinberg/dp/0692664009), a novel that imagines that Abe Lincoln comes back to life for two weeks during the 2016 campaign and encounters a candidate who, some say, resembles Donald Trump. He also writes an anti-Trump humor page at www.babydondon.com or https://www.facebook.com/MeBabyDonDon.