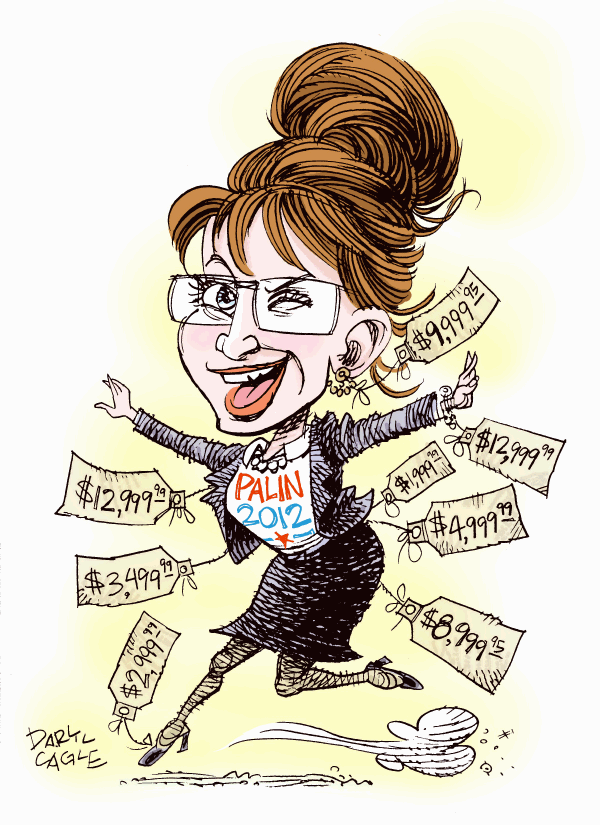 Who's the hottest property now being sought by talent agents who can almost taste making a bundle for a book deal….or a high-profile TV show? Is it MSNBC's Rachel Maddow? Is it Fox News' new star Mike Huckabee? John McCain after his smash Letterman and SNL gigs? Joe the Plumber?
No, it's Sarah Palin. There may be a debate raging on both sides about whether her future is bright or not, and whether if she runs for President she has a chance or not, but there is one certainty today: she's The One agents want to sign, according to The New York Post's Page Six:
SARAH Palin won't be vice president, but she won the hearts of talent scouts and literary agents who are scrambling to sign her to multimillion-dollar contracts.

CAA, ICM, William Morris, Paradigm and other agencies "smell books, talk shows and commentary for Fox and CNN" as possibilities for the Alaska governor, West Coast PR man Hal Lifson told us.

"There are several of our imprints who are eager to talk to Governor Palin," Random House spokesman Stuart Applebaum said. "She clearly has a constituency and we know books by conservatively-centered politicos usually sell very, very well."

Public-relations powerhouse Howard Rubenstein added, "She's poised to make a ton of money." But he warned, "She ought to keep an eye on what her goals are for 2012. If she plays a game and looks foolish, if she sounds like she doesn't know what she's talking about – like saying Africa is a country – she may talk herself out of a political job."
And why not? She's telegenic. Has a journalism background. Worked on a local TV station. She certainly has strong opinions. And she'd appeal to the same big audience as Sean and Rush.
Sure, she may have some demands on the budget she'd require for wardrobe, but it'd be a small price to pay given the books she could sell and the ratings she could attract:
Linda Mann, president of Mann Media, which books celebrities and fashionistas for TV, noted, "Her buzz is incredible. She has car-wreck appeal. You're compelled to watch, hoping she'll say the dumbest things possible. I'd propose a show combining her love of fashion and lack of brainpower – 'Project Dumbway.' "

What kind of money can Palin expect? "That's an interesting question because everybody will compare what she gets to the book deal Tina Fey reportedly made – $6 million," said one high-ranking publishing source. "No matter what it is, the betting is she'll sign a deal by the end of the month.
Why all the buzz over Palin? Some Americans voted for Barack Obama for President because they didn't like her, but she's idolized on some GOP circles and has become the darling of social conservatives.
And lest you think that publishers and agents can't just wait to publish any book by any politician, think again. President George Bush has reportedly gotten a bit of friendly advice from some book industry bigwigs interviewed by the AP: don't rush in writing YOUR book:
In less than three months, President-elect Barack Obama will take office and the Bush administration will belong to history. With the president reportedly interested in writing about his White House years, publishers have a suggestion:

Take your time.

"If I were advising President Bush, given how the public feels about him right now, I think patience would probably be something that I would encourage," says Paul Bogaards, executive director of publicity for Alfred A. Knopf, which in 2004 released Bill Clinton's million-selling "My Life."

"Certainly the longer he waits, the better," says Marji Ross, president and publisher of the conservative Regnery Publishing, which is more likely to take on anti-Obama books in the next few years than any praises of Bush.

"There's a pent-up frustration among conservatives that will focus their attention on a Barack Obama presidency and lead them to buy a lot of books about Barack Obama. But that's not the kind of emotion that anyone is going to use to turn to reading a memoir by a conservative president."

In a poor economy, it's not a great time for anyone to shop a book, and certainly not for a deeply unpopular president. Bush's approval ratings are in the 20s and Republicans are at a low moment after Tuesday night, when Obama defeated Sen. John McCain by a convincing margin and Democrats expanded majorities in Congress.
Is there a possibility that Palin will take this financial bonanza ball and eventually run with it to raise her profile heading into 2012?
No one knows for sure but you can make a guess:
You betcha…