Cartoon: GOP Can't Hear You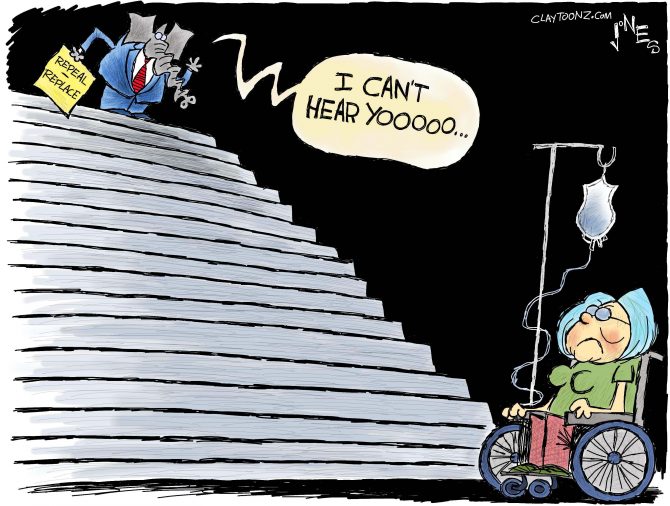 Are you looking forward to screaming at your Republican representative at his or her town hall about their stripping health care from millions of Americans? Too bad. Congress will have a month-long August recess, but don't expect there to be many Republican members willing to hear you out.
There won't be very many opportunities for you to unleash your verbal Kraken at your Congressman or Senator. There's a better chance Donald Trump will give a one-on-one interview with Lawrence O'Donnell than Speaker of the House Paul Ryan holding a town hall. In fact, nearly 160 Republicans have yet to hold a town hall in 2017.
During the July 4th break, Ryan refused to hear from his constituents. His excuse? He's worried too many people will attend his forum that are not from his district and that they won't be civil. What he and other Republicans are really afraid of are hearing examples from their constituents of how Obamacare has helped them, saved their lives or the lives of their loved ones, and how the GOP's reckless plan to ditch Obamacare and cut into Medicaid will destroy their lives. A lot of people have problems with the "Repeal/Replace" only being a ruse to provide huge tax breaks to rich people.
Refusing to hold meetings with their voters will also save Republicans the trouble of lying to their constituents and reading their own plan so they'll actually understand it. It works for Trump. They really don't mind all the angry phone calls as they have people to take those calls for them. The stacks of post-it notes reading "Betty from Dubuque hates you" doesn't affect them all that much.
Republicans didn't seem to care at all when people protesting their health-care plan were arrested at the Capitol. Eighty people were arrested at the House and Senate buildings for protesting. Many of those were in wheelchairs and dragged out by police with their hands zip tied.
Republicans tend to be tone-deaf, but now they prefer to be entirely deaf to your complaints. While John McCain recently had eye surgery to improve his vision, most Republicans choose to remain blind to the real-world problems of their voters.
If you can't get up those steps in August, or can't even find them, don't worry too much. We can do our own repealing and replacing in November 2018.
Creative Notes: I usually try to take Saturdays off from drawing a cartoon so I can recharge. I usually work at night, so Sunday night is the start of a new week for me (and sometimes there's nothing really new on a Sunday to inspire a cartoon). I'm not always able to get that day off, but I did this weekend. In fact, I drew my last cartoon Friday afternoon so now it kinda feels like I haven't drawn a cartoon in two days. Actually, it's been three days since I've had to think of a cartoon because this cartoon was halfway in the can. I don't normally save ideas. I usually hate them when I return to them. I have a folder full of outdated ideas represented by rough drawings.
I started this cartoon Thursday night, then I had another idea I felt fit the moment better. But, I still liked this one so I didn't trash it. Most of the drawing was completed and all I had to do was tighten things up a bit and color the cartoon. I still procrastinated while working. I watched a bunch of pointless stuff on YouTube, drank some coffee, read a few articles, some hate mail, and finally completed the cartoon in three hours, which should have taken about 30 minutes.
At some point, I'll tell you why I'm the world's greatest procrastinator.