Trump's Very, Very Rich Inner Circle (Updates)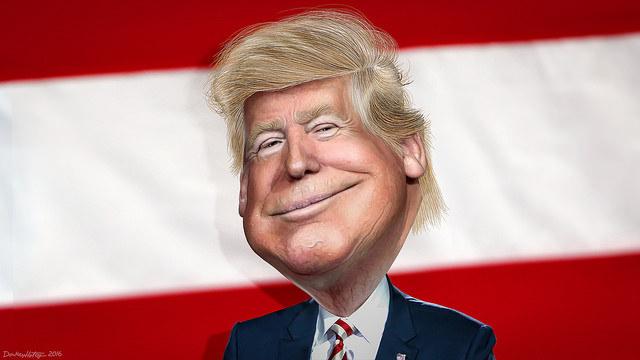 For a man who campaigned against Wall Street and as a populist, as a champion of the Rust Belt workers, the coal workers, blue collar workers and as a savior of the forgotten man, president-elect Trump is sure surrounding himself with people from the extreme opposite end of the economic, financial, human needs spectrum.
"I call it the three 'G' Cabinet: Goldman, generals and gazillionaires," Missouri Sen. Claire McCaskill, a Democrat, said mockingly Sunday on ABC's This Week, a reference to multiple Trump appointees who have worked at the Wall Street firm Goldman Sachs.

So far, Trump's choices — including top jobs for a trio of veterans of Goldman Sachs, a firm he blasted at campaign rallies — haven't reflected the populist impulses that fueled his appeal to some white working-class voters or his vow to "drain the swamp" in Washington of donors and other insiders.
Vermont Sen. Bernie Sanders blasted President-elect Donald Trump for his Cabinet picks thus far, saying it is shaping up to be a "Cabinet of billionaires."
Trump himself has repeatedly bragged about how very, very rich he is — worth more than $10 billion, he claims — and why shouldn't' we believe a president-elect?
Here are estimates of the net worth of those Trump has already selected and is seriously considering for his glittering inner circle, according to various sources ****:
• Harold Hamm* – Energy – $15.3 billion
• Tom Richards – Deputy Commerce – $5.3 billion (family worth)
• Betsy DeVos – Education – $5.1 billion (family worth)
• Wilbur Ross – Commerce – $2.9 billion
• Linda McMahon – SBA – $1.6 billion
• Rex Tillerson** – State – $150 million
• Steven Mnuchin – Treasury – $46 million
• Ben Carson – HUD – $26 million
• Elaine Chao – Transportation – $22.2 million w. husband Mitch McConnell
• Tom Price – HHS – $13.6 million
• Jeff Sessions – Justice – $7.5 million
• Andrew Puzder – Labor – "at least a millionaire"
Then there are a few people whose worth is difficult to pin down such as Scott Pruitt, EPA and such as Gary Cohn, White House National Economic Council: "Unknown but Cohn reportedly made nearly $20.6 million in 2015"
Add it all up, excluding Trump's own estimate of his very, very richness, it comes to approximately $30 billion, "a staggering agglomeration of wealth unprecedented in American history" in an America where the median household income is about $55,000.
Collectively, the wealth of Trump's inner circle (If all are selected by Trump and all are confirmed by Congress) is approximately 10 times greater than Obama's Cabinet — and the vast majority of Obama's Cabinet's wealth is held by just one member, Commerce Secretary Penny Pritzker, who is worth $2.4 billion.
The collective net worth of Trump and Trump's Cabinet thus far is more than the annual gross domestic product of nearly 100 small countries.
In all fairness, and relatively speaking, there are a few "paupers" such Nikki Haley (UN Ambassador) worth "a mere" $1.4 million, Cathy McMorris Rodgers*** (Interior) checking in at $1.3 million, Mike Pompeo (CIA) at $267.000 and, surprise, the vice president-elect worth "a measly" $211,000.
Finally, there will be at least 11 (retired) stars in Trump's immediate, "personal" firmament:
• Gen. James "Mad Dog" Mattis – Defense – Four Stars
• Gen. John F. Kelly – Homeland Security – Four stars
• Lt. Gen. Michael Flynn -National Security Advisor – Three stars
And, alarmingly, thousands more active duty military stars will be at Trump's beck and call. Fortunately, I know that they will only respond to legal, Constitutional "calls."
Nicole Hemmer, an assistant professor in presidential studies at the University of Virginia's Miller Center, says at the Chicago Tribune, "It fits into Trump's message that he's trying to do business in an unusual way, by bringing in these outsiders." But Trump and his team, she added, won't be able to draw on the same sort of life struggles that President Barack Obama did, in crafting policy to lift poor and middle-class Americans.
"They're just not going to have any access to that" life experience, Hemmer said. "I guess it will be a test – does empathy actually matter? If you're able to echo back what people are telling you, is that enough?"
Lead Image: Courtesy Donkeyhotey.com
* CBS News announced late Monday that Trump has selected Rick Perry to be energy secretary. Rick Perry's worth is estimated at only $3 million. That changes the calculus of the worth of Trump's inner circle considerably.
** The New York Times, on Tuesday, announced that Trump has indeed selected Rex Tillerson as his Secretary of State
*** Ex-Navy Seal Commander Ryan Zinke has been picked for Interior according to sources.
**** Sources:

http://www.sporcle.com/games/bobbienight/net-worth-of-the-house-of-representatives-republicans
http://www.politico.com/story/2016/11/donald-trump-cabinet-billionaires-millionaires-231831
https://www.bostonglobe.com/metro/2016/12/02/billion-and-counting-look-wealth-trump-cabinet-picks-far/tux8KGd7iNH0tGvzNtgb3H/story.html
http://www.forbes.com/sites/chasewithorn/2016/12/09/all-the-presidents-billionaires-a-guide-to-trumps-gilded-inner-circle/#286c6acf1b0b
http://abcnews.go.com/Politics/inside-donald-trumps-wealthy-cabinet-administration-picks/story?id=43898988
http://www.newsmax.com/Politics/Trump-Team-Wealth-Billions/2016/12/12/id/763415/
https://mic.com/articles/161681/andrew-puzder-net-worth-here-s-what-we-know-about-the-millionaire-ceo-of-cke-restaurants#.a6Rs6VcPh