Sarah Palin: Too crazy for Donald Trump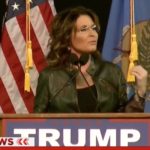 Remember when it was nearly impossible to avoid Sarah Palin in one's daily scan of political stories? She was everywhere and we seemed to pay attention if only to marvel at the great number of stupid things she routinely said.
Now of course we have Donald Trump sucking all the oxygen out of the room, as least as far as our need to hear stupid things goes.
But I have, in my own way, missed Sarah Palin and was moved to think about her today when reading that Trump has tapped former Rep. Michele Bachmann to help him out on foreign policy issues. If Michele, why not Sarah? Surely the Trump campaign is worried not at all about damaging their credibility, not with Bachmann on the team and the list of inept surrogates that have been cluttering up the airways. Still, no Sarah.
In an effort to educate myself I found a relevant story in The Washington Times (so I know it must be accurate).
They note that Palin's star has fallen more recently since "the tea party movement she championed has splintered" and, as mentioned, Donald Trump has garnered all the attention, still she maintains a degree of popularity and one would think she could be useful.
Palin did endorse Trump, and he welcomed that endorsement prior to the Iowa caucuses, though she did not speak at the Republican National Convention, and has had virtually no role as a surrogate since.
One GOP operative noted that "she speaks to a part of the GOP primary base, but when it comes to the general election, she can really complicate things."
Complicate things. What does that mean?
One clue might be found in her criticism of House Speaker Paul Ryan, particularly in the weeks leading up to Ryan's primary for his Wisconsin congressional seat. At the time she made some lovely comments such as, "His political career is over, but for a miracle, because he has so disrespected the will of the people." Anyway, the "miracle" came because he won his primary with 84 percent of the vote.
True, Trump was slow to endorse Ryan, though the harshest thing he said prior to endorsing him was that he hadn't quite made up his mind, which was likely a bit of slap at Ryan for making Trump wait for Ryan's endorsement. But even Trump knew he had to endorse Ryan, and didn't make it impossible to do so with previous toxic comments.
The thought that anyone is too much of a loose cannon for the Trump campaign is pretty amazing, but, like Trump, Sarah Palin is a brand, and could not be trusted to distinguish between her own needs and the needs of the greater effort.
Say that to yourself slowly, an actual human being has been deemed not disciplined enough to constructively contribute to the Donald Trump presidential campaign. Put a different way, one person inside the Trump campaign with a complete lack of emotional stability is probably as much as they can handle.