Trump and Davos Man are closer than you think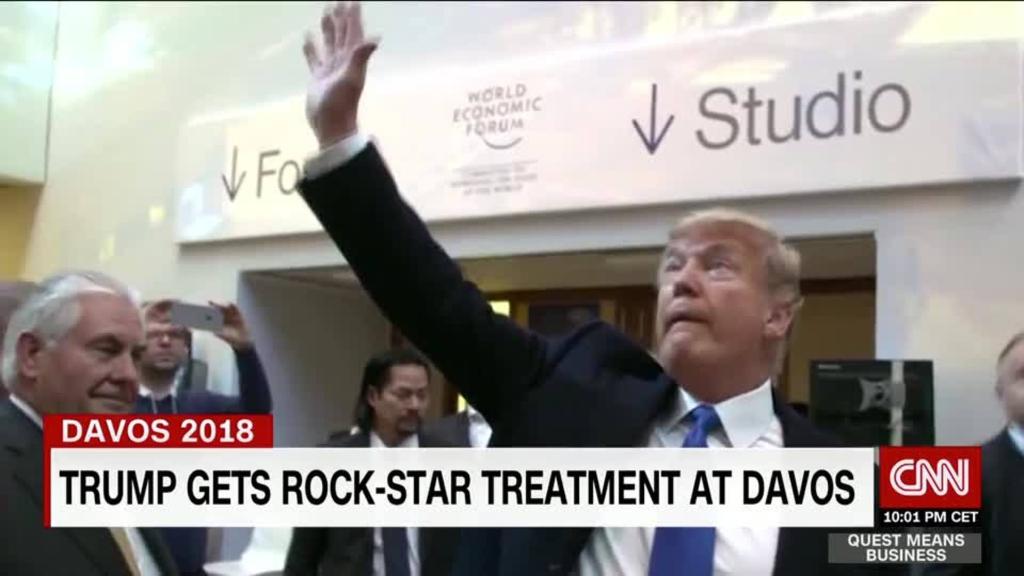 President Donald Trump surprised many by winning minds and praise today at his first foray into the fortress of globalization in the snow-capped village of Davos, Switzerland.
Nobody expected a statesman and most sighed with relief because Trump seemed less rough, scary, narrow-minded and short-sighted than critics in the US allege.
Many European and American intellectuals had expected him to get a cold shoulder because of his habitual coarse phrasing and vigorous anti-globalist and America First policies and beliefs.
But that coolness did not happen because the words he spoke came across as those of a common-sense and plain-speaking businessman, determined to do things his way rather than following diplomatic niceties.
Applause was polite at his standing-room-only speech to hundreds of business titans from Europe and the world because he rebuked them a little. But the excitement as his helicopter took off was palpable because they saw a US administration determined to make America a great place for foreign investors and earning profits.
The carrots of lower taxes and ease-of-doing-business that he dangled were music to many in the audience since their chief attribute is their skill at running profitable international businesses.
Government officials and think-tank intellectuals were unimpressed because they saw no bending to their worldview, which is that the US should continue to hold a protective economic and military umbrella over fractious Europeans. Trump is folding that umbrella without relent so far.
The tycoons in the room saw him as a kindred money-making spirit, and the buzz after he left was about his rebuke to those who shirk their duty as he sees it.
"Each of you has the power to change hearts, transform lives, and shape your countries' destinies. With this power comes an obligation, however — a duty of loyalty to the people, workers, and customers who have made you who you are," he said.
"So together, let us resolve to use our power, our resources, and our voices, not just for ourselves, but for our people — to lift their burdens, to raise their hopes, and to empower their dreams; to protect their families, their communities, their histories, and their futures," he added.
Similar words are often spouted by politicians who come to Davos, but as a common duty towards all the world's people and not just of their own country. They felt like a threat coming from Trump, a fellow tycoon but a firm nationalist with unprecedented political and legal powers over international companies.
His reference to the communities and histories of people did not go unnoticed by those opposed to immigrant workers, who they allege dilute their traditional culture.
Instead of praising multinational corporations and their leaders for greasing the wheels of global innovation and commerce, Trump thanked, "all of the hardworking men and women who do their duty each and every day, making this a better world for everyone". They were the ones who "really make our countries run. They make our countries great."
His audience saw this assertion like a declaration of faith from a populist politician who remembers who made him President and will not hesitate to hurt their corporate interests if that swings more votes his way.
The organizers of Davos are a formidably slick marketing machine combined with top-level think-tank expertise. They claim to toil for building a better world for everyone through cooperation among governments, including some pooling of national sovereignty in international bureaucracies.
As such, the annual Davos gathering is cathedral of top believers in pooled solutions to world problems based on globalism, rather than Trump's raw "my people first" beliefs and policies.
The Davos theme this year was "Creating a shared future in a fractured world", — torn apart by wars, terrorism, economic inequality, climate change, protectionism, disruptive technology, and discontented labor.
Trump offered no convincing collaborative solutions to solving that mess. He stuck to his guns and continued to shun globalism. Instead, he focused heavily on selling America as the world's best location for foreign investors because of the current economic upswing in the US, which he said is down to him.
"America is the place to do business. So, come to America, where you can innovate, create, and build," he said. "I'm here to deliver a simple message: There has never been a better time to hire, to build, to invest, and to grow in the United States. America is open for business, and we are competitive once again."
Reassuringly, he added, "But America first does not mean America alone. When the United States grows, so does the world."
But he did not back this laudable thought with a fresh look at his well-known protectionist policy prescriptions on trade, which is currently the biggest driver of the wealth of international companies.
Without naming any country, he threatened to continue penalizing nations that "exploit the system at the expense of others… we support free trade, but it needs to be fair and it needs to be reciprocal".
So, China, South Korea, Mexico and others can expect more restrictive trade measures against them, regardless of current international agreements and damage done to American companies that operate worldwide.
Yet, Davos Man moved a little closer to Trump because both see more profit-making opportunities in America.