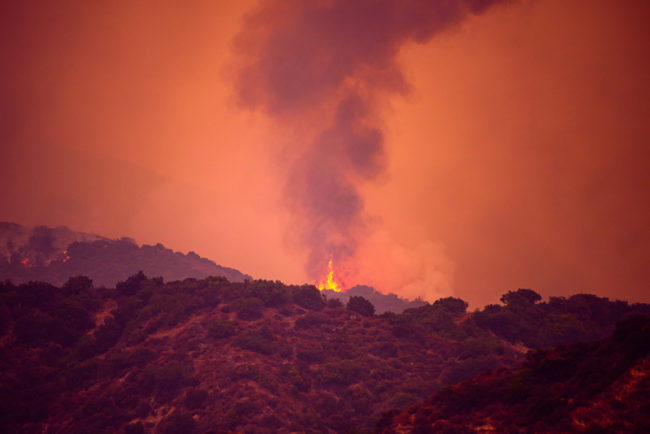 The Trump administration has reversed course on its controversial decision to nix aid for the massive wildfires that scorched nearly 2 million acres and turned many parts of California skies overcast, smoky and yellow.
The Trump administration reversed course Friday and approved California's emergency aid request for recent wildfires that scorched nearly 1.9 million acres, destroyed more than 3,300 homes and other structures, and killed at least three people.

Gov. Gavin Newsom wrote a letter to President Donald Trump last month requesting emergency funds, and a regional administrator with the Federal Emergency Management Agency asked the White House to declare "a major disaster" in seven counties ravaged by fires in September.

Newsom tweeted Friday that he appealed to Trump during a phone call, and the president approved the disaster declaration after his administration initially rejected it.

"Grateful for his quick response," the governor said.

Brian Ferguson, spokesman for the California Governor's Office of Emergency Services, told the Los Angeles Times that the state did not ask for a specific dollar amount because it is still assessing the damage, but he said such aid could amount to hundreds of millions of dollars.

"The true cost won't be known for months or years afterward," he said.

California has had a record wildfire year, with over 8,500 blazes, more than 4.1 million acres burned, 31 lives lost and over 9,200 structures destroyed.
The original decision to turn down California's request for aid sparked outrage in many quarters. Some tweets:
So… in order for California to get emergency aid from the federal government that trump was withholding, Governor Newsom had to call, beg and pay homage to god Emperor trump.#CaliforniaFires #GovernorNewsom
Fuck #TrumpCrimeFamily pic.twitter.com/HinYOH3n5l

— ?Ralen Darkwood? (@RalenDarkwood) October 16, 2020
JUST IN: Trump reverses course, approving assistance for California wildfires hours after denying it https://t.co/0X9VDTiImJ pic.twitter.com/gwubLH1j6l

— The Hill (@thehill) October 16, 2020
The state had planned to appeal an initial denial from the Trump administration and believed it had a strong case. https://t.co/FnACwXtv15

— USA TODAY Politics (@usatodayDC) October 16, 2020
Because Californians aren't Americans https://t.co/XtfoBO1wEb

— Anne Applebaum (@anneapplebaum) October 16, 2020
Trump has FEMA deny the wildfire relief funds for California so he can swoop in and approve the funds.

— Tim Hannan (@TimHannan) October 16, 2020
Trump couldn't care less about California.

For that matter he couldn't care less about anything other than himself https://t.co/8ttuYK6KO6

— Bob Lastiri (@BobLastiri) October 16, 2020
California Republicans: You guys cool with this???? https://t.co/vPJcTU1NP7

— Grey DeLisle-Griffin (@GreyDeLisle) October 16, 2020
Trump denied the aid in a tantrum, and is now restoring it, only so that he can put his name on it to try to buy votes. He doesn't care about the people of California, other than hoping they are dumb enough to feel obligated to vote for him. https://t.co/il094l4wKj

— Jess Hartley (@jesshartley) October 16, 2020
California to Donald Trump: don't let the Golden Gate hit you on the way out. https://t.co/WgEL1ebmAD

— Dan Rather (@DanRather) October 16, 2020

Photo 196376214 © Hanna Tverdokhlib – Dreamstime.com