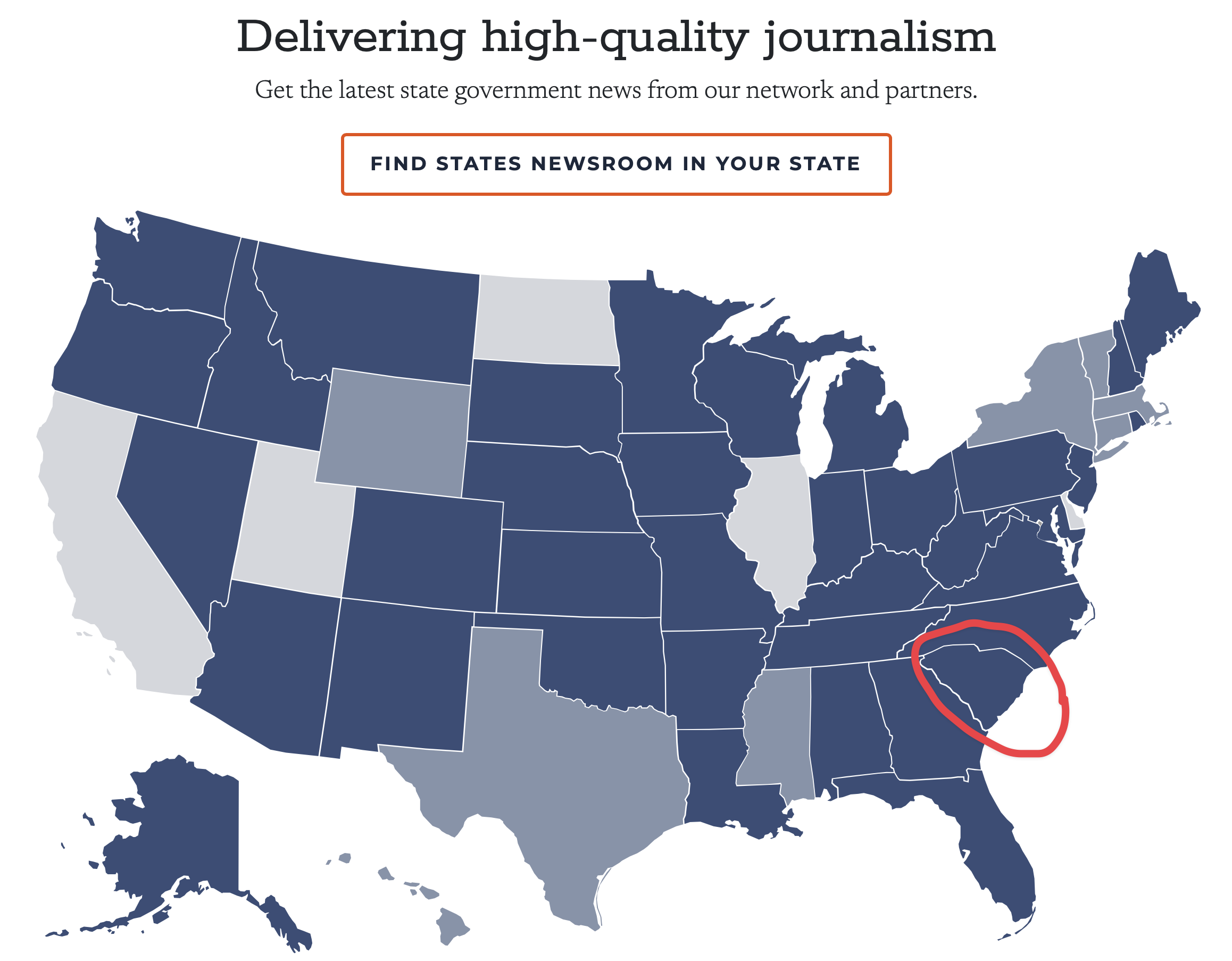 The South Carolina Daily Gazette, which debuted November 14, is the 37th state news publication affiliated with the States Newsroom. The goal: "free, high-quality, nonpartisan reporting on the important issues affecting the Palmetto State."
The news reports are free not only to readers but to other media outlets, editor Seanna Adcox made clear in her introduction.
We're starting with a team of four award-winning reporters whose coverage is free to both readers and other news outlets. We are a public service. Our articles can be read and reprinted without subscriptions or memberships. There are no paywalls or annoying pop-up ads.
The name, Adcox notes, is a nod to South Carolina history.
Our name comes from the state's first successful newspaper, the South-Carolina Gazette, first printed in 1732. Seven years later, it also became the first newspaper in colonial America edited and published by a woman (emphasis added).
States Newsroom affiliates are filling the gap created as local newspapers fold and as mega-corp absorb those remaining.
Read news you are unlikely to see elsewhere:
Other States Newsroom affiliates
In addition to its network of state-based newsrooms, States Newsroom has content-sharing agreements with eight leading nonprofit newsrooms: CommonWealth Beacon (Massachusetts), Connecticut Mirror, Honolulu Civil Beat, Mississippi Today, New York Focus, The Texas Tribune, VTDigger, and WyoFile.
From the news release announcinig the lastest state capital newsroom:
States Newsroom announced in March that it was selected by The Pew Charitable Trusts to be the new home of Stateline – merging the two state policy-focused organizations to expand their incisive reporting on state government around the country. States Newsroom also launched content-sharing partnerships with eight independent nonprofit outlets, including The Texas Tribune, to host reporting on News from the States, its comprehensive statehouse news site. With the launch of the South Carolina Daily Gazette, States Newsroom is closing in on the organization's milestone of having newsrooms or content-sharing agreements in all 50 states by mid-2024.

Last year, in a national study on statehouse reporting, Pew Research Center cited States Newsroom and other nonprofit newsrooms as key to filling the void in coverage left by staffing cuts at legacy media outlets. According to Pew, the overall percentage of reporters working for nonprofit newsrooms in the statehouse press corps has more than tripled since 2014 and now makes up the largest portion of statehouse reporters in 10 states and the second largest in 17 states.
States Newsroom is a 501(c)(3) nonprofit and is "committed to supporting fact-based, non-partisan news to the public at no cost and ad-free."
.
Talk to me: Facebook | Mastodon | Twitter
Known for gnawing at complex questions like a terrier with a bone. Digital evangelist, writer, teacher. Transplanted Southerner; teach newbies to ride motorcycles. @kegill (Twitter and Mastodon.social); wiredpen.com