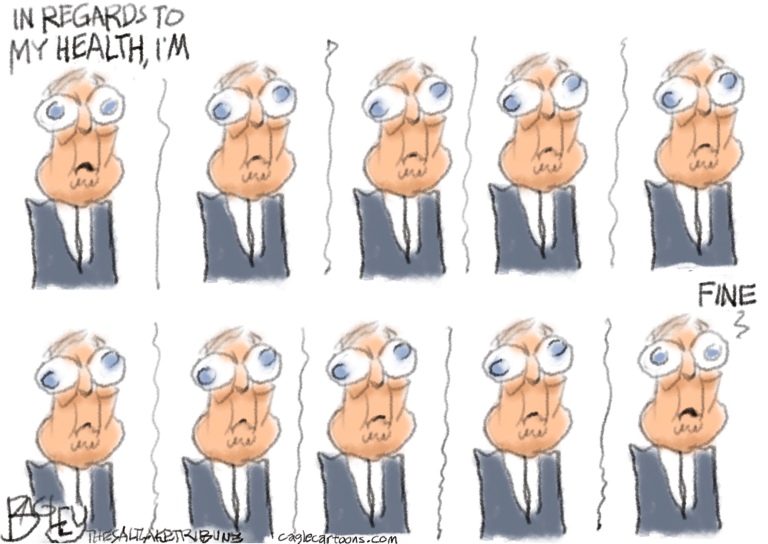 by Don Hermann
Columnist
MESSAGING
You can have the greatest product in the world but without the right messaging, you ain't got nothing.
TRUTH
The truth isn't the truth until people believe you, and they won't believe you if they don't know what you're saying, and they can't know what you've saying if they don't listen to you, and they won't listen to you if you're not interesting unless you say things imaginatively, originally, freshly.
(Bill Bernbach)

MITCH McCONNELL'S TRIP
His fall could be the beginning of the end. His last leg is approaching. I don't wish Mitch McConnell bad things. Under these circumstances it's traditional to say nice things about a person. I prefer the truth. He was one of the most destructive people in the history of Congress. He had his priorities upside down. Will the Republicans freeze him out?
JOE BIDEN IS TOO OLD.
The sad thing is that's a message heard loud and clear from not only the Republicans but some Democrats as well. Those Democrats don't have a sense of what an advantage is. Consider this—Joe Biden may have lost a step and he may have a slight speech impediment but he's miles ahead of any prospective leader on the horizon. So get behind him and enjoy prosperity.
SONGS FOR DONALD TRUMP
Georgia On My Mind
Jailhouse Rock
FASCISM. ALIVE AND WELL.
If Georgia is on your mind, as well, check out the latest indication that Fascismis anything but subtle in Georgia. The new Goose Step Law can enable a Commission, politically motivated to replace the Elected Prosecutor with one of their liking if they deem so. Heil.
WHERE'S THE FIRE?
OOPS. It may be missing from your advertising and marketing programs. If so, that's money up in smoke. Advertising has to light a fire under people.
To get them off their duffs and do something. The Democrats need approaches that will ignite people's interest and make sure that the fire rages through November. The kindling is there. The logs in place. Where's the match?

WHERE ARE YOU MARTIN LUTHER KING, JR.?
We need you badly.

BOTH POLITICAL PARTIES SUCK
Maybe they do. But think about this. How would you feel if the right to Vote was taken away from you?
Do you believe that wars can start if you can't Vote?
Do you realize that not voting is a Vote against yourself?
Do you know that Donald Trump, as President lied to you over 30,000 times?
Would you get into a foxhole with Donald Trump?
Would you vote for an accused sexual predator as President?
Donald Trump has failed in almost every business he's been in? Would you go into business with him?
Would you trust Donald Trump with company secrets?
Would you buy a pre-owned car from Donald Trump?
All this is enough to drive you crazy. VOTE.