Secretary Mattis Stands by His Troops – Including Dreamers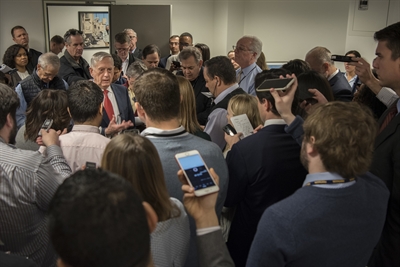 Even as Trump and his lackeys continue to prevaricate on DACA (Deferred Action Childhood Program) – even to insult the "Dreamers" as "too lazy to get off their asses" – one man has shown the backbone to "stand by" Dreamers under his command.
Speaking with reporters at the Pentagon today, Defense Secretary James N. Mattis said that U.S. service members who are a part of DACA will not be deported even if the DACA program expires without congressional action next month.
"Anyone who's in the delayed enlistment program or is already signed up and waiting to go into boot camp, anyone on active duty, anyone in the active reserves and anyone with an honorable discharge … will not be subject to any kind of deportation," the secretary told reporters.
DoD News, Defense Media Activity reports:
Exceptions would apply if a service member either has committed a serious felony or has received a federal judge's signed deportation order, Mattis said, adding that he is not aware of either case applying to a U.S. service member
"There are less than 900 individuals currently serving in the military, or have signed contracts to serve, who are recipients of Deferred Action for Childhood Arrival (DACA) authorization," Pentagon spokesman Lt. Col. Paul Haverstick said in a statement in September. "These individuals are part of the Military Accessions Vital to the National Interest (MAVNI) Pilot Program. The Department of Defense is coordinating with the Departments of Justice and Homeland Security (DHS) regarding any impact a change in policy may have for DACA recipients. The department defers to our colleagues at DHS on questions related to immigration, naturalization or citizenship."

MAVNI is a special DOD recruitment program that selects legal immigrants who are deemed to have vital skills serve in the military. Qualifying program enrollees include physicians, nurses and experts in a number of languages in the Middle East and Asia, according to the Pentagon.
Th Hill reports that, today, about 800 DACA recipients are serving in the armed forces.
The man who "[t]hroughout his 40-year career as a Marine…built a reputation as an aggressive warrior…[o]ver the past year…has learned to play a different role: acting as a check on an impulsive president" told reporters Thursday, "We would always stand by one of our people."
Read more about the original MAVNI program here
Lead photo: Defense Secretary James N. Mattis speaks with reporters at the Pentagon, Feb. 8, 2018. DoD photo by Air Force Tech Sgt. Vernon Young Jr