Military Weekend – With a Difference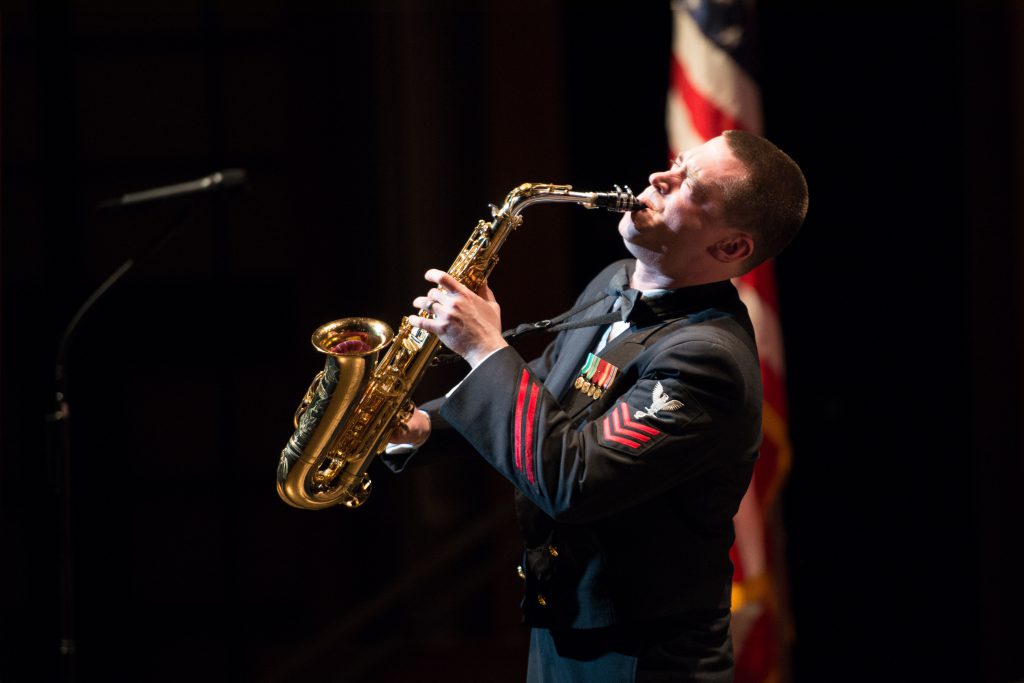 Most "military weekend" posts have covered our men and women in the military doing what they do best, doing what they have been trained for.
This weekend, here is a look at some other aspects of military life – some of them my favorite topics, some of them which, sadly, "come with the territory."
Coming home again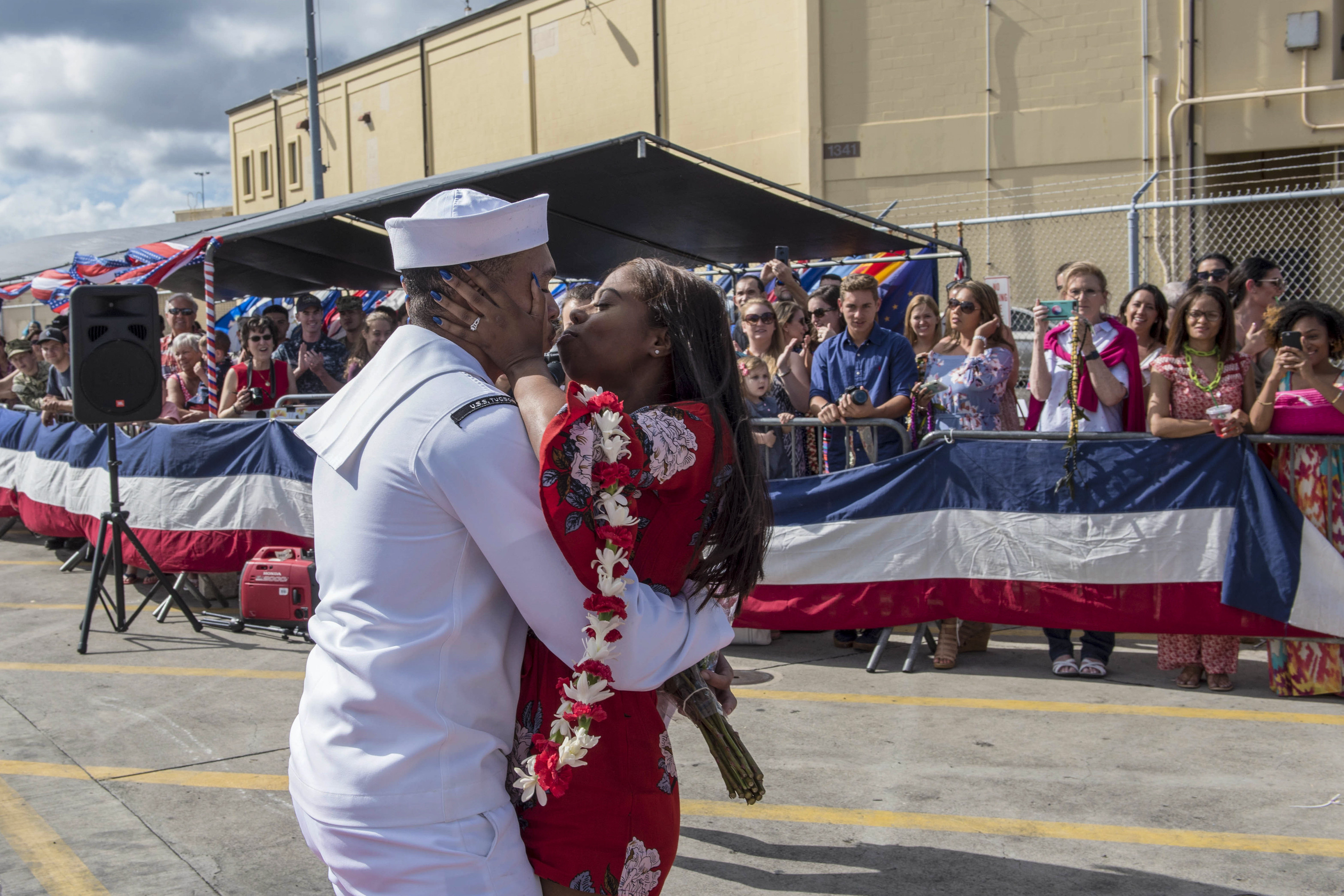 A sailor embraces a loved one on the pier at Joint Base Pearl Harbor-Hickam, Hawaii. The sailor returned from a six-month deployment to the Western Pacific while stationed aboard the USS Tucson. Navy Photo by Petty Officer 2nd Class Shaun Griffin

Getting to know your child again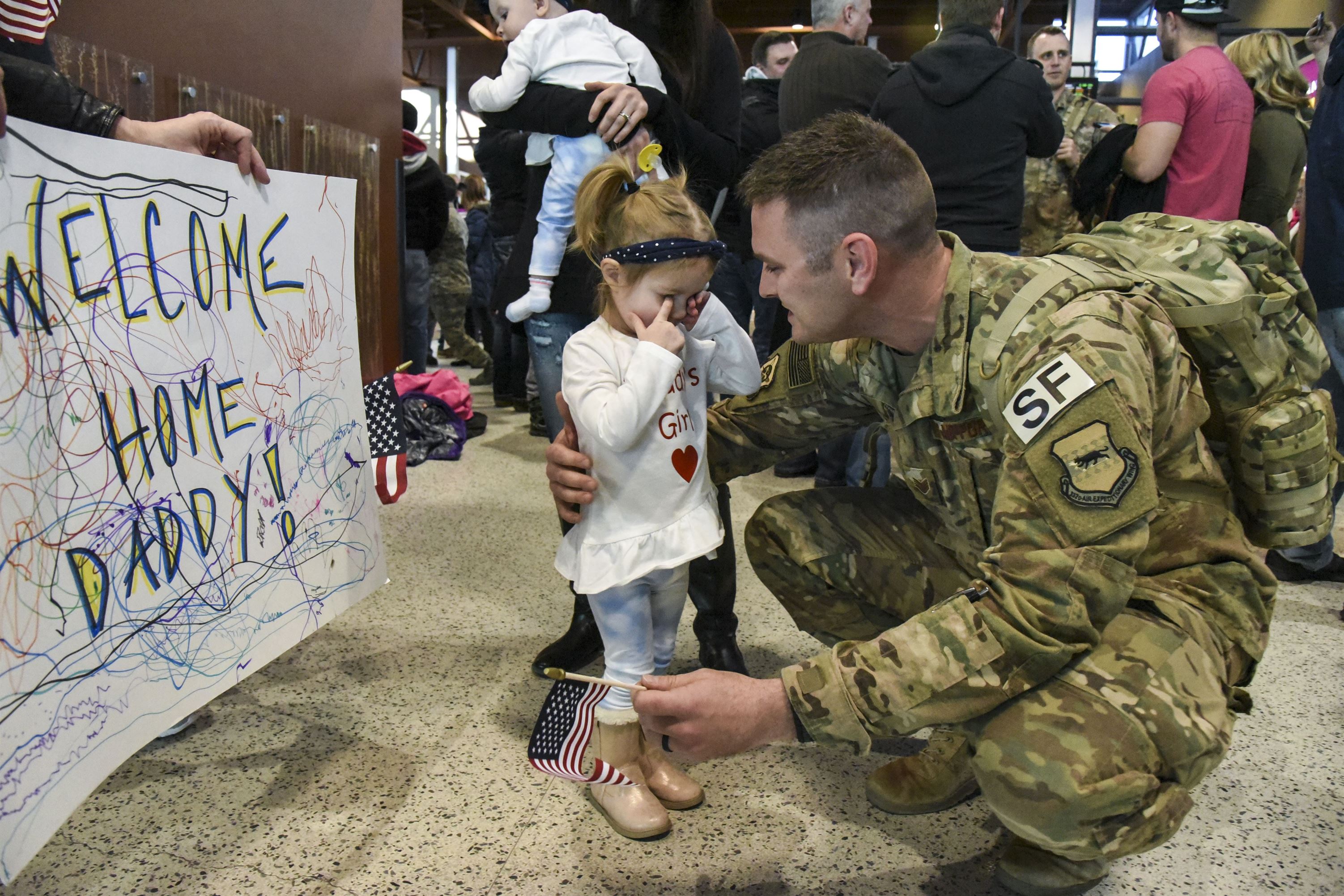 Air Force Staff Sgt. Lucas Nelson prepares to hug his daughter as he returns home to Hector International Airport in Fargo, N.D. after a six-month deployment to southwest Asia. Air National Guard photo by Senior Master Sgt. David H. Lipp
Paying respects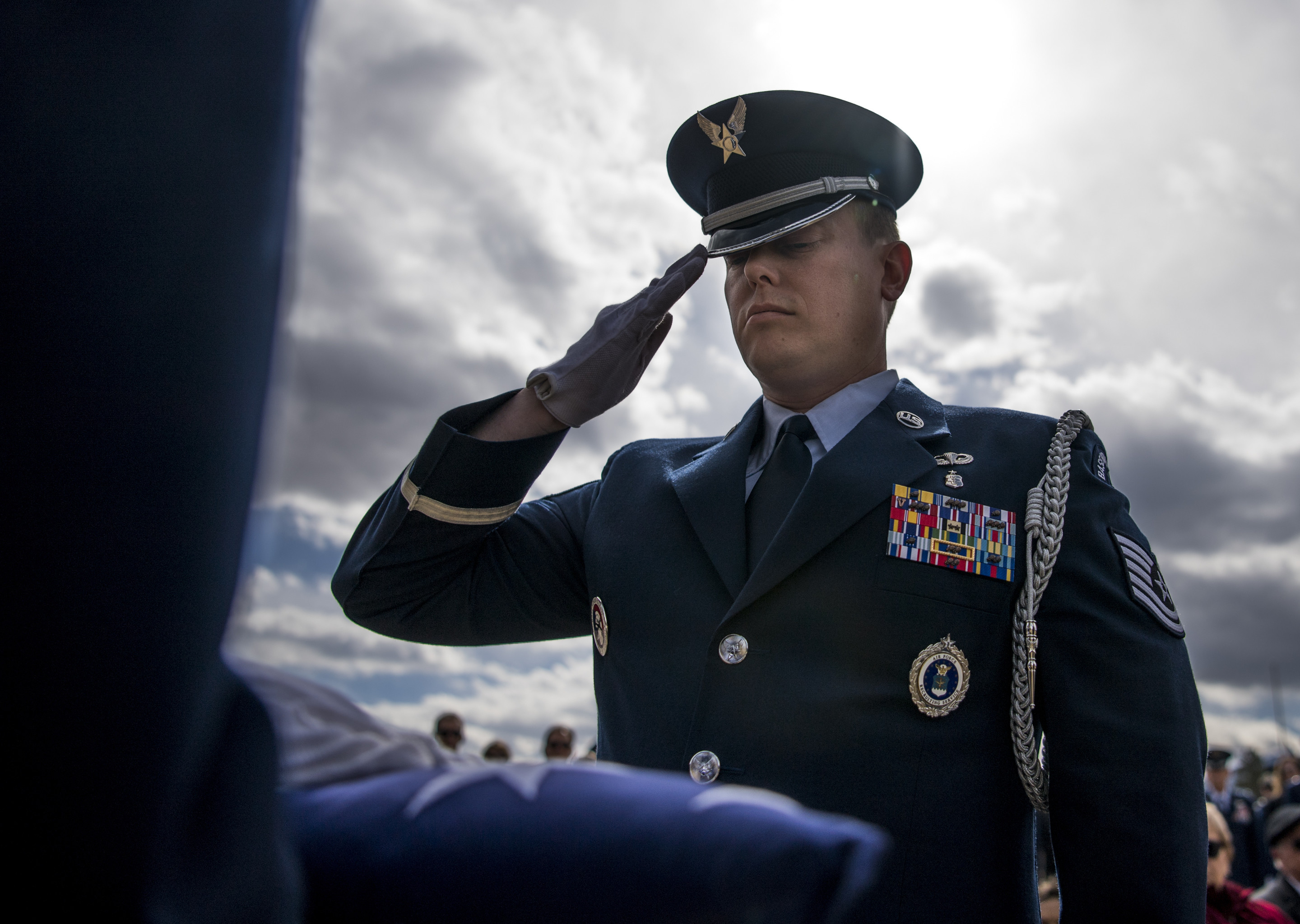 Tech. Sgt. John Shortell III salutes the flag of the late Lt. Col. Camilo Guerrero moments before it was presented to Guerrero's wife March 12, 2018, at the United States Air Force Academy, Colo. Guerrero served 21 years in the Air Force and passed away March 6, 2018, after a two-year battle with cancer. (U.S. Air Force photo by Tech. Sgt. David Salanitri)
Our four-legged warriors and their handlers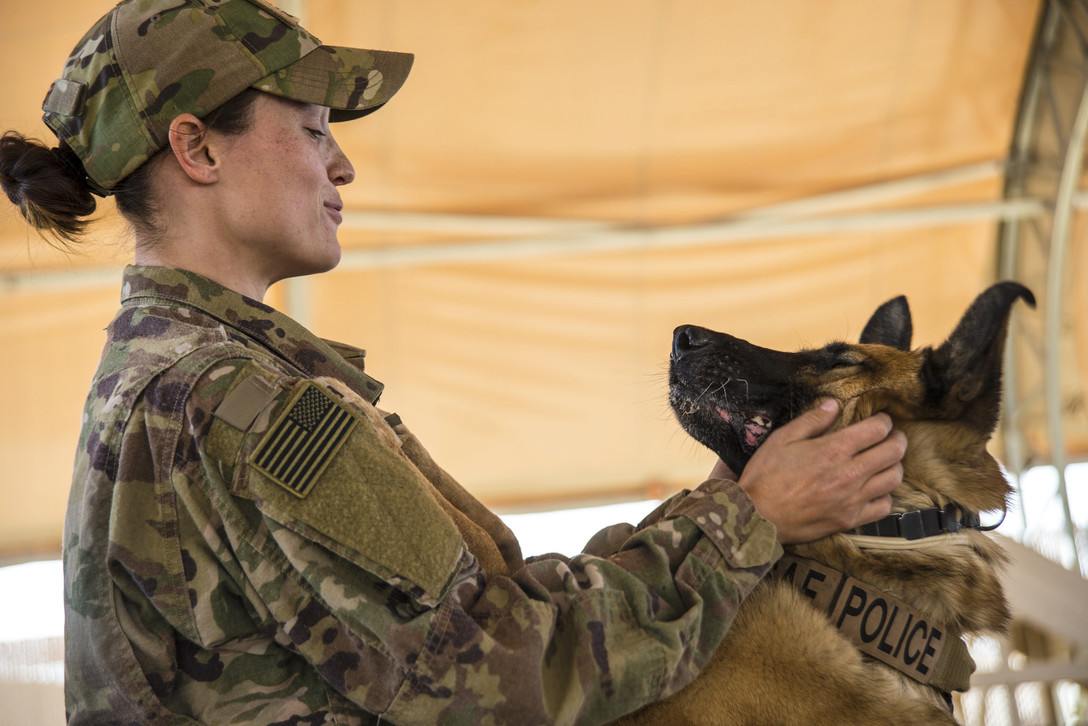 Air Force Senior Airman Nicole Meyer rewards Nido, a Belgian Malinois, after training at an undisclosed location in Southwest Asia, Feb. 19, 2018. Meyer, a military working dog handler, is assigned to the 386th Expeditionary Security Force Squadron. Air Force photo by Staff Sgt. William Banton
Saying Goodbye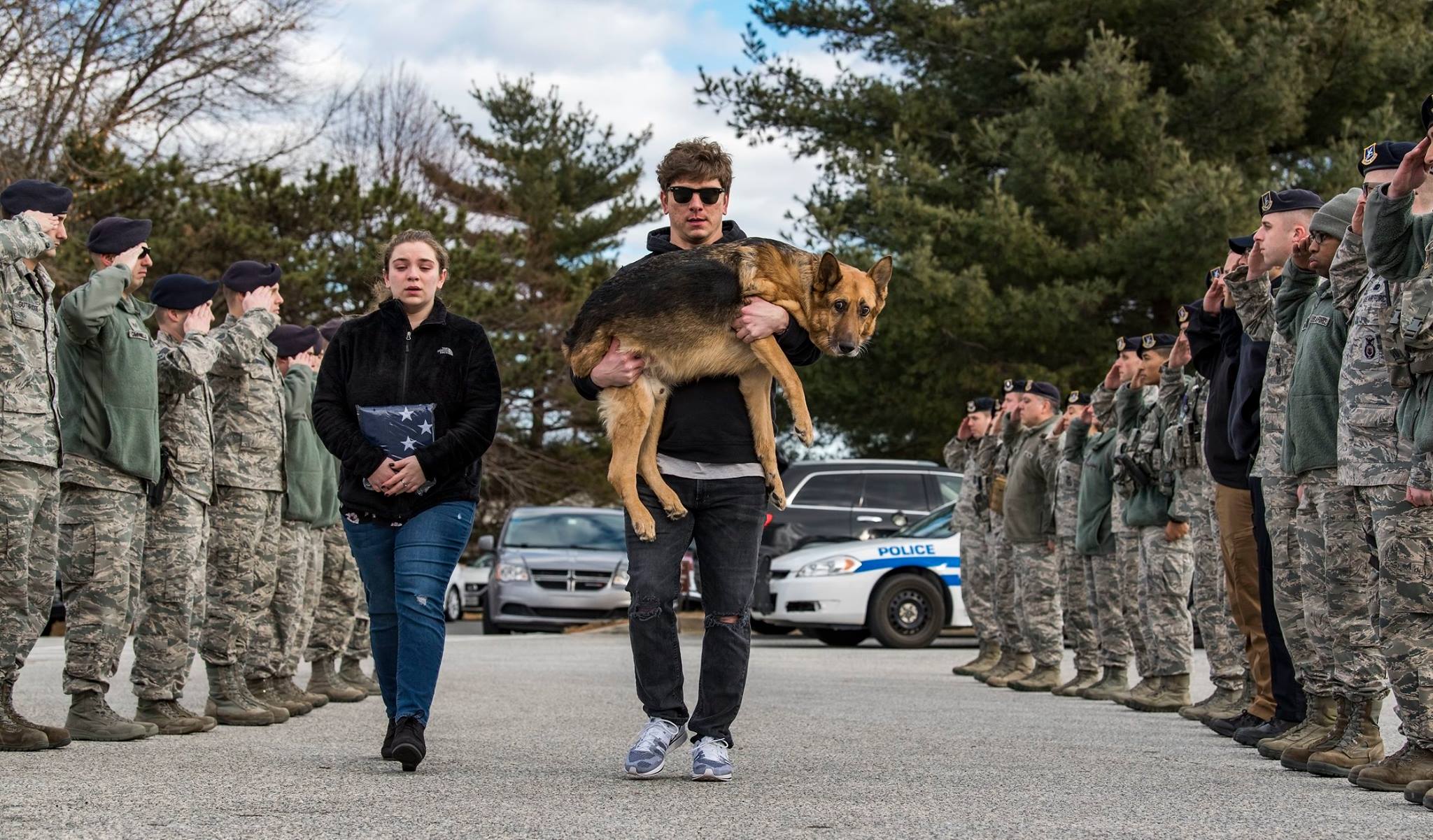 Members of the 436th Security Forces Squadron render a final salute to Rico, a retired military working dog. His former handler and current owner, retired Tech. Sgt. Jason Spangenberg, carried him to the Veterinary Treatment Facility at Dover Air Force Base, Del., Jan. 24, 2018. (U.S. Air Force photo by Roland Balik)
Taking care of others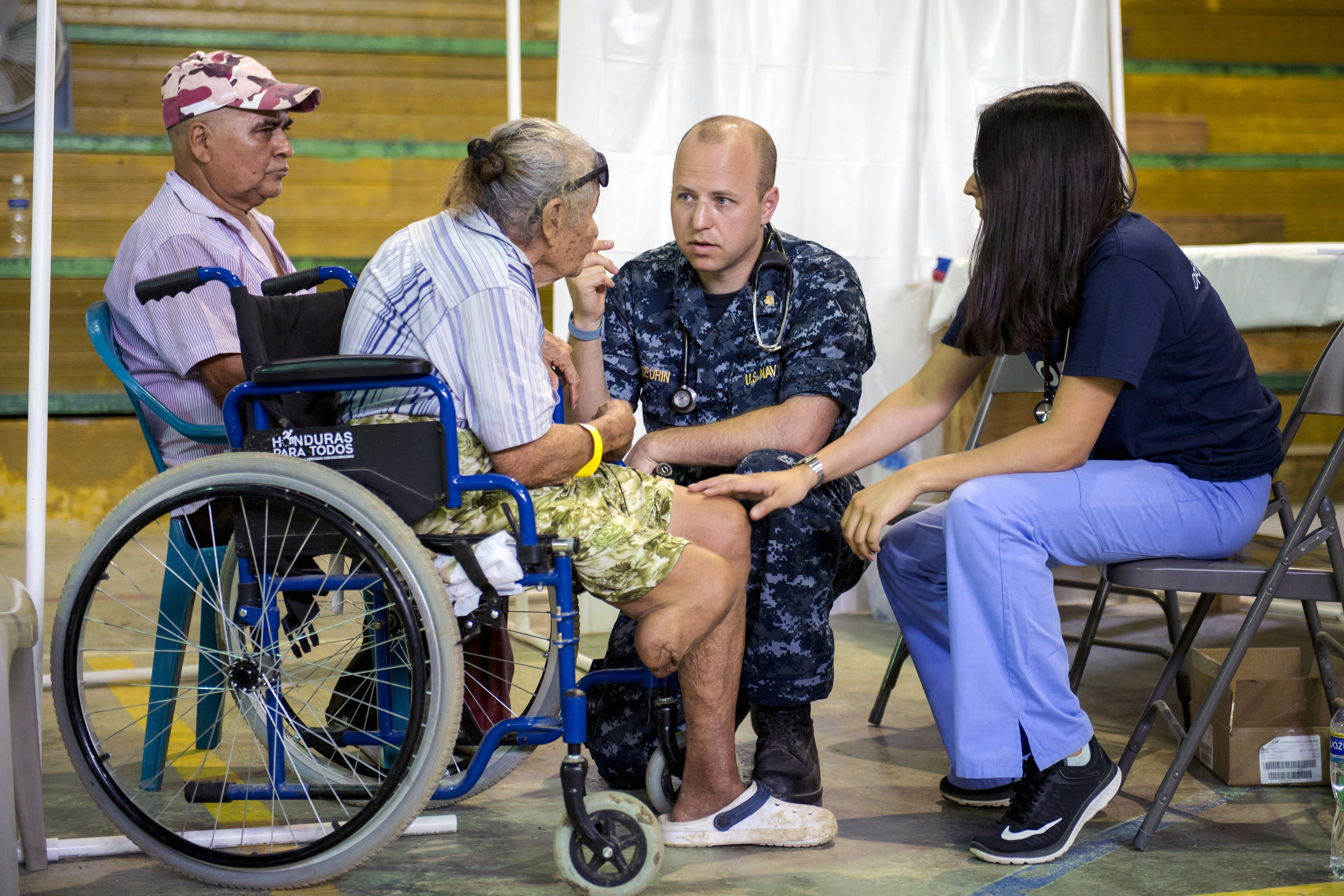 Navy Lt. Joe Guerin listens to a patient describe her symptoms during a medical event in Puerto Cortes, Honduras, March 15, 2018, as part of the Continuing Promise 2018 mission. Navy photo by Petty Officer 1st Class Mike DiMestico
Women honoring women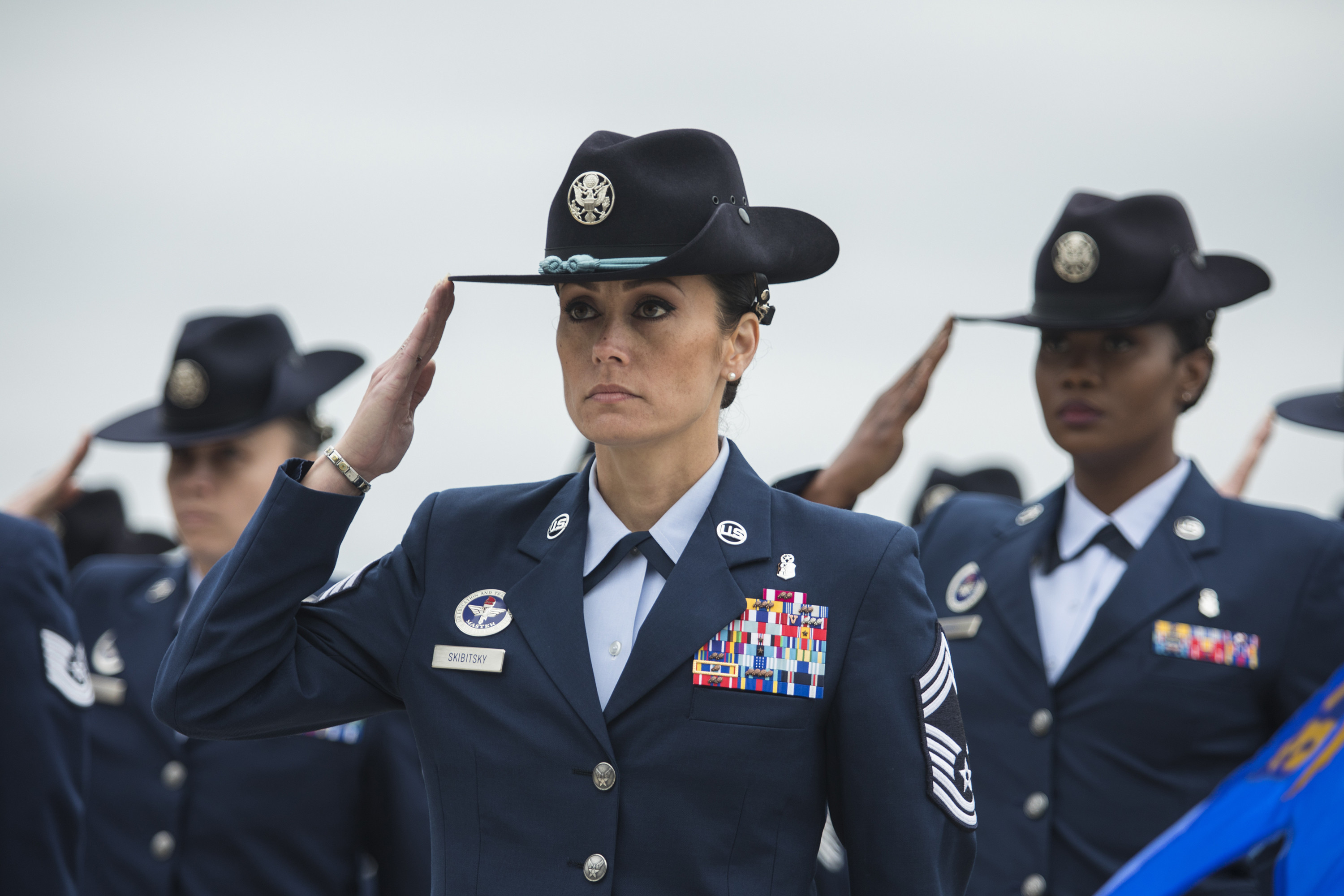 Chief Master Sgt. Hope L. Skibitsky, 737th Training Group and Air Force Basic Military Training superintendent, leads a female military training instructor mass during a BMT graduation March 9, 2018, at Joint Base San Antonio-Lackland, Texas. The formation was to honor National Women's History Month which Congress designated in March 1987. (U.S. Air Force photo by Ismael Ortega)
Doing their musical thing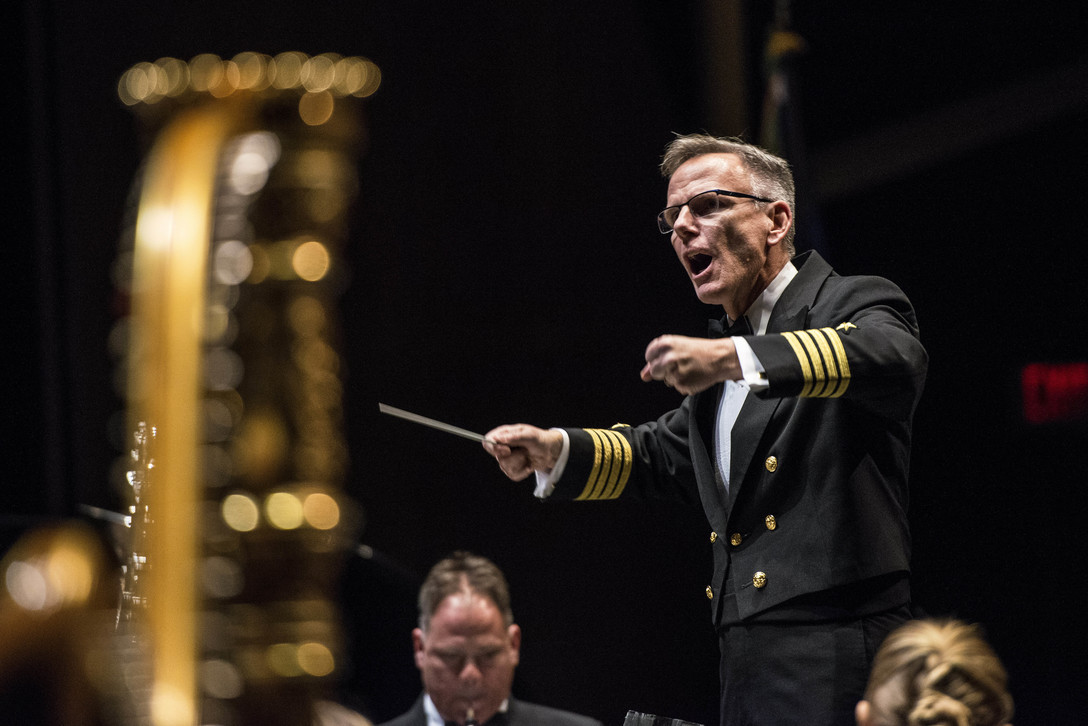 Navy Capt. Kenneth Collins conducts the U.S. Navy Band during a concert at Kansas State University in Manhattan, Kan., March 5, 2018, during a 21-city tour. Navy photo by Chief Petty Officer Adam Grimm
Playing a good game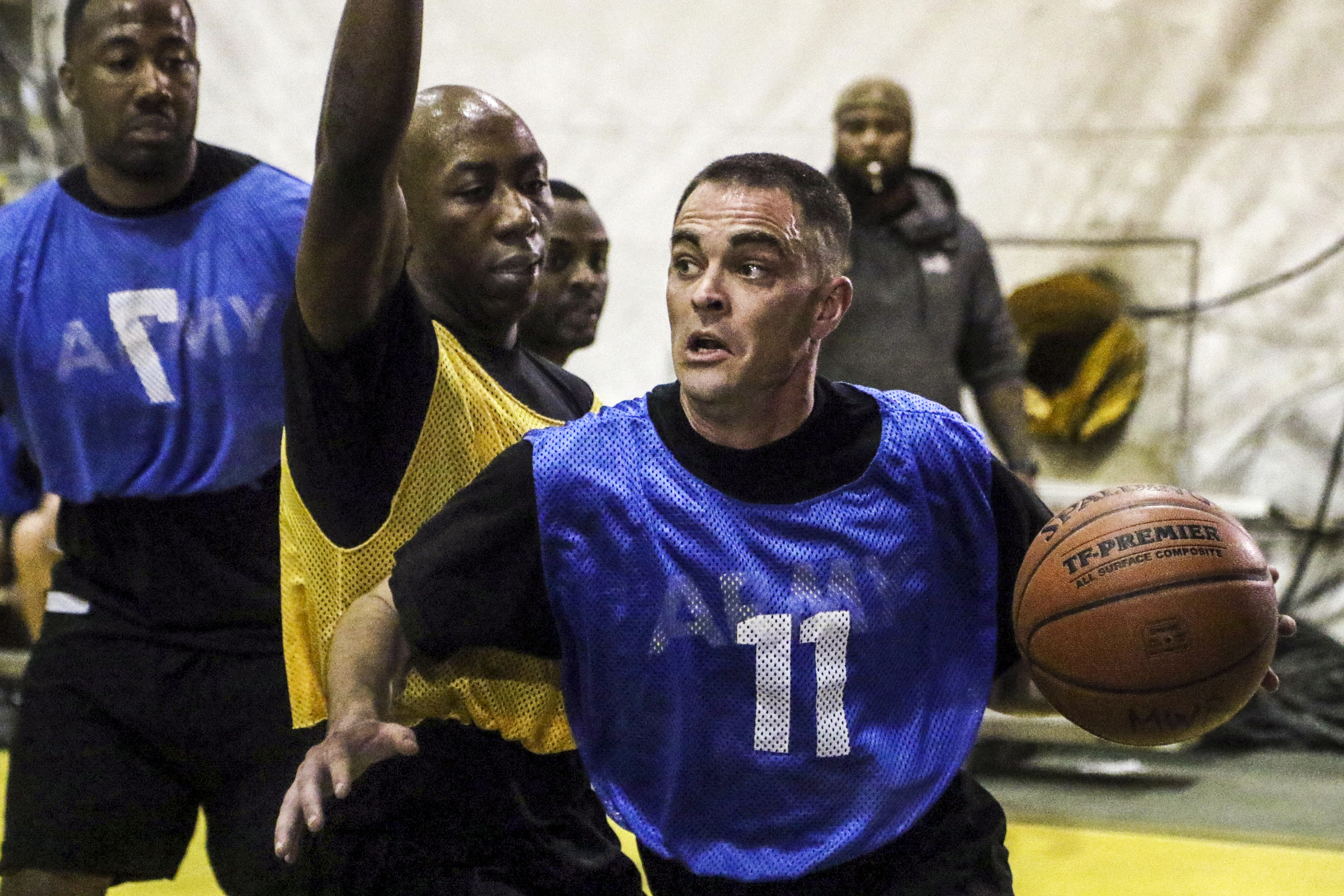 Army Staff Sgt. Steven Briggs drives hard during a basketball game at Bagram Airfield, Afghanistan, March 10, 2018. Army photo by Sgt. 1st Class Ben K. Navrati
Listening to a child read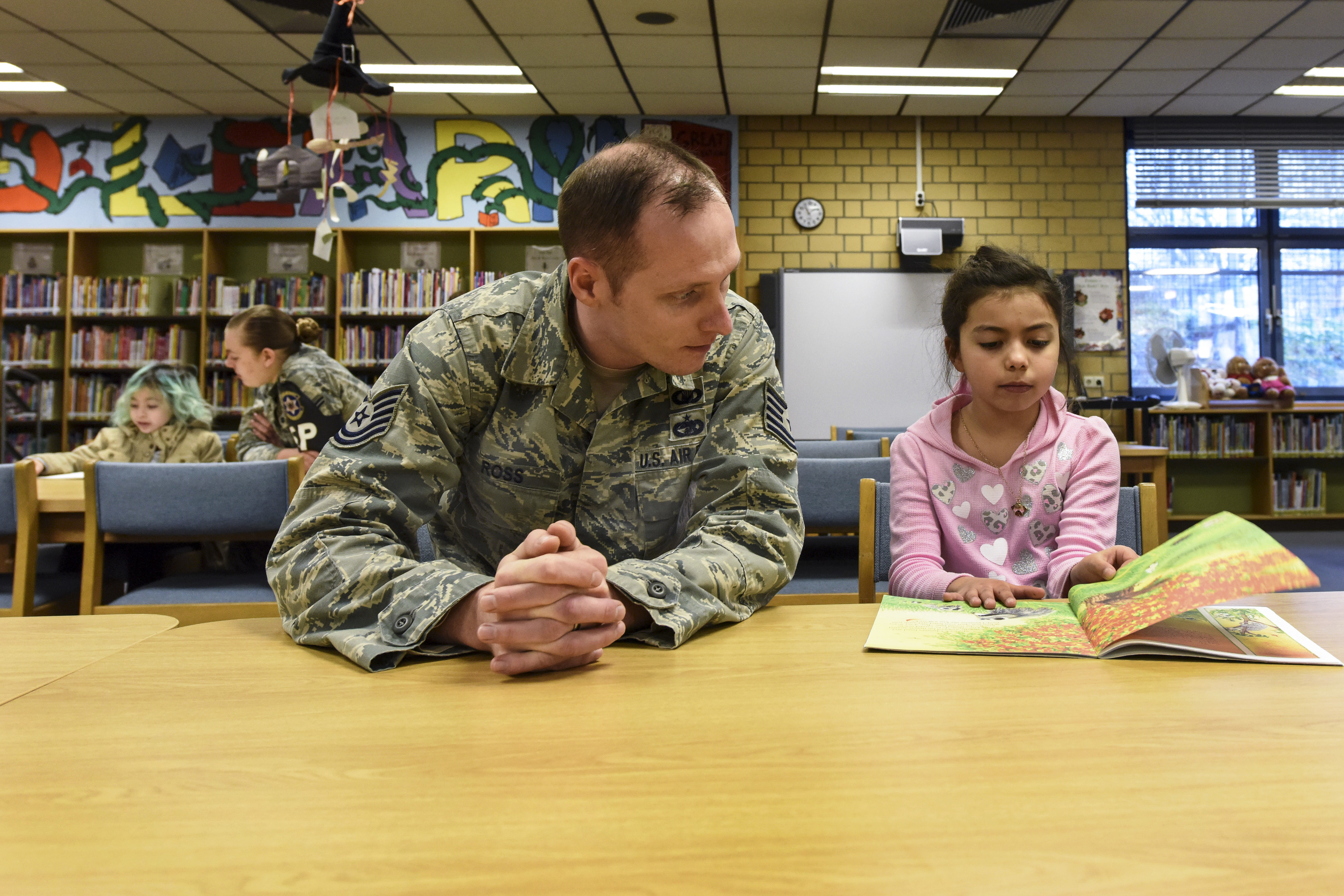 Air Force Tech. Sgt. Jere Ross reads with children at an elementary school at the Vogelweh Military Complex, Germany, Feb. 6, 2018. During the visit, children selected a book and read to their military volunteer for up to 30 minutes. Air Force photo by Airman 1st Class Kristof J. Rixmann
Doing something for the planet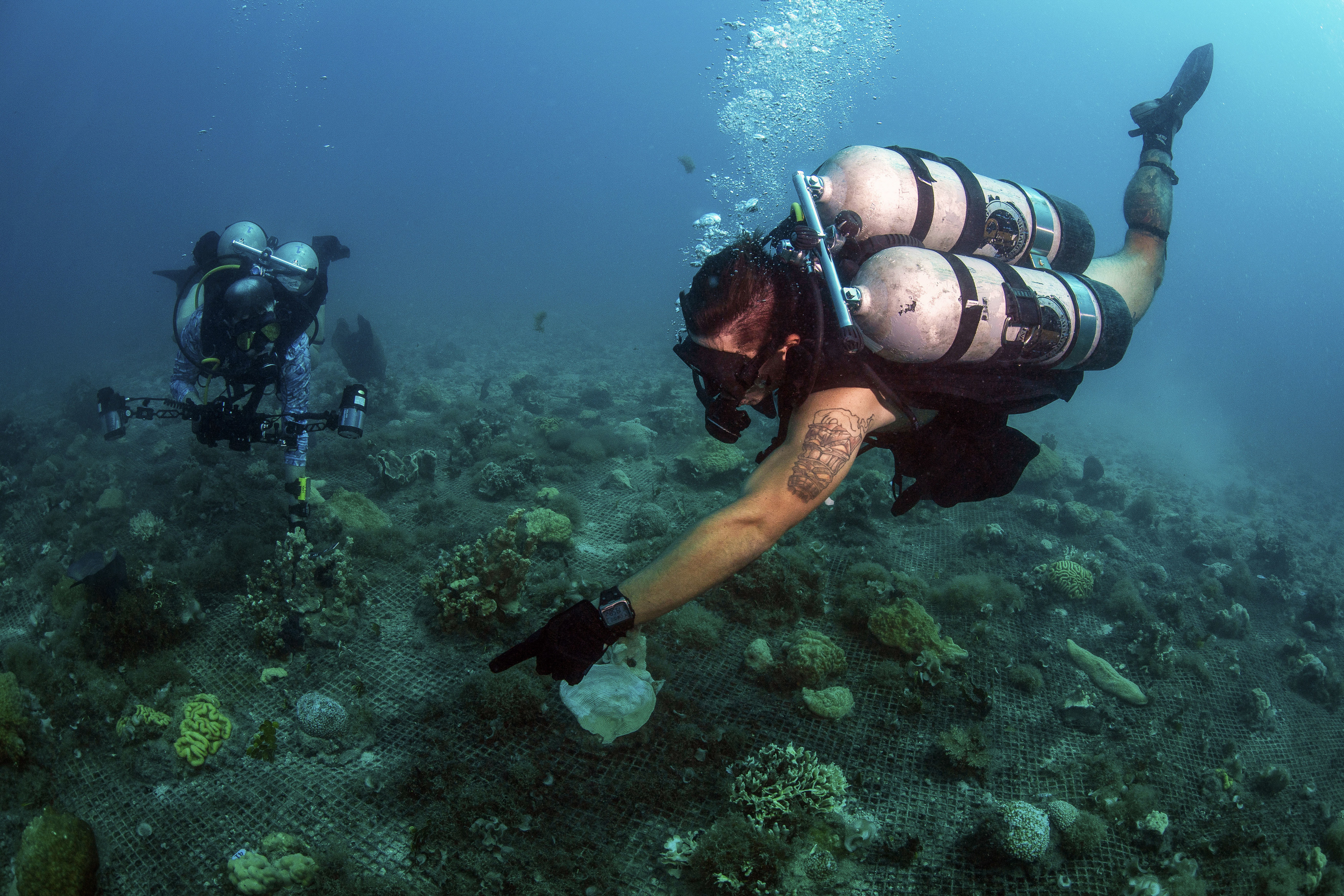 Navy Petty Officer 1st Class Jesse Stigibauer directs marine ecologist Lee Shannon as they monitor and document the progress of transplanted corals in Apra Harbor near Naval Base Guam, March 16, 2018. Navy photo by Petty Officer 2nd Class Alfred A. Coffield
Finally, while the Pyeongchang Winter Olympics received widespread coverage, not much has been published on the Winter Paralympics in Pyeongchang which began March 9 and end this Sunday.
Eighteen veterans were slated to participate with Team USA at the Games.
One of these veterans is Dan Cnossen, a retired Navy Seal platoon commander who lost both his legs just above the knees when he stepped on an IED in September 2009, in Kandahar, Afghanistan.
Cnossen was awarded the Bronze Star with Valor and a Purple Heart.
Cnossen participated in the Sochi Paralypics (photo below) but scored gold in the 7.5 km seated biathlon at Pyeongchang on March 9. Cnossen has gone on to win two more medals at the Paralympics.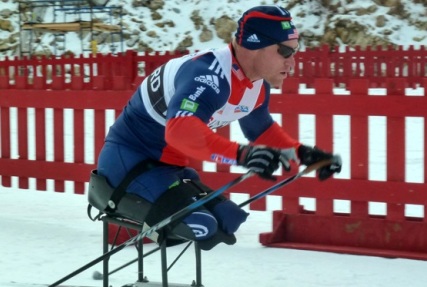 Cnossen has visited the Obama White House twice and, on Monday, former President Barack Obama tweeted his support for Lieutenant Commander Dan Cnossen:
Four years ago, @MichelleObama and I had the privilege to host Lt. Cmdr. Dan Cnossen and his fellow Paralympians and Olympians at the White House. Today, we're so proud of him for winning gold and silver – while still representing the red, white, and blue.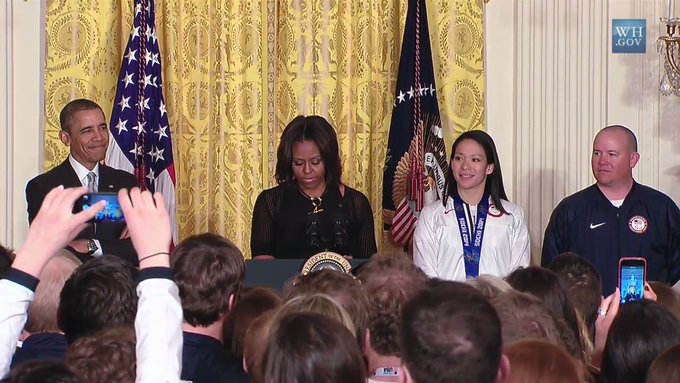 Team USA at the White House
Have a great weekend!
Lead image: Musician 1st Class Jonathan Yanik performs during a U.S. Navy Band concert at the University of Missouri St. Louis in St. Louis. (U.S. Navy photo by Chief Musician Adam Grimm/Released)