Memorial Day: 'The American Story Is Not Told on Birth Certificates…'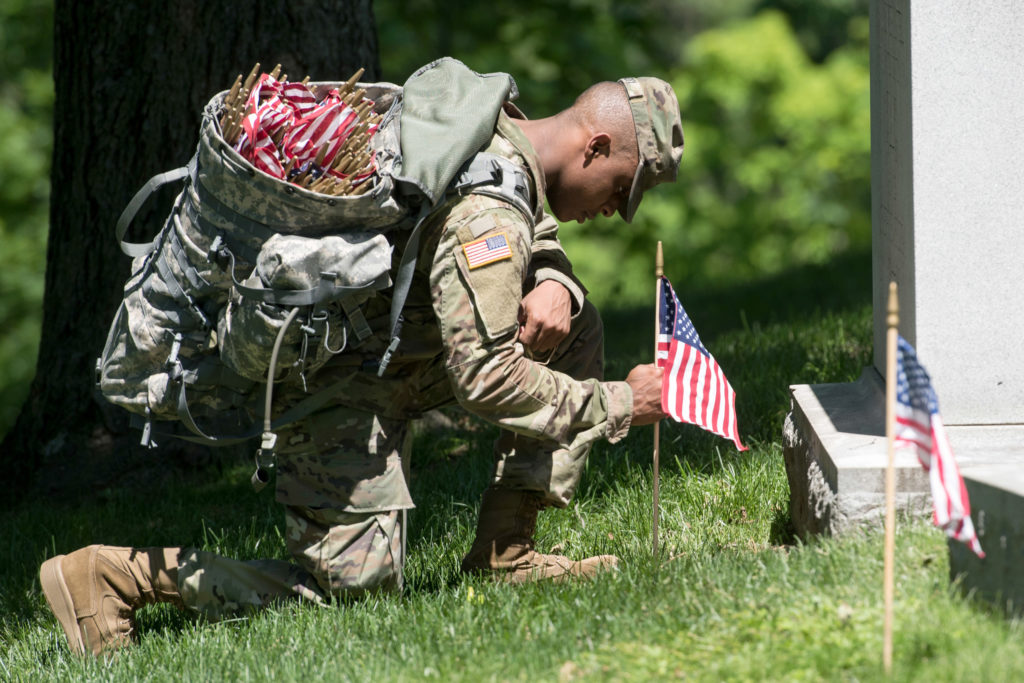 Many touching stories are being told and written this Memorial Day weekend.
They are about the military men and women who have given their lives in the service of our country, especially about those who died in battle or because of injuries sustained in battle.
While of course we honor and remember each one of these patriots, whether born in America or an immigrant to America, an article in the Washington Post this Memorial Day weekend caught my attention, especially the concluding words, "The American story is not told on birth certificates. It's written on hearts."
In "They were immigrants — and real American heroes," David Von Drehle tells the stories of four men who served and died heroically for their country and were awarded the Medal of Honor.
In addition to their bravery, these men had another thing in common, they were all immigrants:
Matej Kocak, an immigrant from what is now Slovakia, joined the Marines and fought heroically in the Battle of Soissons, in France during World War I. Three months later, Sgt. Kocak was killed in action. He was awarded the nation's highest decoration for bravery posthumously for his heroics at Soissons.
Macario García, "a boy of 3 when his parents moved their large family across the Rio Grande from Mexico to work in the fields of South Texas." In 1942 he enlisted in the Army and served in Europe during World War II. He was awarded the Medal of Honor for his bravery during "some of the most ferocious fighting of the War in Europe becoming the first Mexican-born soldier to receive the Medal of Honor.
García received his American citizenship in 1947 and died in 1972
Leslie Sabo, an Austrian-born political refugee whose family fled the Soviet takeover of Hungary, joined the Army in 1969 and served in Cambodia during the Vietnam War. On May 10, 1970, Sabo's unit was ambushed from all sides by North Vietnamese troops. Sabo fought fiercely to protect his soldiers including absorbing the blast from a thrown grenade and providing covering fire for evacuation helicopters until he himself was killed.
Forty-two years later President Barack Obama presented Sgt. Sabo's Medal of Honor to his widow, below.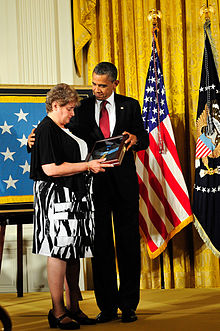 President Barack Obama presents Sabo's Medal of Honor to his widow, Rose Mary Sabo-Brown
Finally, a hero who is still with us. Florent Groberg, born in Poissy, France and the son of a French-Algerian mother. Groberg came to the United States when he was 11 and became a naturalized U.S. citizen in 2001.
In 2008 he received his commission as an infantry officer after attending the Army's Officer Candidate School.
On Aug. 8, 2012, "during his second deployment to Afghanistan, Capt. Groberg as part of a security detail protecting high-ranking American officials, saved multiple lives by spotting and tackling a suicide bomber. When the enemy detonated his vest, Groberg was badly wounded; for his valor he earned the nation's highest decoration." (Below)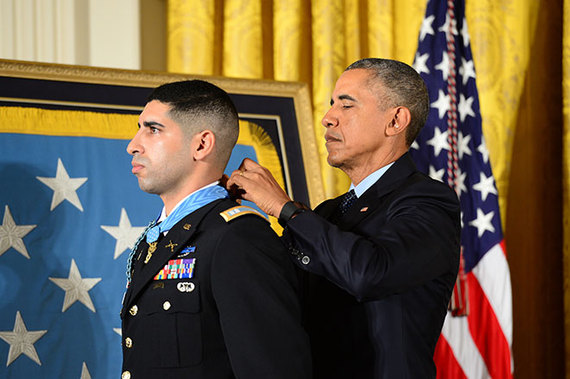 Von Drehle writes, "I would need hours to recount the heroism of every immigrant who has earned the Medal of Honor…"
True. More than 700 — or more than 20 percent — of the 3,500 Medal of Honor recipients are immigrants.
Thousands of immigrants have served, and died, in the ranks of the U.S. military in every major conflict, along with more than one million Americans, starting with that "Army of Immigrants," the Continental Army with Germans, Dutch, Scottish, Irish, English, etc.
And…
• Irish immigrants boosted military ranks in the War of 1812.
• In the 1840s, half of Army recruits were immigrants.
• Roughly one in four members of the Union Army during the Civil War were immigrants, some of whom came from abroad to fight.
• At the turn of the 20th century, immigrants who could speak English and who declared their intent to become citizens enlisted in significant numbers, making up 12 to 15 percent of the Army
• During World War I, nearly a half-million immigrants from 46 nations served in the military – approximately 18 percent of the total force.
• Over 300,000 immigrants served in the armed forces during the Second World War.
• During the Korean War, 31,000 foreign-born soldiers would become naturalized citizens.
And so it goes. Immigrants have continued to proudly serve and defend our nation – and to earn the highest military decorations for valor and bravery and to make the ultimate sacrifice – in Vietnam, Iraq, Afghanistan and wherever the frontlines are, or the enemy is hiding.
By mid-2009, towards the end of the Iraq War, more than 119 immigrant military members had earned their citizenship posthumously after dying in combat in Iraq and Afghanistan.
In Iraq in 2003, one of the first U.S. soldiers killed in combat was Lance Cpl. Jose Gutiérrez, an immigrant from Guatemala.
One year later, Capt. Humayan Khan who was born in the United Arab Emirates and emigrated with his Pakistani parents to the U.S., died fending off a suicide bomber at Baqubah base, Iraq.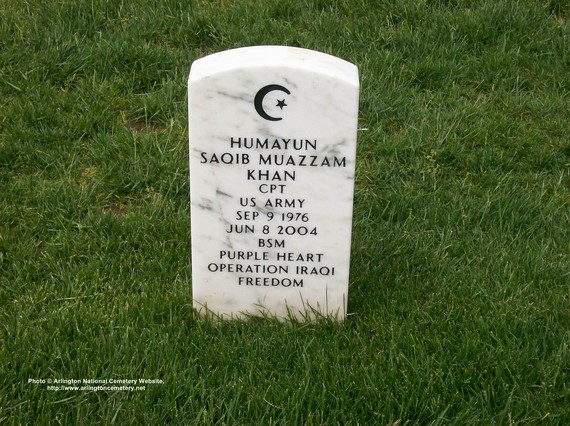 Today, approximately 40,000 immigrants serve in the armed forces, and approximately 5,000 noncitizens enlist each year.
After the Gulf War, Gen. Norman Schwarzkopf said, "When our blood was shed in the desert, it didn't separate by race…it did not separate according to national origin."
This Memorial Day, when our country is so divided about immigration, these words should unite us all in remembering the fallen, all the fallen.
Lead image: A soldier assigned to the 3rd U.S. Infantry Regiment (The Old Guard), participate in "Flags In" at Arlington National Cemetery in Arlington, Va., May 24, 2018. Army photos by Spc. Lane Hiser
Sources:
Immigrants and the U.S. Military: Fighting Side by Side Since 1776
What a Country: Immigrants Serve US Military Well
The Contributions Of Immigrants To The US Military Date Back To The American Revolution
Immigrants in the Military: A History of Service
For Love of Country – New Americans Serving In Our Armed Forces