In August, the Department of Justice secured four convictions against individuals who threatened elections officials (1). Three of those four individuals directed threats at state officials in Arizona as well as Maricopa County officials. One had targeted two elections officials in Georgia.
If you follow this issue, you're probably familiar with the mother-daughter team in Fulton County. Rudy Giuliani has conceded that he lied about Ruby Freeman and Wandrea "Shaye" Moss having committed ballot fraud as elections workers.
You've probably not heard of Maricopa County (Arizona) assistant elections director Celia Nabor. She submitted her resignation letter on Nov. 25, 2022. Her last day was Dec. 9, 2022.
The lawyer for the election-result-denyimg We The People Arizona Alliance, Bryan Blehm, asked to speak with Nabor on Dec. 20, 2022. He sent a written request in mid-January 2023.
What was going on then? Kari Lake was contesting her loss to Democrat Katie Hobbs in the gubernatorial race. Those false claims led to Lake's legal team being fined $2,000 (not enough).
One claim rejected by the courts: that Nabor pressured employees to approve ballot envelopes with false signatures.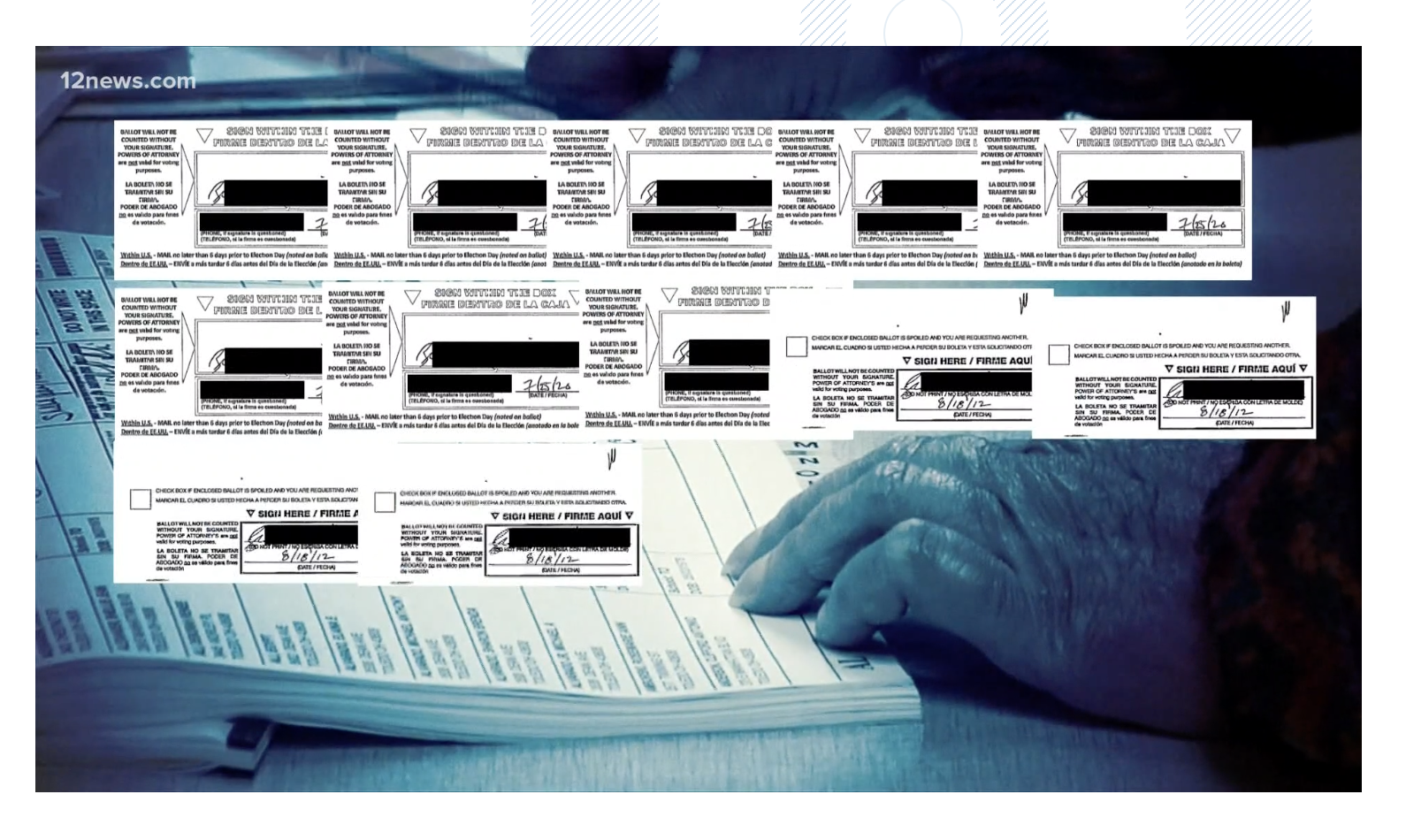 On Feb. 1, 2023, a Twitter* account that appears to be associated with Lake claimed that Nabor was "nowhere to be found" (2).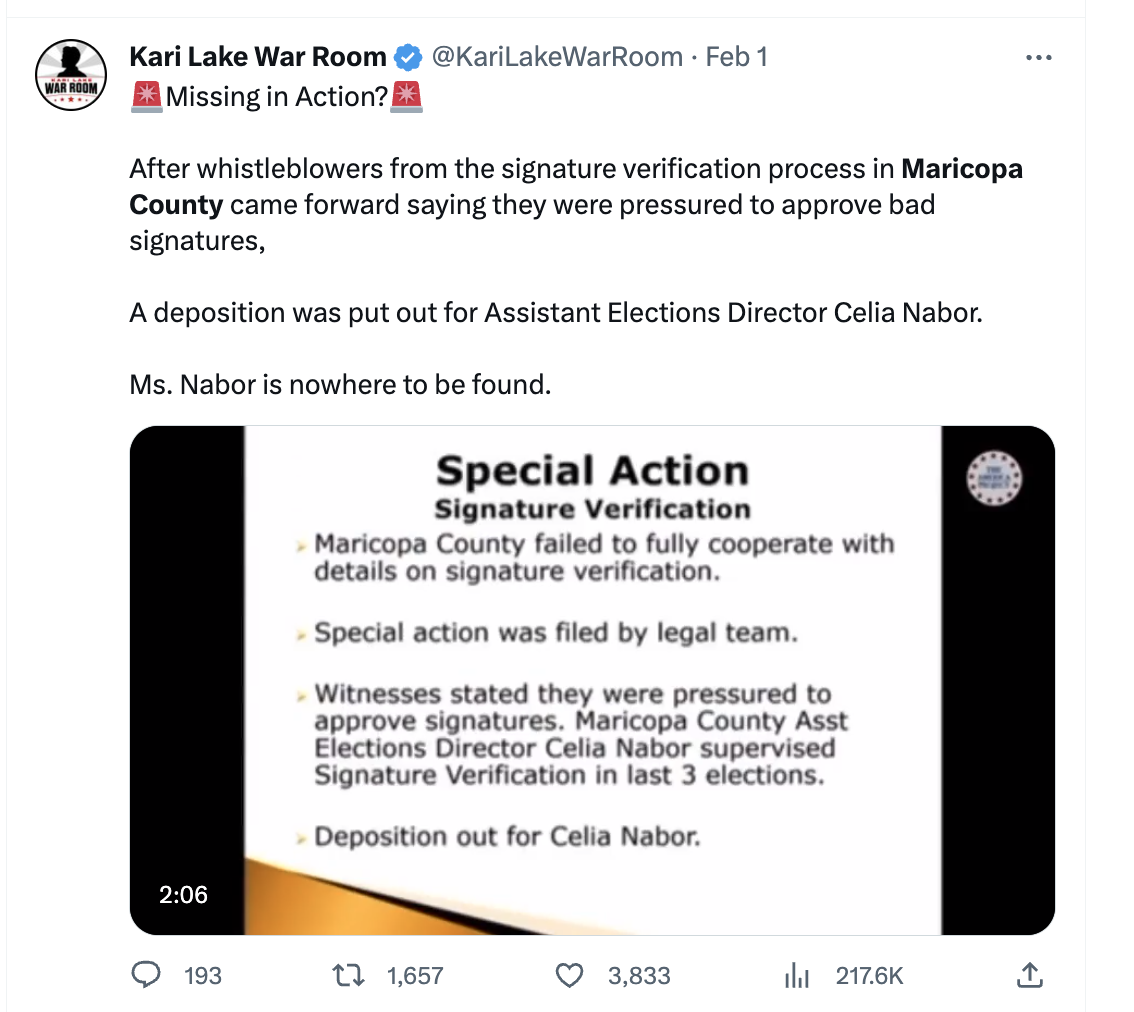 That tweet launched online vigilantes.
"Where's CELIA NABOR?" one member of the angry online mob wrote. "Find her," another wrote. Track her phone, credit cards, social security number, and social media, others suggested. It was time for her to "face the music." "COULD SHE BE AT HOME????" someone wrote, posting her address.
On Feb. 3, 2023, @FIRSTBLOOD2021 posted her address online.
And then, that same night, after 2 a.m., someone started banging on Celia Nabor's door.

She lay frozen in bed in her suburban Phoenix neighborhood, terrified, wondering if one of her online harassers had come to follow through on the threats. Then, as abruptly as it had begun, the pounding stopped.
The Maricopa County Recorder's Office and Nabor's attorney have reported this and other threats to law enforcement agencies.
Her attorney, [Tom] Ryan, who said he volunteered to help her after seeing the threats she was facing, denies she pressured anyone to approve fraudulent signatures on ballots for Hobbs. He points out there would be no way for employees reviewing voter signatures to even know who the signees had voted for at the verification process — workers review the image of the ballot envelope before the ballot is opened…

Nabor has been terrorized by the threats, he said. After the February door-knocking disturbance, she decided to move elsewhere to try to protect herself.

He wants those persecuting her to face consequences.
So do I.
Patrick Byrne, "the former CEO of Overstock.com and an ardent Trump supporter," has a nonprofit, the America Project. That nonprofit gave $120,000 to We the People; Mike Lindell (Mr. MyPillow) also contributed.
Read the full story, along with details of how GOP activists are flooding elections officials with FOIA requests, at Arizona Vote Beat.
How King County Elections in Washington processes ballots
In case you are wondering about how officials determine if a mailed ballot is legit:

~~~
(1) Two of the four pleaded guilty.
(2) Despite claiming Nabor was refusing to be deposed, "no one has contacted Nabor to depose her or ask her for a witness statement," according to her attorney, Tom Ryan.
*Twitter, "the company that insists on calling itself X."
~~~
Talk to me: Facebook | Mastodon | Twitter
Known for gnawing at complex questions like a terrier with a bone. Digital evangelist, writer, teacher. Transplanted Southerner; teach newbies to ride motorcycles. @kegill (Twitter and Mastodon.social); wiredpen.com