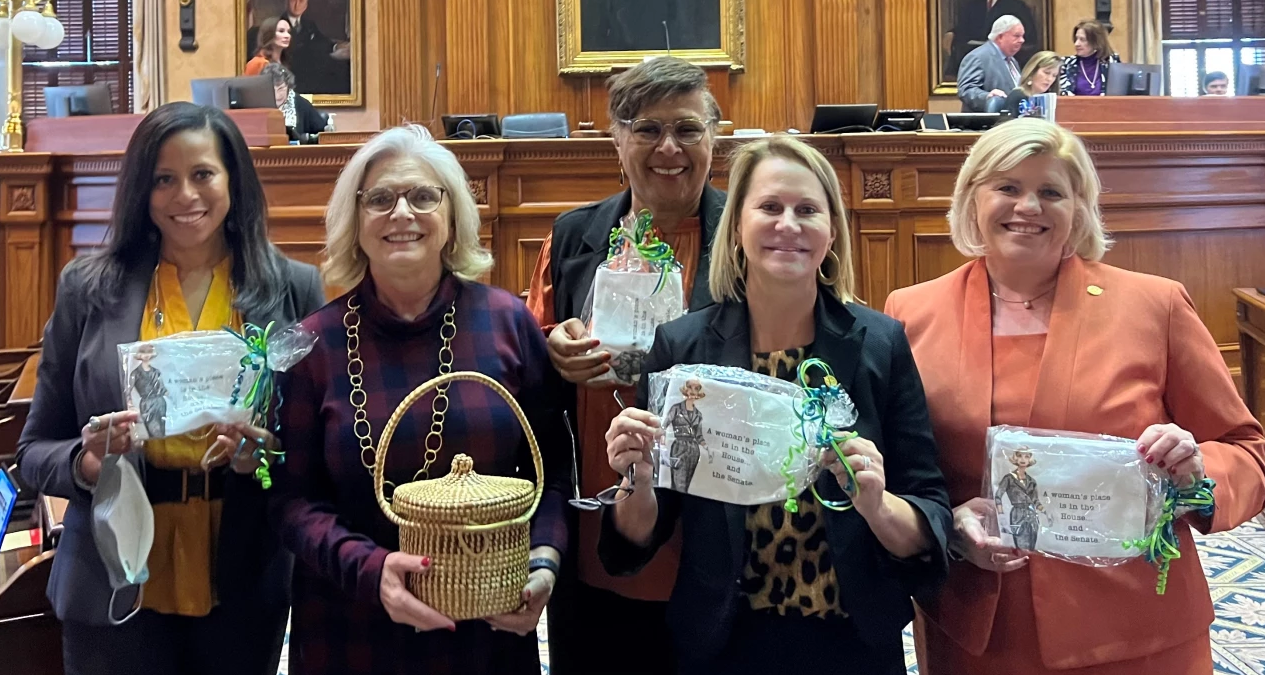 The five South Carolina state senators — Republicans Katrina Shealy, Sandy Senn, and Penry Gustafson; Democrat Margie Bright Matthews; and Independent Mia McLeod —- will receive the The 2023 John F. Kennedy Profile in Courage Award® in recognition of their bipartisan filibuster of the state's near-total abortion ban.
In April 2023, the "five sisters" conducted a two-day filibuster where they "describ[ed] the complexities of pregnancy and the reproductive system, the dangers of lack of access to contraception, and inadequate privacy laws," according to the news release.
"The women of the South Carolina Senate exemplify courage and cooperation in politics today," said Jack Schlossberg. "Facing intense opposition and personal attacks, Senators Shealy, Matthews, McLeod, Senn, and Gustafson worked together and across the aisle to oppose a total ban on abortion. Their impact extends beyond the state, inspiring Americans everywhere to keep fighting to protect individual rights."
The "fetal heartbeat" bill would have banned abortion at conception with exceptions for rape or incest through the first trimester; confirmed fatal fetal anomalies (two physicians required); and to save the patient's life or health.
"Six Republicans helped block motions to end debate and defeated any chance the bill passes this year," according to AP. The SC Senate rejected the ban, 22-21.
The chamber's five women filibustered the proposal in speeches highlighting the Senate's male majority that they criticized for pushing debates on abortion over other pressing issues.
The bill would prohibit abortion "if the unborn child's fetal heartbeat has been detected in accordance with Section 44-41-330(A). A person who violates this subsection is guilty of a felony and, upon conviction, must be fined ten thousand dollars, imprisoned for not more than two years, or both."
However, state legislature "fetal heartbeat" bills are scientifically flawed.
At four weeks after conception (about six weeks gestational age), an embryo has no heart, no developed organs, and is less than 1/4 inch long (5mm). The embryo is about the size of a grain of rice.
Using an ultrasound, at this stage doctors can detect "a little flutter" in the area where a heart will develop, according to Dr. Saima Aftab, medical director of the Fetal Care Center at Nicklaus Children's Hospital in Miami. Instead of a heart (remember, no organs yet), at four weeks post-conception the embryo has a heart tube.

But heartbeats — the kind your doctor checks during your annual physical? There's nothing for a stethoscope to detect. There isn't any "kind of cardiovascular system."
U.S. Ambassador to Australia Caroline Kennedy and her children Jack Schlossberg and Tatiana Schlossberg, members of the Profile in Courage Award Committee, will present the awards on Oct. 29 at the John F. Kennedy Presidential Library in Boston.
More: AP.
~~~
Talk to me: Facebook | Mastodon | Twitter
Known for gnawing at complex questions like a terrier with a bone. Digital evangelist, writer, teacher. Transplanted Southerner; teach newbies to ride motorcycles. @kegill (Twitter and Mastodon.social); wiredpen.com