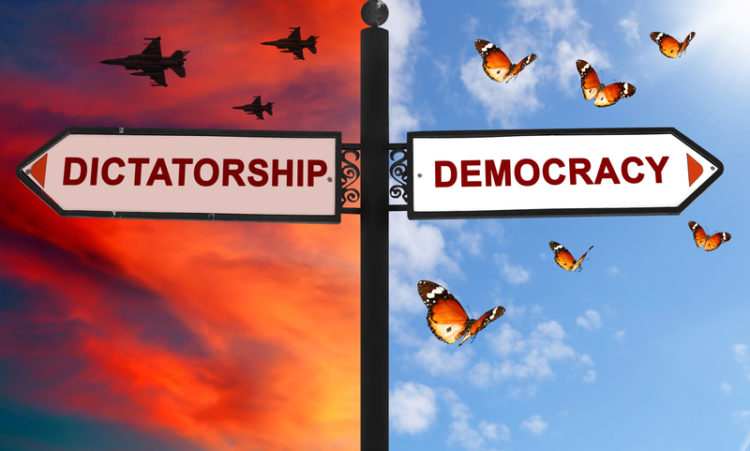 In a speech in Phoenix, AZ President Joe Biden warned that democracy is fragile and former President Donald Trump would take a wrecking ball to it and its institutions. The Washington Post:
President Biden on Thursday sharply rebuked former president Donald Trump and his supporters for continued attempts to undermine American democracy, delivering one of his most explicit warnings that Trump poses a threat to democratic principles and institutions.

In a marked shift, Biden hit Trump head-on, disposing of his usual pattern of oblique references to his predecessor, who holds a wide lead in the Republican primary to face Biden in next year's presidential election. Biden called Trump out by name before detailing what he described as his anti-democratic behavior: relentless attacks on the press, praise for the Jan. 6 U.S. Capitol attackers, plans to consolidate power in the executive branch and a desire to fire civil servants who are not sufficiently loyal to him.

"There's something dangerous happening in America now," Biden said. "There's an extremist movement that does not share the basic beliefs in our democracy." He added, "We should all remember: Democracies don't have to die at the end of a rifle. They can die when people are silent, when they fail to stand up or condemn the threats to democracy."

As part of the speech, Biden also announced plans to use federal funds to help construct the McCain Library, embracing the legacy of the late Sen. John McCain (R-Ariz.) to argue that democracy is not a partisan issue. Biden, who lauded McCain's willingness to buck party orthodoxy on major issues, held up the former senator as a counter-example to Trump and other Republicans, whom he criticized for their "deafening" silence on the former president's continued threats to democracy.

"I've come to honor the McCain Institute and Library because they're home of the proud Republican who put his country first," Biden said. "Our commitment should be no less because democracy should unite all Americans, regardless of political affiliation."

Biden's speech appeared designed in part to create a contrast with several tumultuous Republican-led events this week: a presidential debate rife with insults and interruptions, an impeachment inquiry lacking direct evidence of wrongdoing and a looming government shutdown amid Republicans' failure to agree on a spending plan.

Trump, who has been indicted on 91 felony counts, including charges that stem from allegedly seeking to overturn the 2020 election and mishandling classified documents, remains the overwhelming front-runner for the Republican presidential nomination.

Biden has refused to comment on Trump's criminal cases, pointing to the independence of the Department of Justice, but White House aides say Biden understands he cannot talk about ongoing threats to democracy without pinpointing Trump's role.

"Trump says the Constitution gave him the right to do whatever he wants as president," Biden said. "I've never even heard a president say that in jest. Not guided by the Constitution or by common service and decency toward our fellow Americans, but by vengeance and vindictiveness."

Here's the video:
Photo 201784337 | Democracy © Palex66 | Dreamstime.com
Joe Gandelman is a former fulltime journalist who freelanced in India, Spain, Bangladesh and Cypress writing for publications such as the Christian Science Monitor and Newsweek. He also did radio reports from Madrid for NPR's All Things Considered. He has worked on two U.S. newspapers and quit the news biz in 1990 to go into entertainment. He also has written for The Week and several online publications, did a column for Cagle Cartoons Syndicate and has appeared on CNN.