Is Biden in danger of becoming the John McCain of 2020?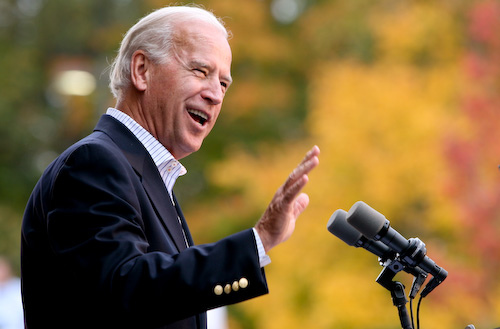 by Thomas Hoffman
There was a time when Senator John McCain was adored by both sides. Conservatives and liberals both admired him for his military service. Conservatives, liberals and independents praised his independent, "maverick" voting style. By the time of the 2008 election, that attitude was political dust. Everyone sees former Vice President Joe Biden as the "great comforter" now, after his moment on The View with Meghan McCain.
Long before then, a lot of independent thinkers like the late Christopher Hitchens spoke highly of Vice President Biden. However, the general public did not consider Biden a "comforter" for most of his Vice Presidency. Many Democrats called for Biden to be replaced by Hillary Clinton in 2012. Biden was sometimes more of a hindrance for Obama. Biden was often too honest and open for the general public, earning a reputation to "blurt things out." During the 2008 election, he was once criticized for implying it was patriotic to pay higher taxes.
Biden never had the same "cult following" or loyalty Obama had, at least not during the early stages of his Vice-Presidency. After the loss of his son Beau, the public naturally felt sorry for him. The support for Biden did not really begun rolling in until his son Beau passed away. It was a sympathy "vote." Even in the 2015-2016 time era it was assumed by many that the main contest was between Clinton and Sanders. It wasn't until Clinton's surprise defeat that many more Democrats began to realize what Biden could do for them. Even Bill Maher (who, like many liberals were never too excited by Biden) admitted Biden could have won Pennsylvania.
However, regardless of the party, when a "celebrity" runs against a centrist or "non-celebrity" the celebrity almost always prevails. The latest example of this rule is the 2016 election. There was an article about the lack star power of Utah Governor Jon Huntsman (but it could have just as easily been about Biden) entitled "Too Sane, Too Plain." When Senator John McCain ran for president, Republicans accused him of not being loyal enough to them. Democrats claimed the "John McCain of 2000 was no more" and labeled Senator McCain as "candidate for a third term of Bush." His war time service and his history of being a "maverick" in the senate seemed irrelevant.
For the most of his vice presidency, Biden was too conservative for most Democrats, too liberal for most Republicans and too "sane and plain" for both sides. These days, the mainstream media once again considers McCain a "maverick." But where was all this support when McCain needed it the most? Currently, polls have Biden leading all potential 2020 Democratic candidates. A "Democrat tea party" has risen from the left, possibly inspired by the Bernie Sanders campaign. They have caused a number of problems for "centrist" Democrats like Senator Schumer. They are highly unlikely to be any help for Biden if he does run in 2020, even if polls do prove he is most likely to defeat Trump.
If Biden does decide to challenge President Trump in 2020, (or possibly Mike Pence, depending on what happens between now and the election) Biden may well experience the same fate as McCain-getting disowned by both sides. If another "celebrity" runs, whether it is Trump or Oprah, Biden is even more likely to experience this fate. Once again, "too sane, too plain." And in Biden's case, also possibly "too honest."

photo credit: Barack Obama 20081014_JRB_OH-10 via photopin (license)