Airports buckle their wings when Arabs arrive (Guest Voice)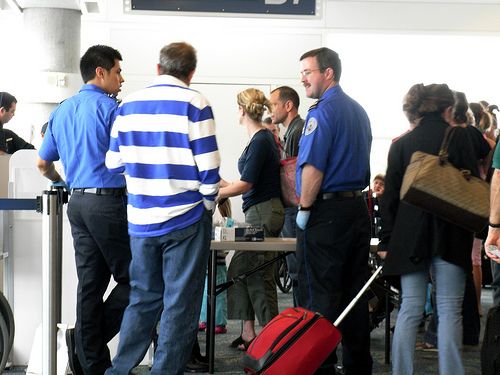 Airports buckle their wings when Arabs arrive
by Jordan Cooper
What's that in your turban? What's that in your burka? What's that in the bottom of your sandals? Well, we have to check Egyptian-American Today show host Hoda Kotb who hid film in her shoes when doing journalism in another country, so an explosive device could fit in your shoes (laughs). It is jocular but this happens too regularly to Muslims and Arabs at an airport.
They're one of the top peoples that face discrimination at an airport. One of the top potential public enemies for the TSA is an Arab and we have been laden with that since the horrifying September 11th attacks. That was the worst terrorist attack in American history, but terrorism in the world is committed mostly by people who are not Arabs.
Historically speaking more people have died from gun violence than terrorism in the United States. Terrorism is such a dull-witted cause because you may only participate once, possibly as a suicide bomber. Arabs created engineering, mathematics, and medicine. They know better than that as statistics have shown. Al-Qaeda, and ISIS don't represent all Arabs just as the Crips, and Bloods don't represent all Blacks.
We cannot deal with people from the jump by putting them in an underclass and undercaste of citizenship. Everyone deserves to feel ennobled under the protection of American law.

Jordan Thomas Cooper is a 2015 graduate of the University of South Carolina with a degree in History and a 2010 graduate of the RealEstate School of Success in Irmo. He is the first African-American to serve in both the governor and lieutenant governor's office as an aide and first to serve in the Inspector General's Office in S.C. (Haley) He is also the first person to serve in the top three offices in the gubernatorial line of succession in South Carolina (Haley, Bauer, McConnell). He says research shows he is the second black presidential campaign speechwriter in American history and the first for a GOP presidential campaign (Bush 2015). He also played football for Coach Steve Spurrier.
Photo credit: TSA at Gate B9 via photopin (license)