A SOTU Gaffe and a General's Candid Apology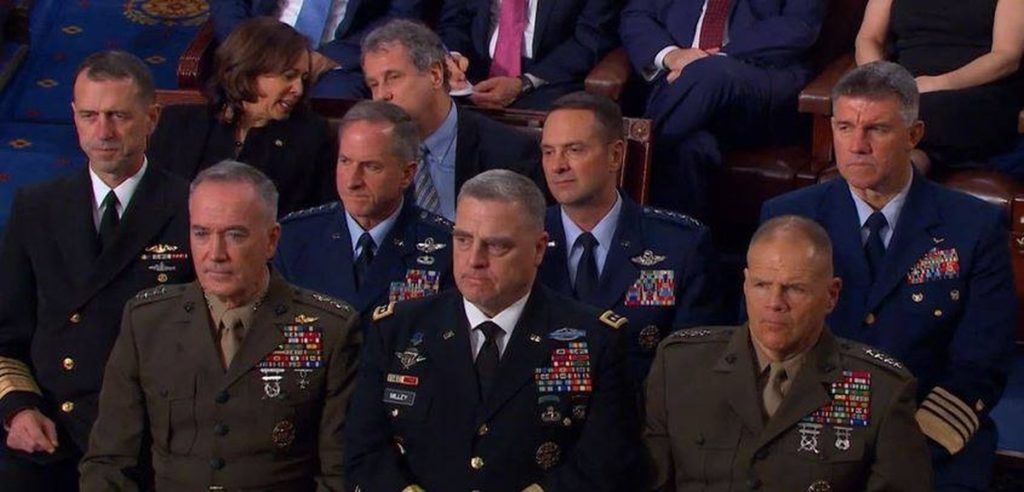 The award of military decorations is a time-honored tradition of recognizing acts of valor, exceptional service or achievement, special skills or qualifications. It is usually a medal consisting of a ribbon and a medaillon.
There is a specific way in which these medals and ribbons are worn, according to an order of precedence which each military service prescribes, always starting with our nation's highest military decoration, the Congressional Medal of Honor.
For a person with numerous military decorations, it can be a meticulous and painstaking task to arrange the ribbons or medals exactly according to such order of precedence.
Fortunately, there are medal and ribbon bars or racks that facilitate the arrangement of all the decorations so that they can be transferred from uniform to uniform without having to worry about whether they are still in the proper order.
But even such a device will not prevent one from pinning one's decorations on one's uniform…upside-down.
That is exactly what happened to one of the military's highest-ranking officers while attending one of our nation's highest and most visible functions, the State of the Union.
Air Force four-star general Joseph Lengyel, chief of the National Guard Bureau, wore his expansive and impressive ribbon rack upside-down.
He is shown, second from top right, in the photo above.
Although hard to spot in SOTU videos and photos, some eagle-eyed viewers did, and the gaffe has gone viral.
But so has the general's response to his mistake.
Taking to Twitter and to his Facebook page, general Lengyel called himself out for the mistake in a very human and straightforward manner.
On Twitter, referring to the photo above, the general simply said:
Question: What's wrong with this picture? I'll give you a hint…It's why they keep putting eraser on pencils.

Answer: The ribbons on my uniform are upside down. Let this be a lesson and don't let it happen to you!
On Facebook, the general was a little more expressive:
What's wrong with this picture? A not-so-funny thing happened on the way to the State of the Union last night. If you look closely, you'll see that the ribbons on my uniform jacket are upside down. How can this possibly happen, you might ask. Well, we're all human, including me. And, as I made a final check in the mirror just before I walked out the door, I missed it… Plain and simple. I hope this is a lesson for everyone who wears the uniform, and really for anyone…They put erasers on pencils for a reason. When you make a mistake or miss a detail, own it and move on. One thing is for sure…My ribbons will NEVER be upside down again.
What has been the reaction?
Mostly good. Most are supportive, applauding the general for quickly and honestly admitting his error.
Tim Langley simply tweeted, "Leadership 101. Owned it….moving on."
Tony Buntyn: "Never say 'Never' General. Things happen. Great example of owning it and leading with it."
Tony Alexander, apparently a law enforcement officer, offered this: "I pulled a vehicle over one day for driving without headlights in the rain. The older woman was super polite, and I gave her a warning. Before the traffic stop ended, she asked if she could ask a question. I said sure, and she proceeded to ask why the headlights in my patrol car weren't on, We are all imperfect people! Salute, General."
A few — a very few — were not impressed by the general's apology.
Joshua Downs sarcastically says, "He misspelled 'my orderly put my uniform together wrong'"
And then there is Chris Cochran's "That would not be even considered as an excusable reason had an airman flipped his two ribbons during an ALS graduation. People make mistakes is the truth…so are double standards."
Some may say, "So, he wore his ribbons upside down. What is the big deal?"
Setting aside what is certainly a big deal for our men and women in uniform, perhaps the more significant aspect of this episode is that we still have leaders who are willing to admit their mistakes, apologize for them and as one "twitter" said, "move on."
The Stars and Stripes: Lengyel is the 28th chief of the National Guard Bureau, a post he's held since 2016. He was commissioned in 1981 through the Reserve Officer's Training Corps and has more than 3,000 flight hours, mostly in the F-16 fighter.