February 8, 2017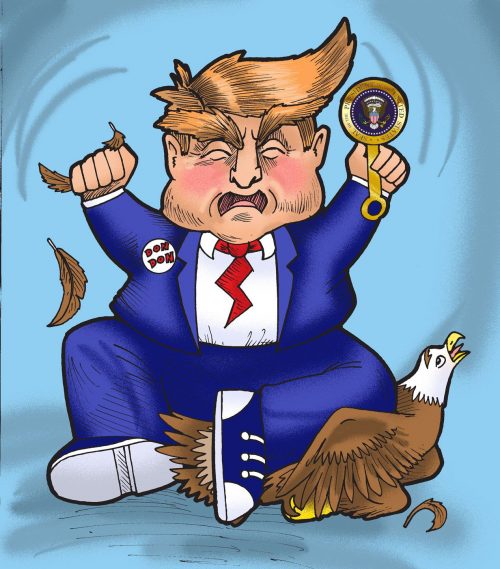 Note to readers: This is the latest entry in Super Baby DonDon's diary. The series imagines that President Donald Trump has the emotional make-up of a five-year-old and confides his deepest thoughts—such as they are—to Andrew Feinberg, and to readers, every day. In his private moments, he always thinks of himself as Super Baby DonDon.
To the brave survivors of Bowling Green: As someone who massacres the truth many times every day, I feel your pain. Every time fake news outlets deny that you were the victims of a fake massacre, you suffer yet again. It is a wound that never heals.
People, we live in tough, dangerous, horrible times. Oh my God, I just saw three people out my window gunned down for no reason.
Oh, they were protesters? Never mind. Nothing to see here.
In tough times, leaders must beat the truth until it becomes unrecognizable and more manageable. It's like you're tenderizing veal in the kitchen. You have to beat your meat.
Speaking of that, I am outraged that the mainstream media is talking about blackballing Kellyanne "I Survived Bowling Green" Conway just because she lies so much. I lie twice as much and I still get air time. This is such a double standard. So unfair.
So if CBS news shows won't have her anymore, we'll do a super-smart end-around. Kellyanne will do a guest shot on Criminal Minds. She will play a psycho killer. And, for once in her adult life, she will be credible.
Andrew Feinberg is the author of Four Score and Seven (https://www.amazon.com/Four-Score-Seven-Andrew-Feinberg/dp/0692664009), a novel that imagines that Abe Lincoln comes back to life for two weeks during the 2016 campaign and encounters a candidate who, some say, resembles Donald Trump. He also writes an anti-Trump humor page at www.babydondon.com or https://www.facebook.com/MeBabyDonDon.
Click here for reuse options!


Copyright 2017 The Moderate Voice