Veterans Day 2017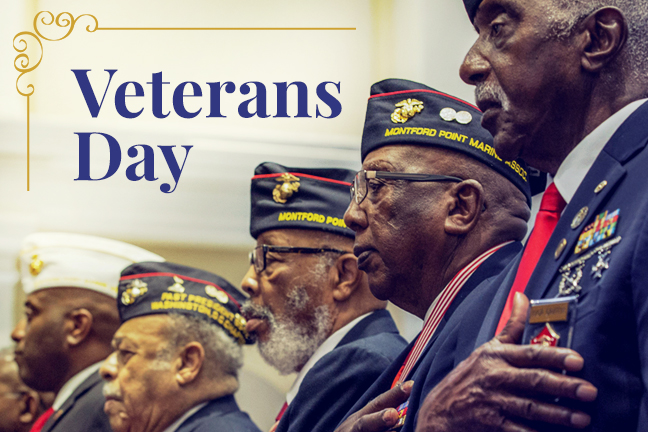 Today is Veterans Day.
This old veteran has said plenty about the significance of this day in the past.
It is now time to let some young active duty men and women reflect on the Day.
But first, some images of some of the old-timers still with us and some young ones who have made this annual celebration possible.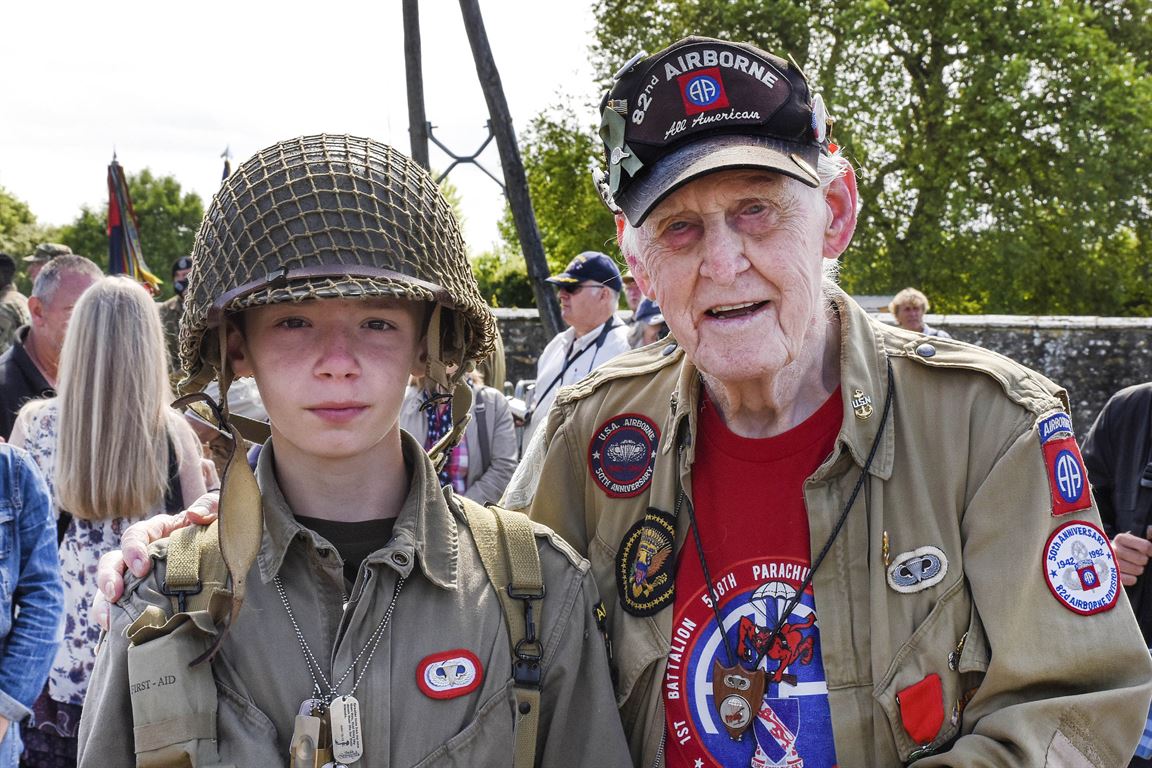 World War II veteran Ernie Lamson poses for a photo with a young historical re-enactor before a memorial ceremony in Angoville-au-Plain, France, June 3, 2017. Army photo by Staff Sgt. Tamika Dillard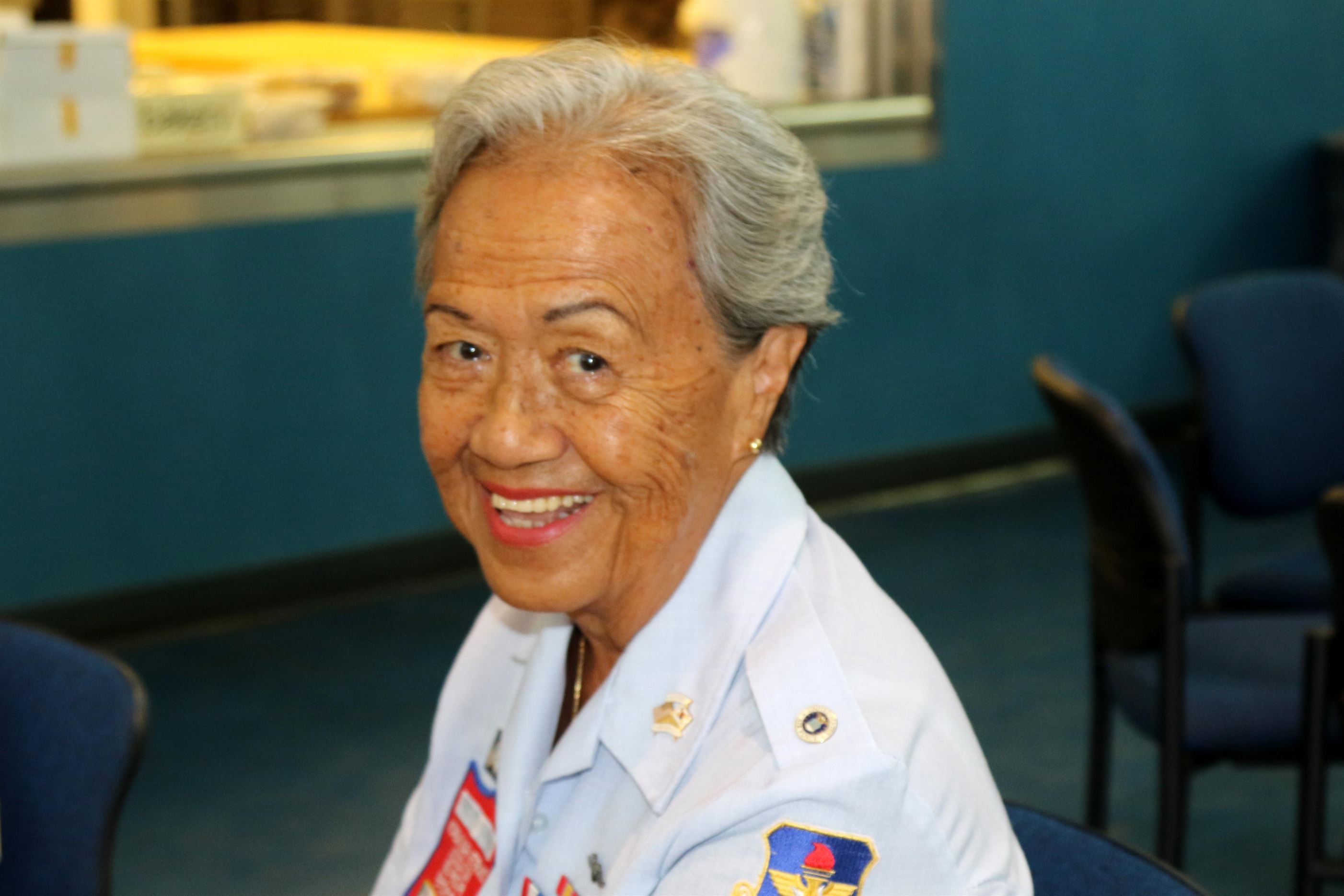 A Korean War veteran pauses for a photograph before a ceremony in Kihei, Maui, Oct. 13, 2017. Army National Guard photo by Spc. Lisa K. Lariscy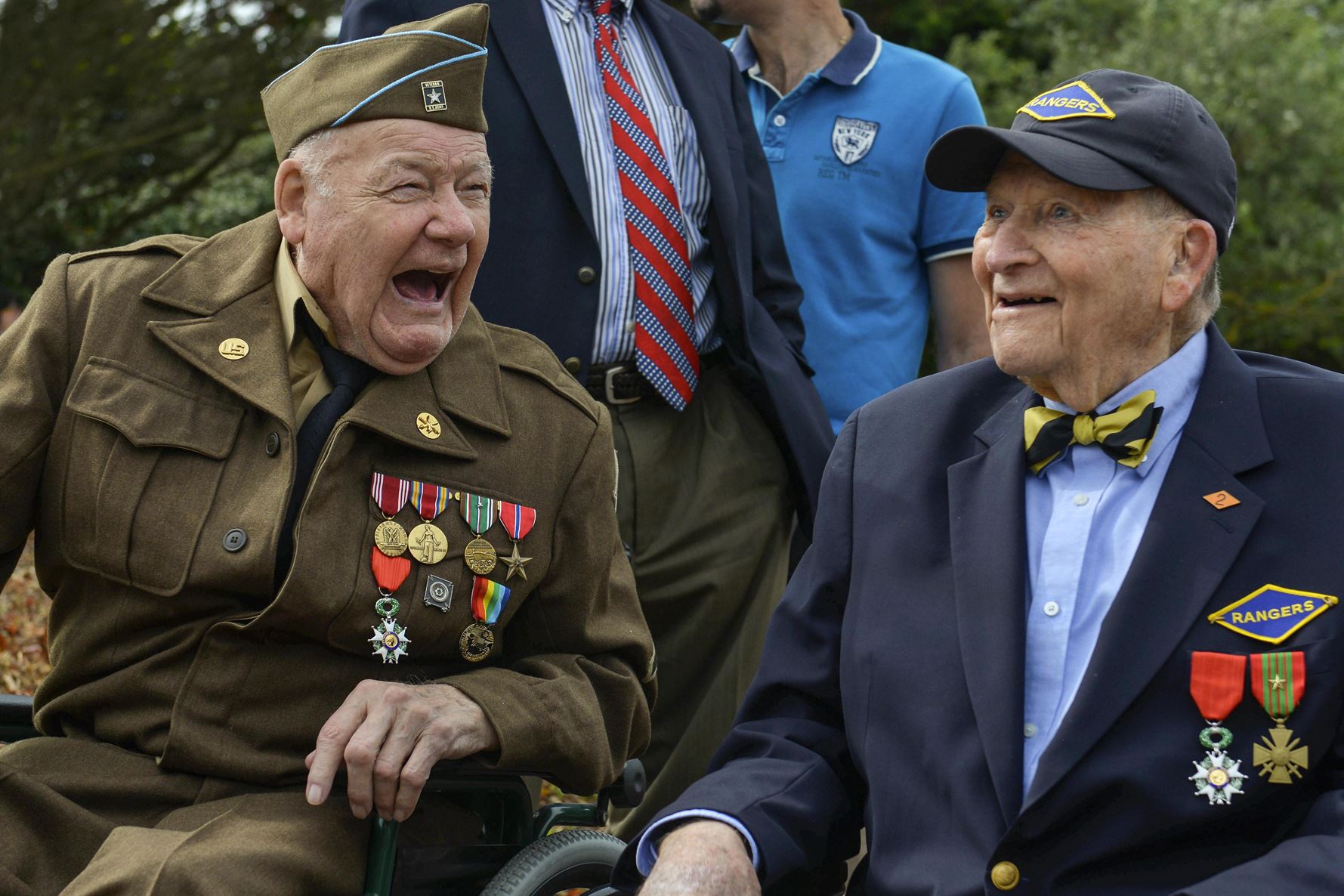 Two D-Day veterans who participated in the liberation of France share a laugh in Saint-Laurent-sur-Mer, France, June 5, 2017, while attending a ceremony to commemorate the 73rd anniversary of D-Day. DoD photo by Airman 1st Class Alexis C. Schultz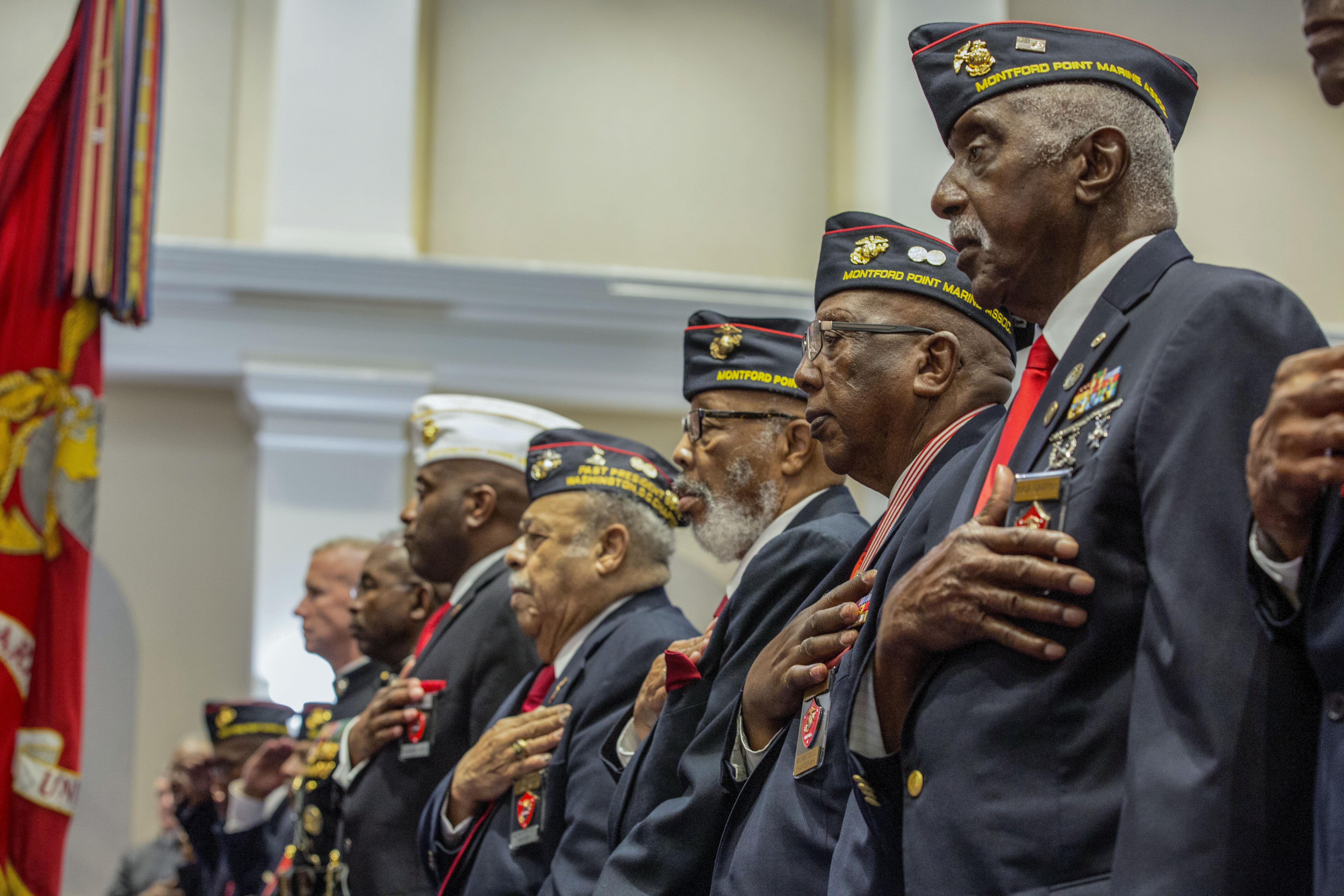 Montford Point Marines stand for the national anthem during an evening parade at Marine Barracks Washington in Washington, D.C., June 16, 2017. Montford Point Marines were the first African-Americans to serve in the Marine Corps. Marine Corps photo by Lance Cpl. Paul A. Ochoa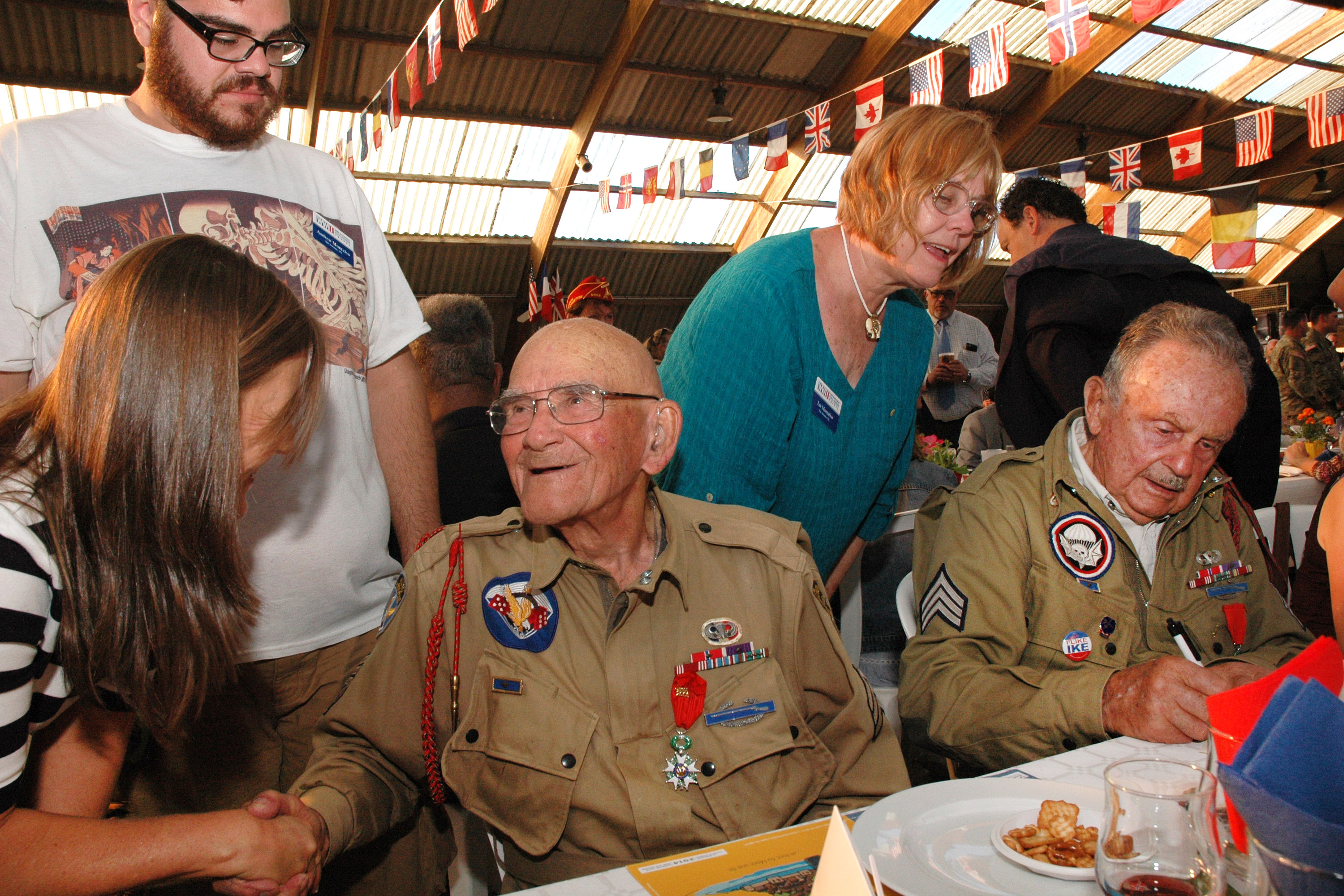 World War II veteran Bob Noody shakes hands with a well-wisher while Dan McBride signs an event program as citizens honor the veterans' role in the liberation of France during a dinner in Sainte-Mere-Elise, France, June 3, 2017. Army photo by Master Sgt. Sean McCollum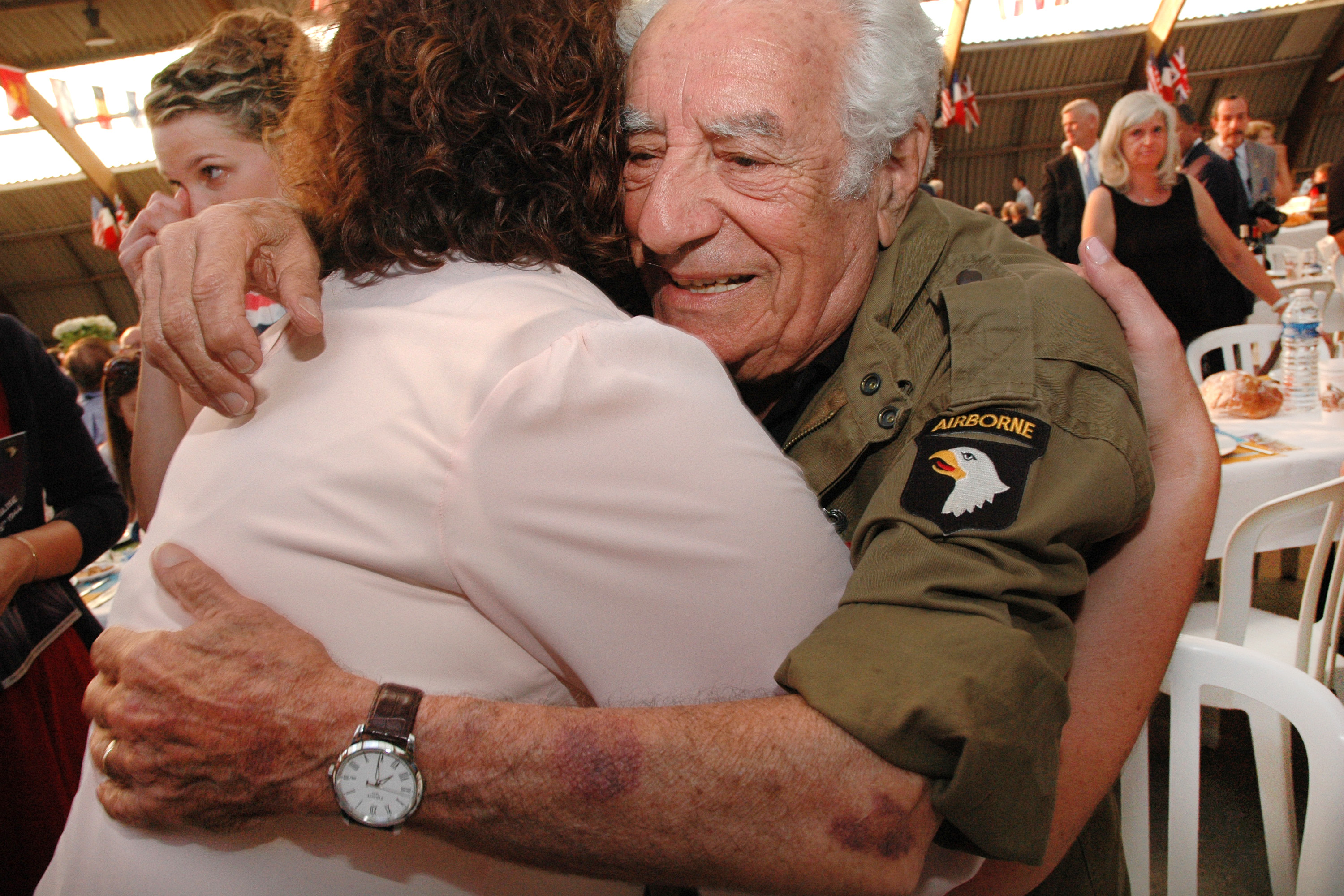 World War II veteran Vince Speranza receives a hug as an appreciation for his service during a dinner in Sainte-Mere-Eglise, France, June 3, 2017. Army photo by Master Sgt. Sean McCollum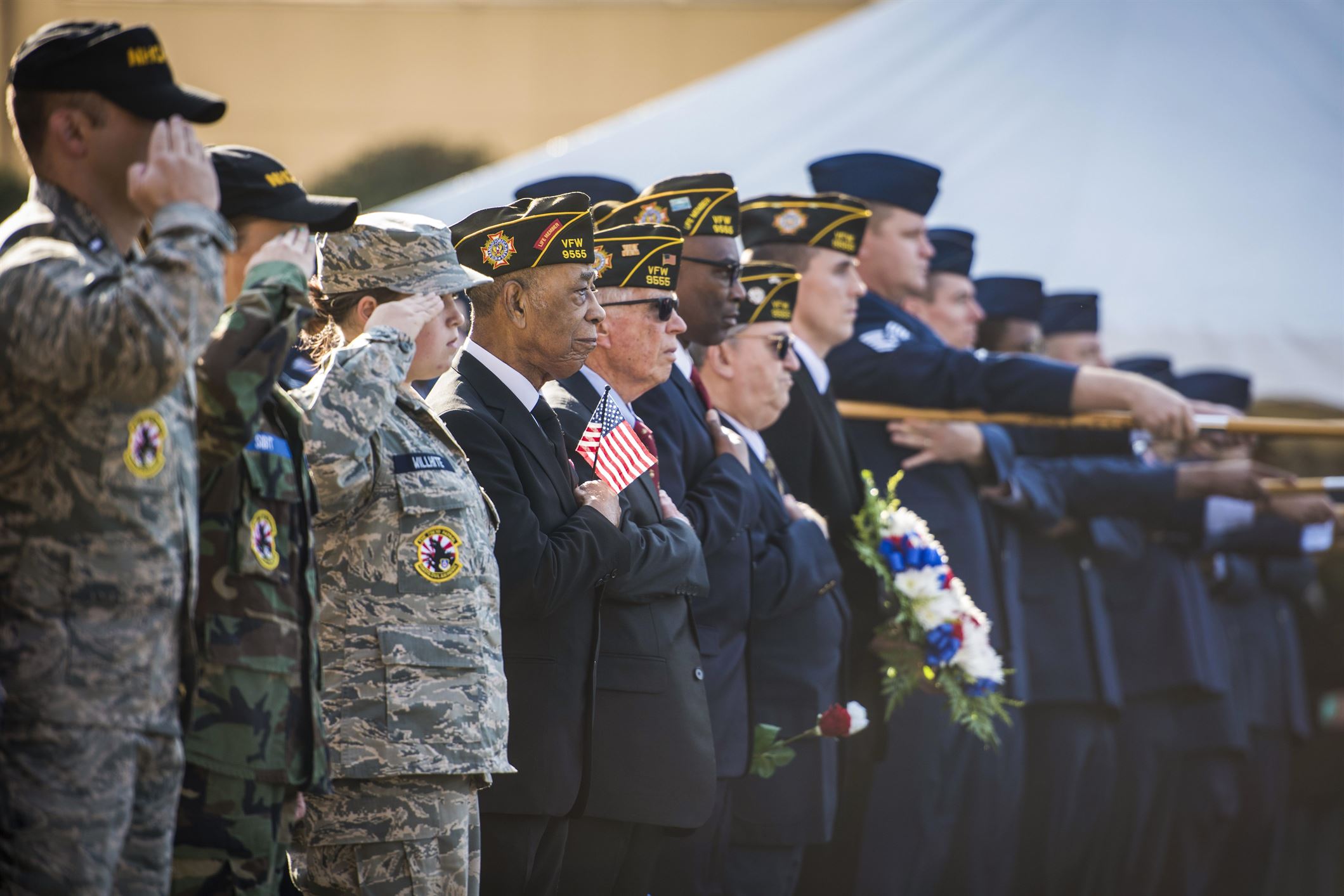 A veteran holds an American flag in formation during a Veterans Day Ceremony, Nov. 10, 2017, at Yokota Air Base, Japan, Nov. 10, 2017. Members of the Veterans of Foreign Wars Post 9555 took part in the ceremony. Air Force photo by Senior Airman Donald Hudson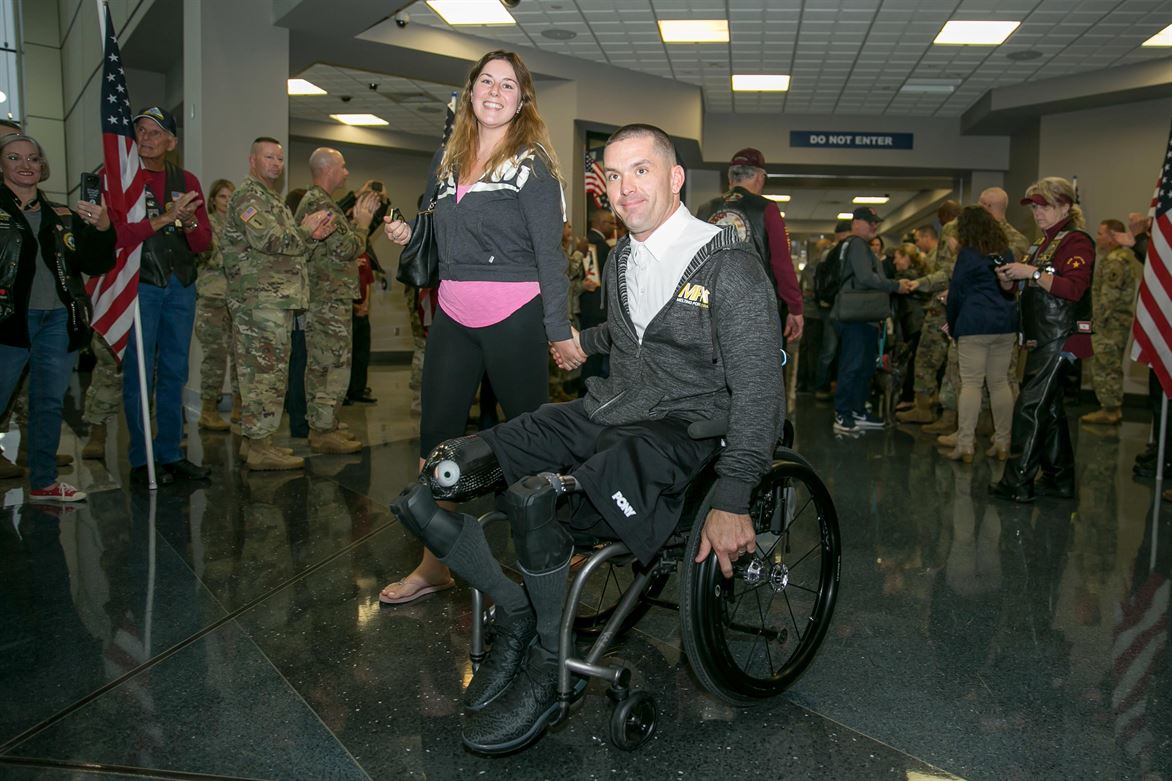 Veterans, active duty military and civilians welcome wounded warriors from all over the country to Huntsville International Airport in commemoration of Veterans Week, Huntsville, Ala. Army photo by Sgt. 1st Class Teddy Wade
Veterans Day While Deployed
By Air Force Tech. Sgt. Anthony Nelson, 380th Air Expeditionary Wing
AL DHAFRA AIR BASE, United Arab Emirates, Nov. 10, 2017
Legacy, honor, freedom, valor, and patriotism. These are some of the underlying tones speaking to us on what we know as Veterans Day.
Unfailingly, for 98 years, America has remembered the uniformed service members serving our country on Nov.11, first as Armistice Day, later renamed Veterans Day in 1954.
Veterans Day is the day set aside to thank and honor all those who served honorably in the military — in wartime or during peacetime.
"I would encourage people to learn their history and listen to the stories of older veterans whenever possible," said Air Force Staff Sgt. Dalia Theodule, command chief executive assistant. "There's so much we take for granted because we are not directly impacted to an event."
Acknowledging and showing appreciation to those living veterans for their service to our nation and national security is what this day is truly all about.
"Current and former military members made a commitment to this country that many others are not willing to make," Theodule said. "It's important to use this day to show gratitude."
Added Meaning
For deployed troops, Veterans Day can bring about more of an intrinsic value and reflective outlook on the day.
"Since I've supported multiple operations, such as Operation Enduring Freedom, Operation Iraqi Freedom and Operation Inherent Resolve, I'm able to reflect on my personal experiences and sacrifices which make Veterans Day more meaningful to me," said Air Force Tech. Sgt. Taress Daniels, air warfare center noncommissioned officer in charge of commander support staff. "This day signifies victory to me."
Theodule emphasized that for her, Veteran's Day this year is different because she'll be celebrating it while on her first deployment.
"It's an honor to be here, following in the steps of those before me and having the opportunity to serve my country in a different capacity" she said.
Helping service members to understand the importance of Veterans Day isn't a no-brainer. Often times, there is a misunderstanding between Memorial Day and Veterans Day.
Memorial Day is a day to remember the men and women who died while serving in uniform.
According to Air Force Master Sgt. Michael Hamm, noncommissioned officer in charge of wing administration, holding Veterans Day ceremonies and programs helps educate and remind the general public and service members of the sacrifice, resiliency and what it means to be a veteran.
"It's a time to celebrate those serving in the armed forces and to let your airmen know their role in the fight," Daniels said. "Knowing how you contribute to the fight gives our airmen a sense of purpose, and Veterans Day is the perfect time to shed light on the mission and the impact of the hard work that our airmen are doing."