UN expert condemns Canada-EU trade accord; echoes Trump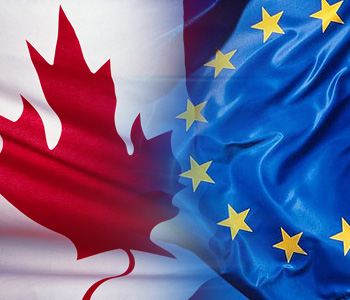 A non-partisan United Nations expert seems to side with Donald Trump on the negative impacts of trade agreements on middle class workers.
He condemned CETA, a new highly-regarded accord between Canada and the European Union, because among other things it "gravely endangers labor, health and other social legislation".
"Civil society should demand referendums on the approval of CETA or any other such mega-treaty that has been negotiated behind closed doors," UN expert Alfred de Zayas insisted.
His evaluation plays into opponents of the Obama administration's enthusiasm for a separate US trade and investment deal with the EU, the TTIP, and another deal with Pacific region nations, the TPP.
Both are key ingredients in the clashes between Presidential candidates Trump and Hillary Clinton and could end up being unraveled or greatly modified whoever wins on November 8.
Canadian Prime Minister Justin Trudeau will sign the EU-Canada Comprehensive Economic and Trade Agreement (CETA) in Brussels on Sunday, after a last-minute Canada-EU clash that almost scuttled it earlier this week.
But the approval is temporary until new conditions about protections for workers are met. They were set by the parliament of Wallonia, a Belgian region.
In Trump-like refrain on impacts for workers, Zayas said, "A culture of bullying and intimidation becomes apparent when it comes to trade agreements that currently get priority over human rights".
CETA's provisions are incompatible with the rule of law, democracy and human rights, he said. Governments also violated their obligations to ensure open access to information during the negotiations. Details came mainly from whistleblowers.
An American, Zayas is an unpaid Independent Expert on the promotion of a democratic and equitable international order. He is the foremost UN specialist investigating trade and other issues through the prism of human rights, jobs and equality.
CETA was touted as a triumph of reason and a model for future trade deals until Canadian minister Chrystia Freeland stormed out of a raucous meeting earlier this week, declaring that the EU is "incapable" of managing international treaties.
A shocked EU President Donald Tusk warned that the deal's collapse could be the end of EU attempts to strike any trade deals.
Forward momentum on CETA may depend partly on how the clashes on TPP and TTIP play out in the US elections.
Trump wants to destroy both deals. Clinton has denounced the already completed Trans-Pacific Partnership (TPP), which is the largest regional trade accord in history and covers about 40 percent of global GDP and one-third of world trade.
She is also equivocating on the Transatlantic Trade and Investment Partnership (TTIP) with the EU. As Secretary of State she had a hand in starting both these important Obama initiatives.
Both are central planks of the legacy President Barack Obama desires because they would promote a new US-led trade order encompassing all American allies and friends in Europe and the Far East.
The TPP is a key element of his economic pivot towards Asia and a means of preventing China, the preponderant Asian trading power, from establishing rival trade rules.
Resistance to CETA came from the regional parliament of Wallonia, preventing Belgium from signing on although all other 27 EU members were behind CETA. The objections are echoed by protestors against TPP and TTIP in other EU and Asian countries.
Sounding like Paul Magnette, Wallonia's minister-president, Zayas said there is "a legitimate fear that CETA will dilute environmental standards, food security, and health and labor protection".
"A treaty that strengthens the position of investors, transnational corporations and monopolies at the expense of the public interest conflicts with the duty of States to protect all people under their jurisdiction from internal and external threats."
Wallonia's new four-page conditions on the 1600-page CETA include review of a proposed system of investor-state tribunals to settle disputes between foreign investors and governments.
Belgium will now have to seek a determination by the European Court of Justice that the tribunals are compatible with EU law.
Belgium is also required to assess the socio-economic and environmental impacts of CETA before fully joining it.
Zayas claimed that some treaty provisions could hamper the regulatory powers of governments by allowing corporate investors to sue over legislation affecting their profits, even when the laws protect workers' rights, public health and the environment.