(Updated) U.S. Military Developments Amid Rising Tensions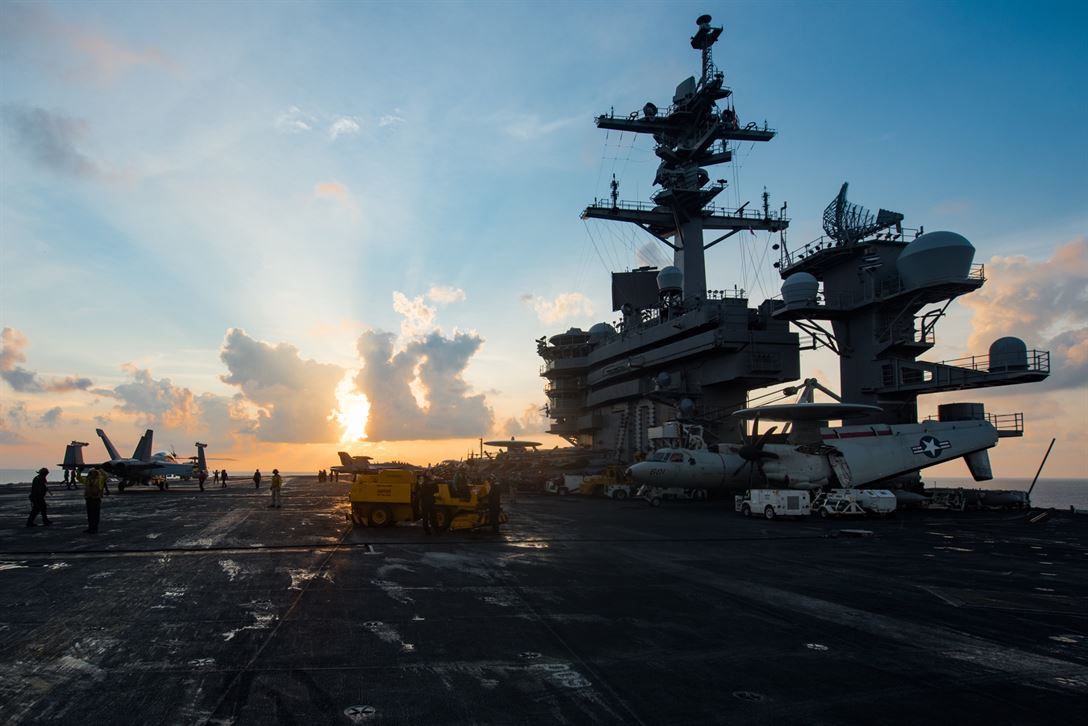 Update:
For statement by Secretary of State Tillerson at Lucca, Italy, conference on Syria attack, scroll down to bottom.
Original post:
There have been several significant military developments in the last few days: The U.S. retaliation against Syria's heinous chemical weapons attack; the deployment of the Carl Vinson Strike Group towards waters off the Korean Peninsula amid high tensions over a possible sixth nuclear test by that country. Also, unconfirmed reports* of Chinese troop deployments on the North Korean border. Finally, U.S. and coalition military forces continued to attack ISIS in Iraq and Syria.
Monday afternoon, Korea's Chosun reported, "the Chinese army has deployed about 150,000 troops in two groups to prepare for unforeseen circumstances."
The forces were deployed to handle North Korean refugees and 'unforeseen circumstances', such as the prospect of preemptive attacks on North Korea, the news agency said.
Read more here
The following are excerpts from Department of Defense sources on these three topics:

U.S. Missile Strike on Syrian Air Base, "Measured Response"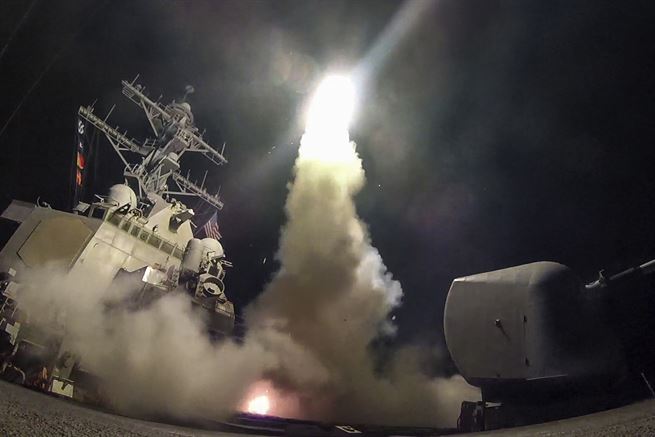 The guided-missile destroyer USS Porter conducts strike operations while in the Mediterranean Sea, April 7, 2017. USS Porter is conducting naval operations in support of U.S. national security interests in Europe. Navy photo by Petty Officer 3rd Class Ford Williams
The April 6 U.S. military missile strike that targeted Shayrat airfield in Syria was a measured response to Syrian President Bashar Assad regime's April 4 chemical weapons attack in Khan Sheikhoun, Syria, Defense Secretary Jim Mattis said in a statement issued today.
President Donald J. Trump directed the strike to deter future use of chemical weapons and to show the United States will not passively stand by while Assad murders innocent people with chemical weapons, which are prohibited by international law and which were declared destroyed, Mattis added.
The Defense Department's assessment is that the strike resulted in the damage or destruction of fuel and ammunition sites, air defense capabilities and 20 percent of Syria's operational aircraft, the secretary said.
The Syrian government, he added, has lost the ability to refuel or rearm aircraft at Shayrat airfield and at this point, use of the runway is of idle military interest.
The Syrian government would be ill-advised ever again to use chemical weapons, Mattis said.
Carl Vinson Strike Group Departs Singapore for Western Pacific
Navy Adm. Harry B. Harris Jr., commander of U.S. Pacific Command, yesterday directed the Carl Vinson Strike Group to sail north and report on station in the Western Pacific Ocean after departing Singapore April 8.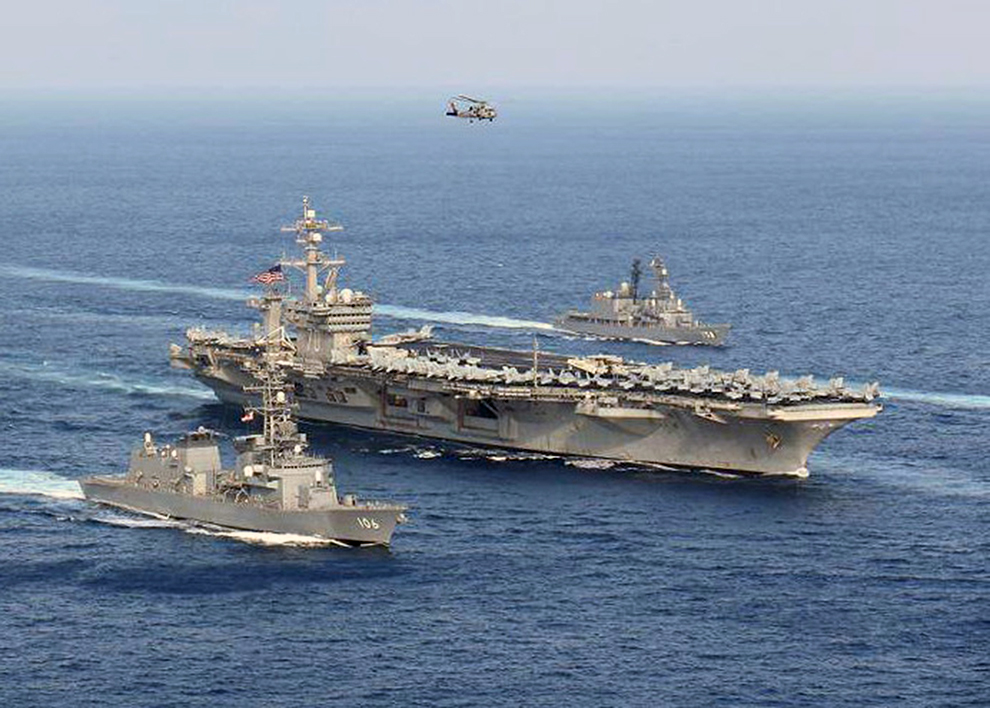 USS Carl Vinson and Japan Maritime Self-Defense Force ships steam in formation at the conclusion of a bilateral exercise to increase proficiency in basic maritime skills and improve response capabilities, Mar. 29, 2017. Japan Maritime Self-Defense Force photo
The Carl Vinson Strike Group, including the Nimitz-class aircraft carrier USS Carl Vinson, embarked Carrier Air Wing 2, guided missile destroyers USS Wayne E. Meyer and USS Michael Murphy, and guided missile cruiser USS Lake Champlain, will operate in the Western Pacific rather than executing previously planned port visits to Australia.
The strike group will remain under the operational control of U.S. 3rd Fleet as part of the 3rd Fleet Forward initiative.
Read more here

Strikes against ISIS in Iraq and Syria Continue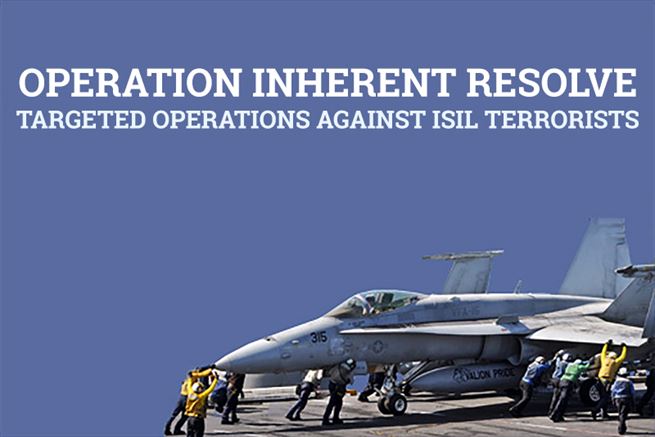 U.S. and coalition military forces continued to attack the Islamic State of Iraq and Syria, conducting 27 strikes consisting of 89 engagements against ISIS targets yesterday.
Strikes in Syria
In Syria, coalition military forces conducted 18 strikes consisting of 35 engagements against ISIS targets:
— Near Abu Kamal, four strikes destroyed two ISIS pumpjacks and two wellheads.
— Near Tabqah, 14 strikes engaged an ISIS tactical unit; destroyed five vehicles, two fighting positions and a vehicle bomb; and suppressed an ISIS tactical unit.
And, an additional seven strikes were conducted in Syria from April 7-8, which have been closed within the last 24 hours:
— On April 7 near Tabqah, six strikes engaged an ISIS tactical unit and suppressed five fighting positions, an ISIS tactical unit and a sniper team.
— On April 7 near Tanf, a strike engaged an ISIS tactical unit and destroyed 10 fighting positions.

Strikes in Iraq
In Iraq, coalition military forces conducted nine strikes consisting of 54 engagements against ISIS targets, coordinated with and in support of Iraq's government:
— Near Mosul, five strikes engaged five ISIS tactical units; destroyed five fighting positions, five mortar systems, three medium machine guns and a vehicle; damaged 22 supply routes; and suppressed four mortar teams.
— Near Qaim, three strikes destroyed five fuel trucks and three explosives caches.
— Near Taji, a strike engaged an ISIS staging area, destroyed two ISIS-held buildings and damaged a supply route.
—
Update:
Statement by Secretary of State Tillerson in Lucca, Italy, on Syria attack:
Last week, Bashar al-Assad's regime killed even more of its own people using chemical weapons. Our missile strike in response to his repeated use of banned weapons was necessary as a matter of U.S. national security interest. We do not want the regime's uncontrolled stockpile of chemical weapons to fall into the hands of ISIS or other terrorist groups who could, and want to, attack the United States or our allies.
Nor can we accept the normalization of the use of chemical weapons by other actors or countries, in Syria or elsewhere. The U.S. is grateful for the statements of all of our partners who have expressed support for our timely and proportional response. As events shift, the United States will continue to evaluate its strategic options and opportunities to de-escalate violence across Syria.
Many nations look to the Geneva process to resolve the Syrian conflict in a way that produces stability and gives Syria and the Syrian people the opportunity to determine their own political future. And our hope is Bashar al-Assad will not be a part of that future. If the Astana ceasefire negotiations become effective towards achieving a durable ceasefire, then the Geneva process has the opportunity to accelerate. To date, Astana has not produced much progress.
It is also clear Russia has failed to uphold the agreements that had been entered into under multiple UN Security Council resolutions. These agreements stipulated Russia as the guarantor of a Syria free of chemical weapons, that they would also locate, secure, and destroy all such armaments in Syria. Stockpiles and continued use demonstrate that Russia has failed in its responsibility to deliver on this 2013 commitment. It is unclear whether Russia failed to take this obligation seriously or Russia has been incompetent, but this distinction doesn't much matter to the dead. We can't let this happen again.
To be clear, our military action was a direct response to the Assad regime's barbarism. The United States priority in Syria and Iraq remains the defeat of ISIS. We are calling on our G7 partners to sustain the fight against ISIS well after the liberation of Mosul and Raqqa. Whether in Iraq and Syria, online, or on the ground in other countries, we must eliminate ISIS. G7 support will be critical. To stabilize Syria we will need the G7's direct participation helping settle the conflict in Syria, protecting the civilian population, and committing to reconstruction that eventually will lead to normalcy for a unified Syria.
Lead photo: The aircraft carrier USS Carl Vinson travels in the South China Sea, April 8, 2017. The Carl Vinson Carrier Strike Group is on a regularly scheduled Western Pacific deployment. Navy photo by Petty Officer 3rd Class Matt Brown
All photos DoD