Trump's War on Trade is Only Just Beginning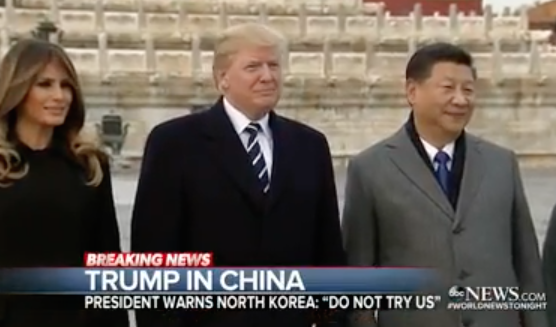 by Maryla Krol
Given Donald Trump's backslapping banter with his Chinese counterpart Xi Jinping in his recent stopover in Beijing, observers could be forgiven for assuming that all his anti-trade rhetoric will amount to nothing concrete. Yet while Trump didn't rail directly against Xi while in China, other signs suggest the administration is still intent on carrying out its anti-trade crusade. Just this past week, the US launched two investigations into Chinese aluminum imports that could lead to steep new tariffs. Invoking authorities it has not used since 1991, the Commerce Department "self-initiated" these probes rather than responding to a petition launched by a US firm.
To be fair, some have dismissed this move, saying it would affect only a slice of Chinese aluminum exports. But the significance of this most recent salvo lies in what it signals for the future. Unless the North Korea crisis sharply escalates, then, which would force the US to collaborate with China to contain a mutual threat, the coming year will likely see the president keep his promise to take major action against China on two fronts, by raising further barriers to trade and by moving to cripple the World Trade Organization (WTO). If Trump's anti-trade wishes do come to pass, however, it is not only American trade partners that stand to suffer: the US also risks becoming its own worst enemy in the process.
Already, the Trump administration has taken an underhanded move set to hobble the WTO, having vetoed the appointment of new judges to fill key vacancies on the Appellate Body, which provides rulings in bilateral trade disputes. Although at this point, the vetoes do not pose a threat to the WTO's survival, the effects are already being felt and are expected to worsen with time. According to experts, the move fits well with Trump's preference for bilateral trade agreements over the WTO's multilateral system.
Unfortunately, all of the solutions floated thus far for dealing with the empty seats, such as using a majority vote system rather than consensus, have flaws that run the risk of severely impacting world trade – as well as isolating the US even further. Such an outcome could even stoke an international retaliatory trade war, creating a lose-lose situation all round.
World leaders are predictably concerned about such prospects, which stand to hurt already-fragile global economic growth by hitting exporters far beyond China. As a result, Germany last week invited all G20 member states to a Global Forum on Steel Excess Capacity in a bid to help avert an all-out trade war, warning of EU countermeasures if the US presses ahead with plans for new tariffs. Yet the summit ended with no agreement on next steps, with China still declining to take unilateral steps to reduce global steel overproduction – and opening the door for Trump to carry out his threats to slap punitive tariffs on imports.
Yet it is not only foreign trade partners that are opposed to renewed US protectionism. While American steel producers might be eager to see competitors slapped down, manufacturers, retailers, and energy firms that depend on cheap imported steel are loath to see costs rise, quietly lobbying against tariffs from the sidelines. Contrary to Trump's promises to restore American jobs nationwide, US energy firms and manufacturers claim that the increased cost of steel will cost jobs in their own industries, while retailers insist that cheap steel is fundamental to their own internal operations. Perhaps most worrying for American industry is the prospect that foreign nations will enact retaliatory trade policies against the US – which would be a high price to pay for the mere 10,000 steel jobs expected to be restored by the proposed tariffs.
The prospect of aluminum tariffs, as well, would not only slam foreign suppliers, but also US carmakers, electronics, and packaging, among others. The auto industry, for instance, is among those that have been increasingly relying on aluminum to build products like electric vehicles, given that the lightweight metal boosts vehicle performance, improves efficiency, and delivers better value than steel. Additionally, as US businesses look to "green" their supply chains to satisfy consumers, investors and regulators alike are becoming increasingly conscious of the carbon footprint of their suppliers – no small matter when it comes to energy-intensive industries like aluminum production.
Yet these firms run the risk of being cut off from key sources of low-carbon aluminum if the US were to raise additional barriers to trade that could affect non-Chinese producers as well. Whereas Chinese smelters run on coal – thereby accounting for a considerable amount of the smog blanketing the country – low-carbon suppliers like Russia's Rusal and Canada's Rio Tinto run on hydropower, which significantly reduces the environmental impact of their production process. For instance, whereas making one ton of aluminum at coal-powered plants emits 18 tons of CO2 equivalent, those running on hydropower emit only 4 tons. Some firms, like Rusal, intend to bring that baseline even lower, aiming to use non-carbon power exclusively by 2020. Unfortunately, Trump's moves mean the flow of low-carbon aluminum from these firms could soon slow to a trickle.
Dib
Perversely, it seems escalating tension on the Korean Peninsula may be the only remaining factor to force Trump's hand and curb rising protectionism in Washington, though resting the future of global trade on nuclear brinkmanship is far from ideal. Instead, US allies and local industries alike will have to raise their voices much louder in response to the impending prospect that Trump's anti-trade dreams will come to pass. The stability of global trade – and economic prosperity – depends on it.
Maryla is a Polish-American research assistant working for an economic think tank in Geneva and specializing in EU affairs. Her main research areas include European energy policy and relations with Eastern and Southern Europe. She is a regular contributor to European media sites including EU Observer and maintains an active blog on CommDigiNews.