Trump used in jihadist terrorist recruiting video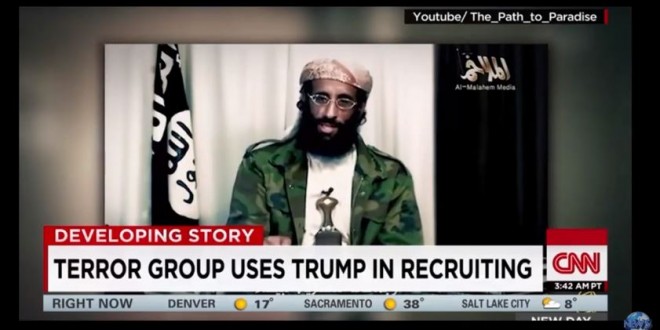 Life imitates campaign rehtoric? Republican Presidential nomination front runner Donald Trump and his supporters had criticized Democratic Presidential nomination front-runner Hillary Clinton for saying Trump's anti-Muslim rhentoric was being used by terrorists in recruiting videos. Trump had demanded an apology and the Clinton campaign hadcarefully inched back the claim. Clinton's claim seemed logical when she made it — particularly to anyone who has read any one of the many books on ISIS and the image it seeks to paint to young Muslims about life in the United States and what the United States (in their view) represents. But now it's for real: Trump's rhetoric is being used by a terrorist group — and when it comes to footage with inflammatory polemics the old saying "there's a lot more where that comes from" applies.
Terror group al-Shabab, al-Qaeda's Somalia-based affiliate, is using a clip from Donald Trump in a purported Islamist propaganda video — and it's gaining traction among Islamic State of Iraq and Syria (ISIS) online channels.

The nearly hour-long video, produced by al-Shabab's media arm al-Kataib, uses a soundbite from the Republican front-runner's speech in December calling for the "total and complete shutdown" of Muslims entering the country.

Preceding the Trump clip, a bite from the now-deceased al-Qaeda leader Anwar al-Awlaki, who was killed in a U.S. airstrike in Yemen in 2011, warns "Muslims of the West" to be cautious and "learn from the lessons of history."

"There are ominous clouds gathering in your horizon," al-Awlaki says in English. "Yesterday, America was a land of slavery, segregation, lynching, and Ku Klux Klan. And tomorrow it will be a land of religious discrimination and concentration camps. "

The video then cuts to a clip from Trump's South Carolina rally, where the GOP contender's comments are met with loud applause: "And so remember this. So listen. Donald J. Trump is calling for a total and complete shutdown of Muslims entering the United States until our country's representatives can figure out what the — is going on."

Trump's expletive is bleeped out.

The video returns to Al-Awlaki, who adds, "The West will eventually turn against its Muslim citizens."
And while the recruiters are at it…
Also posted to the website of SITE Intelligence Group, the 51-minute, 44-second video is a larger call to black youths in the U.S. to convert to Islam. The video also cites other examples of perceived racial injustice, including recent police shootings, including the cases of Michael Brown in Ferguson, Missouri and Walter Scott in South Carolina
.
And with American politics being what it is, mostly about unverified charges coupled with emotion — you just KNEW without looking at one of those plentiful psychic prediction sites that someone would immediately charge that the terrorist video was Hillary Clinton's idea.
Well, why not? How could jihadist groups possibly figure out the kind of rhetoric Trump was using or read one of the countless articles or posts with writers warning that Trump's lets-stop-Muslims-from-entering-the-US call was playing right into terrorists' hands or somehow discover the many news stories indexed on Google web and Google News about mosque burning were going on? Everyone knows jihadist groups don't have computers and don't know a thing about exploiting social media.
Given the fact that polls show that most Republicans support Trump's proposed Muslim ban — and the fact that 2016 is obviously extremely young and there are likely to be some high profile terrorist acts between now and the primaries and election day — American political rhetoric seeking to trigger the fight or flight mechanism among ideologists and/or partisans will be on high speed. Providing lots of potential material for jihadists who work overtime to provoke the physical fight mechanism in Muslims who see, read or hear their many recruitment pitches.

SOME TWEETS (some of them confuse the terrorist group but make the larger point about Trump's rhetoric):
Pop Quiz: How Much Did #Hillary Pay To Place #Trump In This #ISIS Recruitment Video?? ?? https://t.co/da0iEoT062 pic.twitter.com/aczk1cryz9

— Dr. Marty Fox (@DrMartyFox) January 2, 2016
.@realDonaldTrump is featured in a recruitment video purportedly released by al-Shabab https://t.co/86squtU7Jh https://t.co/SYp8P50TI5

— USA TODAY (@USATODAY) January 2, 2016
I guess Trump is right: ISIS isn't yet featuring him in their recruitment videos… …But Al-Shabab sure is: https://t.co/EjuY482c5F

— Jack Jenkins (@jackmjenkins) January 2, 2016
Whoops, Donald, Hillary Turns Out to be Right–Your Rant Against Muslims Shows Up On New Terror Recruitment Video. https://t.co/xLuKUjIP39

— Steven Greenhouse (@greenhousenyt) January 2, 2016
Now it is time for all the Hillary-haters (and some lazy thinkers who aren't Hillary-haters) who accused her of… https://t.co/IMaA8bW9W6

— Mike Shatzkin (@MikeShatzkin) January 2, 2016
Hi media. Know who else is in that Al Shabaab recruitment video with Trump? Hillary Clinton & Black Lives Matter pic.twitter.com/xtNCYQiJsc

— Stephen Miller (@redsteeze) January 2, 2016
Terrorist recruitment video has Trump excerpt, Wow when will Hillary's campaign announce the ISIS endorsement. https://t.co/n3dzPho1w7

— Diane B (@dmb1031) January 2, 2016
Pop Quiz: How Much Did #Hillary Pay To Place #Trump In This #ISIS Recruitment Video?? ?? https://t.co/da0iEoT062 pic.twitter.com/aczk1cryz9

— Dr. Marty Fox (@DrMartyFox) January 2, 2016
Is Hillary mentioned in the credits? Using Trump in an ISIS recruitment video was her idea. @realdonaldtrump https://t.co/HoMZ6lLLYe

— Dr. Carol M. Swain (@carolmswain) January 2, 2016