(UPDATE) As More Trump Shoes Drop, Some More Verse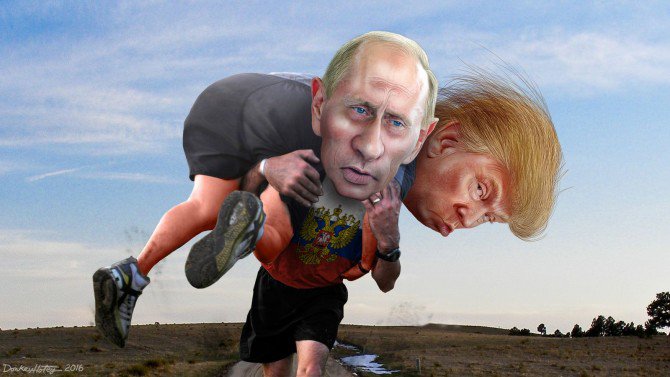 Update:
One of the stanzas in the poem below reads:

Now you would think that his Attorney General named Session
Would have learned a lesson
Now this "highest" lawyer in the land
May soon have to take the stand
It is not clear whether Sessions has learned a lesson, but he did take a stand – of sorts.
Less than an hour ago,
Attorney General Jeff Sessions, facing a chorus of criticism over his contacts with the Russian ambassador, recused himself Thursday from any current or future investigation of Russian meddling in the 2016 presidential election. His conversations with the ambassador, Sergey I. Kislyak, came amid suspected Russian hacking directed at Hillary Clinton's campaign.

Mr. Sessions said he made the decision after meeting with senior career officials at the Justice Department. He said he would not take part in any investigations "related in any way to the campaigns for president of the United States."
Will this be sufficient? Will more Russian shoes drop?
Read more here
Original Post:
As Trump's shoes were dropping all over the White House last night (Any 'normal' human being would have run out of shoes by now, but here we are dealing with a 'shoellionaire'), and less than 24 hours after Trump's "seventh-grade reading level" "Nothinburger," my good friend — a combat vet, a patriot — was busy once again rejecting 'Trump the Perverse' in verse.
First, came the New York Times shoe, as the Times revealed that Obama White House officials had scrambled last year to protect, preserve and "spread" information about Russian efforts to undermine the presidential election "to ensure that such meddling isn't duplicated in future American or European elections, and to leave a clear trail of intelligence for government investigators."
Then, the Washington Post shoe dropped with a report that then-Sen. Jeff Sessions (a Trump surrogate during the campaign) had spoken twice with Russia's ambassador to the United States, "encounters he did not disclose when asked about possible contacts between members of President Trump's campaign and representatives of Moscow during Sessions's confirmation hearing to become attorney general."
Here is, "Some musing from afar About a President that's – Well, Bizarre"
High above the Potomac's waters
There's a stinky smell that rises
Some say it's a nearby dump
Others say it is Donald J. Trump
From family business dealings quite obscure
To twitters and "ranting" that are frankly immature
"I want to be friends of Russia", but not help for an election to win
Then it turns out that his National Security Advisor named Flynn
Had to "resign" because of unacknowledged dealings with the Kremlin
Now you would think that his Attorney General named Session
Would have learned a lesson
Now this "highest" lawyer in the land
May soon have to take the stand
Now Trump twice promised to "love and obey"
Before two wives he sent away
How long number three lasts is hard to say
Promise, promise is his way
Now the market has taken a huge bump
On the promises of Trump
Repeal "Obamacare" and quickly replace
Do it at a break neck pace
Slash taxes to give the "middle class" some slack
And cut those regulation that hold the economy back
Bring back coal to its rightful place
Build the "wall" to make us safe
Repeal NAFTA and other bad trade deals to save our jobs; we just can't do enough
Start a Trillion dollar infrastructure program "on the cuff"
Cut immigration and push those illegals out
"Keep America safe" with a laughably inept Muslim ban
This will insure peace in our land*
Add Billions to our budget for defense
As we "hunker down" behind our impregnable fence
Repeal a gun ban on those certified as mentally unstable
To curry favor from the gun lobby and the power of the NRA to further enable.
Of course we will not have to sweat
A massive increase in our national debt
Tax cuts, immigration bans and tariffs will work just like in Hoover's day
Trump has the same things to say
In the "Roaring Twenties" the markets did soar — and the public applauded with a roar
Bush 2's Great Recession followed de-regulation and tax cutting – Trump wants to do more
His recipe and bio follow previously unelected businessman Hoover's almost to a tee
Now I hope America success, but the current trajectory and President just stink to me
Does one need to look from afar – to recognize that things are so bizarre?
* Added by author: A ban so "urgent" to save America from imminent terrorist attacks, that it is now waiting for an opportune political moment to be issued.
Lead image courtesy donkeyhoteycom.