Trump says he's 'very thankful' to Putin for expelling U.S. diplomats from Russia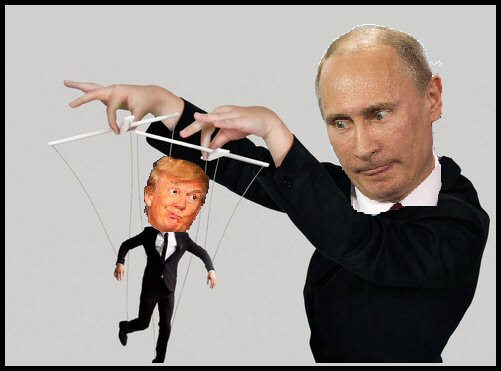 President Donald Trump broke yet another norm today. He thanked Russian President Vladimir Putin for expelling more than 700 U.S. diplomats from Russia. All day long, on twitter, and cable news, analysts — some expert and many not — were asking if Trump is a)now providing definitive proof that he is a Putin's puppet b)an ignoramus about the value of the American foreign service c)not looking out for American interests, d)looking a like a man who Putin is blackmailing or or d)a combination of all a, b, c and d.
After having spent almost six years living in New Delhi, Madrid and visiting other cities as freelance overseas foreign correspondent in the 1970s for papers such as the Chicago Daily News and The Christian Science Monitor, I wonder if it's all of the above. Any other President would have stuck up for American diplomats who've dedicated their lives to protecting the United States. While overseas, diplomats were often some of my "analyst says" sources and were among the most hardworking, thoughtful and dedicated Americans that I had ever met.
Trump essentially showed contempt for American diplomats:
President Trump said here Thursday that he is "very thankful" to Russian President Vladimir Putin for expelling hundreds of U.S. diplomats from Russia, because he said it helps him cut the U.S. government's payroll.

Addressing for the first time Putin's decision late last month that the U.S. Embassy and consulates in Russia would have to cut 775 diplomatic and technical staffers, Trump told reporters that he sees no reason for them to continue working in Russia.

"I want to thank him because we're trying to cut down our payroll, and as far as I'm concerned I'm very thankful that he let go a large number of people because now we have a smaller payroll," Trump said. "There's no real reason for them to go back. I greatly appreciate the fact that we've been able to cut our payroll of the United States. We're going to save a lot of money."

Trump's answer was a tad tongue-in-cheek, but he gave no clear indication that he was joking or trying to be facetious in offering his gratitude to Putin.
The bottom line is this: Trump will never criticize Vladimir Putin and if he seems to do so, he cushions it with a qualifier. He treats him like he's his best bud — or boss.
Ex-US ambassador to Russia blasts Trump for praising Putin: He doesn't understand diplomacy https://t.co/StcuXizR5W pic.twitter.com/YGYKgpjeMm

— The Hill (@thehill) August 11, 2017
Unbelievable. Russia expels US diplomats after conducting a cyberattack on American democracy. In response, Trump says thank you to Putin. https://t.co/tJh9wjd2uJ

— Brian Klaas (@brianklaas) August 10, 2017
Today in America, Trump referred to McConnell as a disgrace, while praising Putin for expelling US diplomats. #notnormal

— Amy Siskind (@Amy_Siskind) August 10, 2017
Yes, folks, Putin announced the biggest expulsion of US diplomats in recent history and Trump…publicly thanks him for cutting DoS payroll.

— John Schindler (@20committee) August 10, 2017
American diplomats put their lives on the line for us and Trump just thanked #Russia for expelling them. Shameful. pic.twitter.com/weVEd3Ojq6

— Jim McGovern (@RepMcGovern) August 10, 2017
POTUS thanks Putin for weakening us. Key civic norm: American leaders are not supposed to be submissive to Russia https://t.co/fWe3oC4DQP

— Walter Shaub (@waltshaub) August 10, 2017
By praising Putin for throwing 755 of our embassy staff out of Russia, Trump has proven beyond doubt that he is the dumbest POTUS in history

— Kurt Eichenwald (@kurteichenwald) August 11, 2017
Incredible. If Russia sank an American Navy ship, Trump would thank Putin for saving the US money on payroll and ship maintenance. https://t.co/DhvSH1opJk

— Garry Kasparov (@Kasparov63) August 10, 2017
photo credit: FolsomNatural PutinPuppet via photopin (license)