Trump Mocks Senator Warren During Solemn Ceremony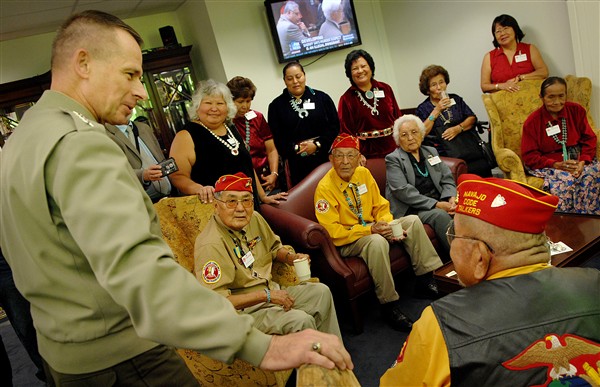 During the presidential campaign the insulter-in-waiting derisively mocked Senator Elizabeth Warren's claim to Native American heritage by repeatedly calling her "Pocahontas."
Today, at a White House event intended to honor Native American "Code Talkers" who heroically served during World War II, the now-insulter-in-chief used the solemn ceremony to once again poke at the Senator by again referring to her as "Pocahontas."
According to The Hill, while standing beside three Navajos "who helped the U.S. Marine Corps develop a secret code during WWII," Trump said:
"You were here long before any of us were here. Although we have a representative in Congress who they say was here a long time ago. They call her Pocahontas"
Senator Warren said later on MSNBC:
"This was supposed to be an event to honor heroes, people who put it all on the line for our country…It is deeply unfortunate that the president of the United States can't even make it through a ceremony honoring these heroes without throwing out a racial slur."
For those who are not too familiar with the bravery of the "Code Talkers," here is one story about them, published before at The Moderate Voice:.
Many of you will remember the 2002 movie "Windtalkers."
It is a World War II movie about the use of Native Americans, such as the Navajos, in the Pacific Theater by the U.S. intelligence services to transmit secret messages using "codes" built around their ancient language. Those codes are said to have been virtually "crack-proof," and were extremely valuable to the war effort.
It was one of WWII's best kept secrets.
So valuable and vulnerable were these code talkers and their "codes, that the Marine Corps assigned additional personnel to protect the "Windtalkers," and to ensure that they would never be captured alive.
These bilingual Native Americans are also referred to as "code talkers" and, while generally associated with Navajo speakers, it is reported that "code talking" was pioneered by Choctaw Indians serving in the U.S. Army during World War I and that, in addition to the Navajo code talkers, Cherokee, Choctaw and Comanche soldiers were also used as code talkers during World War II.
In the movie "Windtalkers," Adam Bleach plays Navajo code talker Ben Yahzee and Nicolas Cage (Corporal Joe Enders) is assigned to protect the code talker.
Several books, articles and documentaries have been developed around this fascinating subject.
Sadly, the last of these code talkers from South Dakota who served in World War II was laid to rest Tuesday in the Black Hills National Cemetery near Sturgis, South Dakota.
His name is Clarence Wolf Guts. He was 86 years when he died June 16 at the South Dakota Veterans Home in Hot Springs.
Three rifle volleys echoed through the Hills Tuesday afternoon, bidding farewell to the nation's last Oglala Lakota code talker.
People from around the country were there to pay their last respects to this last "Code Talker." Gov. Mike Rounds asked that flags be flown at half staff in Wolf Guts' honor.
Please read more about Clarence Wolf Guts, here.
A follow-up story can be read here.
CODA:
Senator Warren's full quote:
"You know, this was supposed to be an event to honor heroes. People who put it all on the line for our country. And people who because of their incredible work saved the lives of countless Americans and our allies. It is deeply unfortunate that the President of the United States cannot even make it through a ceremony honoring these heroes without having to throw out a racial slur. Look, Donald Trump does this over and over, thinking somehow he's going to shut me up with it. It hasn't worked in the past. It is not going to work in the future."
Lead photo: Marine Gen. Peter Pace, chairman of the Joint Chiefs of Staff, left, meets with five Navajo Code Talkers and their family members at the Pentagon, Aug. 10, 2007. The Navajos served as U.S. Marines in World War II and helped develop a communications code based on their language. Defense Dept. photo by U.S. Air Force Staff Sgt. D. Myles Cullen