(UPDATED) How A Trump Campaign 'Coffee Boy' Became So Important To The Russia Scandal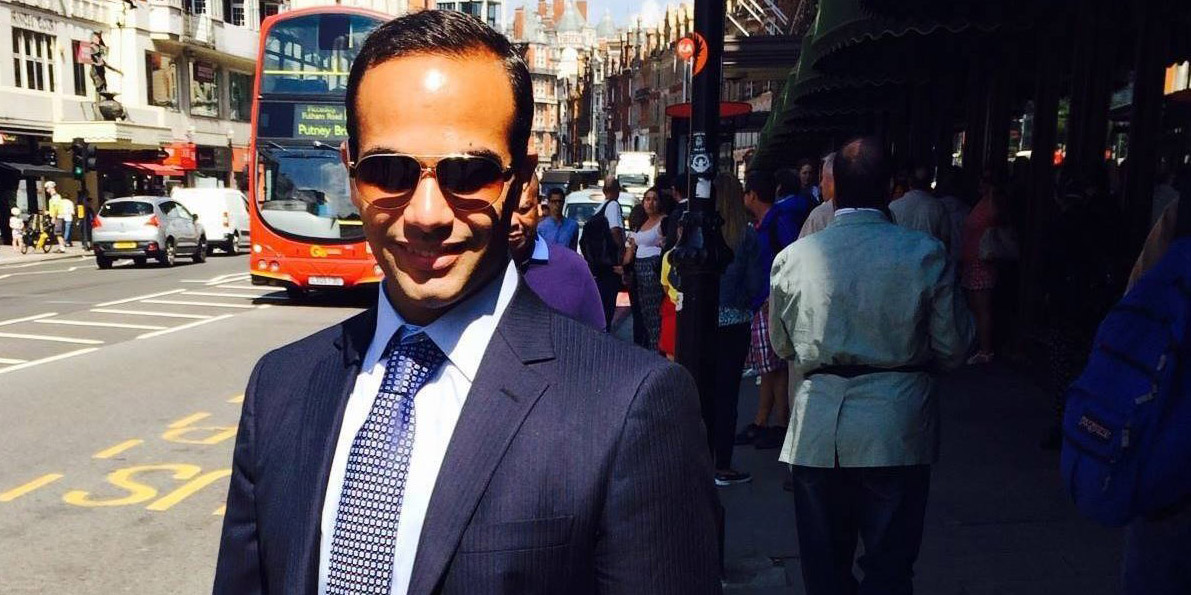 The players who populated the Donald Trump presidential campaign had several things in common.
If they were longtime politicos, any honesty and sense of ethics had been thoroughly bled out of them. If they were novices, they were predisposed to being dishonest. How else could they work for such an extraordinary dirtball? And all of the players, no matter their breadth and depth of experience, welcomed the interference of America's arch enemy in the 2016 election and responding enthusiastically to Russian overtures that they collude with Vladimir Putin's henchmen to help elect their dirtball by sabotaging Hillary Clinton's campaign.
This is why the importance to the Russia scandal of one of the campaign novices now denigrated by the White House as a mere "coffee boy" should come as no surprise.
George Papadopoulos did not leave the extensive extensive footprints as did Michael Flynn, Paul Manafort, Carter Page or Jeff Sessions. But in a few short weeks in the spring of 2016, he did what those other players did not. He broke radio silence and drunkenly blabbed that Russians had "dirt" on Clinton in the form of emails.
The 29-year-old Papadopoulos's star turn is, in small part, a result of people just getting around to figuring out that he had multiple contacts with Putin surrogates and tried repeatedly to arrange a Trump-Putin meeting, as well as connect the campaign with Russians promising that dirt on Clinton, all of which has been staring us in the face since his agreement to cooperate with Special Prosecutor Robert Mueller after pleading guilty to lying to the FBI about the nature of his Russian contacts was made public on October 30.
In large part, that star turn is the result of a recent New York Times story detailing that in May 2016 Papadopoulos and Alexander Downer, Australia's High Commissioner to Great Britain, went on a hoot at the Kensington Tea Rooms in London and before the drunken evening was over, he confided about those emails.
This admission is said to have led (in a circuitous way that is a story in itself) to the FBI finally taking seriously what it had been repeatedly told for months — that Russia was attempting to interfere in the election — although that scenario overlooks other compelling intelligence the FBI received, including details of Carter Page's visit to Moscow in early July 2016 where he met twice with a former spy who was a close Putin aide to discuss a deal whereby Obama administration Russia sanctions might be dropped by a President Trump in return for lucrative contracts for U.S. energy firms.
Papadopoulos, of course, never went to the FBI after his contacts with Putin surrogates in the weeks before his now-notorious drunk with Downer, but the FBI did come to him.
A predictable consequence was that the White House demoted Papadopoulos in their public mind's eye from being a foreign policy adviser who participated in meetings with Trump and vetted the candidate's first foreign policy speech to a "coffee boy" and hanger-on who had somehow wormed his way into the campaign. Campaign manager Manafort, with a similar wave of the West Wing wand, suffered a similar fate, becoming a fringe figure hardly anyone could remember after he stepped into Mueller's bear trap, while Flynn has morphed from being Trump's best buddy ever to a dirty, lying rate since he too coped a plea with Mueller and agreed to cooperate.
The Times story stopped short of making an important point, in fact a very important point in the context of the pushback against Mueller.
While Trump and a diminishing number of his allies still insist the entire scandal is fake news, this argument has pretty much collapsed under the weight of reality, including the wealth of evidence that Trump had been deeply involved with the Russian criminal underworld and money laundering long before he took the presidential plunge, so deeply involved that these thugs literally bailed out his failing business empire.
Meanwhile, his pathetic excuse for criminal lawyers, congressional toadies and Fox News enablers have harped relentlessly on the canard that the FBI built its scandal investigation, subsequently taken over by Mueller after Trump fired FBI Director James Comey, entirely on the Steele dossier.
They portray this deeply sourced intelligence-gathering effort by a former British spy as a bundle of propagandistic lies since it was financed by the Democratic National Committee and Clinton campaign. This distortion conveniently sidestepped the reality that the dossier merely corroborated what the FBI already knew, but now that the coffee boy's role is public knowledge and that tactic has imploded, they'll have to find another rabbit to pull out of their hat.
STEVE BANNON RAN THE TRUMP CAMPAIGN for its final three months after Manafort was forced out because his myriad Russia ties had become a drag on the campaign. Bannon is, of course, best known as Trump's chief strategist until he was not forced out, but it was made to seem that way after it was quietly decided that the White House Svengali could do more to advance the president's agenda on the outside working the the rubber chicken banquet circuit and picking back up his big megaphone as head of Breitbart News.
As despicable as Bannon and his mumbo-jumbo nationalistic and alt-right views may be, he has on occasion been remarkably truthful, including telling "60 Minutes" that Trump's decision to fire Comey was one of the worst mistakes in "modern political history."
Bannon is at it again, telling the author of a forthcoming book on the on the never ending turmoil in theTrump White House that the infamous June 9, 2016 meeting involving Donald Jr., son-in-law Jared Kushner and Manafort with a Putin intermediary who promised them documents that would "incriminate" Clinton was an outrage.
Translation: Bannon believes that Mueller is building a powerful case. He is correct.
"Three senior guys in the campaign thought it was a good idea to meet with a foreign government inside Trump Tower in the conference room on the 25th floor — with no lawyers. They didn't have lawyers," author Michael Wolff quotes Bannon as saying in Fire and Fury: Inside the Trump White House, which is to be published on Friday.
Bannon goes on to say that
"Even if you thought that this was not treasonous, or unpatriotic, or bad shit, and I happen to think it's all of that, you should have called the FBI immediately.
"They're [Mueller and his team] going to crack Don Junior like an egg on national TV. . . . It goes through Deutsche Bank and all the Kushner shit. The Kushner shit is greasy. They're going to go right through that. They're going to roll those guys up and say play me or trade me."
Bannon is scornful of the White House's seeming insouciance about the scandal. Reaching for a hurricane metaphor, he says "They're sitting on a beach trying to stop a Category Five."
Predictably, Trump has returned fire while not denying anything Bannon said.
A lawyer for the president is seeking a cease-and-desist order to halt publication of Fire and Fury, while Bannon is being accused of violating a confidentiality agreement. Neither will have any legal traction and would expose Trump to having to testify under oath.
Trump, for his part, asserts that Bannon "lost his mind" after being dismissed from his White House job and . . . guess what? "Had very little to do" with him winning.
You know, just another coffee boy.
Click HERE for a comprehensive timeline of the Russia scandal.