Smart Republicans Want Clinton To Win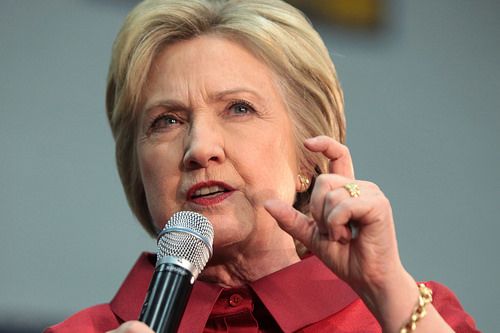 All presidential elections are consequential. But, some presidential elections are more consequential than others. 2016 is shaping up to be of the less consequential variety. Yes, the majority in the Supreme Court is in the balance for civil libertarians like myself and for social conservatives who still believe Roe v. Wade will be overturned if enough wingers  take to the bench. Other than the Court, though, this election doesn't hold much promise as decisions of consequence go.
Whoever is elected president will likely have a failed one term presidency. Whatever one thinks of Obama, we have enjoyed a lengthy run of modest economic growth and job creation. Yeah, I know, now let's all whine about income inequality and wage stagnation. Done whining? Good. Let's move on. Here's the ugly truth. After seven years of economic success, the U. S. is due for a correction. You can call that a downturn or even a definable recession. Most likely that correction will start in the second or third year of the next president's term and continue into the election cycle of 2019-2020.
Economic cycles aside, the president elected in 2016 will be handcuffed in attempting to accomplish anything of meaning given the clogged toilet of partisanship between parties, and the intra-party pie facing among Republicans, that currently defines Congress and its progress [humor intended] toward governing. Whichever party holds the White House from 2016 to 2020 will almost certainly not hold the White House after 2020. Indeed, whoever holds the White House from 2016 to 2020 will likely hand the opposition party a wave election victory in 2020.
Enter the smart Republicans, the long thinkers, the strategists rather than the tacticians. Unlike 2016, the presidential election of 2020 will be one of considerable consequence. It is a census year. Remember what that meant in 2010 when the Republicans last enjoyed a wave, followed by a decade of control of the House of Representatives resulting from the gerrymandering that the wave brought about. Those who play the long game understand this. To sacrifice a short term win for a long game strategic play will pay off with interest. More so when the short term offers only Trumpian angst and governance failures multiplied by his ignorance and incompetence at the art of guiding a government.
Not only is 2020 a census year, a wave election could add majorities in the House, Senate and state houses to a presidential win. The floodgates of conservative wish-list legislation can open and be sent to a Republican chief executive. Endure four years of Clinton futility and the dessert cart will be wheeled to the Republican table to select from the pies, cakes, cookies and sherbets of political success earned through patience. Don't believe for a minute that thinking Republicans haven't figured this out. And don't think for a minute that smart Republicans aren't already playing the long game.
photo credit: Hillary Clinton via photopin (license)